Australia beat Netherlands by 309 runs to record the highest margin defeat in the men's ODI World Cup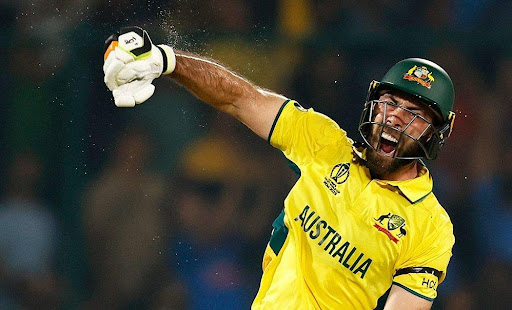 Glenn Maxwell says Fastest WC hundred records is not something I set out to do. Just the situation of the game. Wanted to put a good platform for the back end and cash in on this ground
Australia had won the toss and decided to bat first while they reached 399 for 8, dominating their opponents who were knocked out and unable to get back up. This was the biggest margin of defeat in men's ODI World Cup history as Australia won by 309 runs and the Netherlands were 90 all out as their last five batters gave up just six runs.
Australia had won the toss and decided to bat first. Warner's main supporters were Marnus Labuschagne and Steven Smith, who were the more dominating partners in second and third wicket scores of 84 and 132, respectively.
Warner might have been run out on 32 if Max O'Dowd hadn't blown a pick-up at midwicket. Smith was at the non-striker's end. After Warner reached 73, Roelof van der Merwe was deemed to have dropped a sharp chance at midwicket and then made a similarly difficult grab at backward point to dismiss Smith for 71.
Labuschagne's removal, de Leede's first, caught mid-off, was the first of three wickets to go for just 23 runs. Warner was the last to be removed after he paddled Logan van Beek to fine leg, which was well held by Aryan Dutt, two balls after he had scored his sixth World Cup century off 91. Australia was 268 for 5 with ten overs remaining.
Glenn Maxwell, the latest ODI centurion to reach the crease, entered at the end of the 39th over, but he didn't face a ball until halfway through the 41st. Looking back, it appears that the consecutive fours that de Leede made to start him off were a sign of things to come.
Maxwell got Paul van Meekeren away over point with his first reverse sweep at 35 off 21, which was already a quick start.
He then smashed the slower ball over square leg for the first of eight sixes. The fifty was reached in 27 deliveries with another reversal over point, this time going all the way, before going over third two balls later, both from de Leede.
In the 48th over, van Beek bowled a pair of traditional sixes, the first cartwheeling over wide mid-on and the second slicing over cover point, sandwiching a pull to midwicket by Pat Cummins, who had the best seat in the house.
Then came de Leede's punishing last set; he bunted down the ground for fours at the beginning, went wide mid-on, over square leg, and then further behind square after bowling an above-waist full toss as Maxwell raced through to three figures.
The white-ball sensation scored 66 runs from just 19 deliveries from the first six to the last. In honor of his wife and first kid, Logan, who was born last month and arrived in India earlier this week, Maxwell celebrated by rocking the infant.
With 400 remaining, Vikramjit, the Netherlands opener, showed no signs of giving up, scoring 21 runs off of 13 thanks to five fours. Additionally, he was unlucky on 25.
Josh Hazlewood's misdirected throw after fielding in his follow-through spared him from a run-out opportunity after O'Dowd left him high and dry with a shaky call. Maxwell, who had begun the chase off the pitch, was located with a perfectly timed back-foot punch to mid-off, and, well…. you know what happened next.
O'Dowd had already chopped Starc onto his own stumps by that point. Hazlewood then trapped Colin Ackermann LBW, and to make matters worse for de Leede, an appeal was filed against Cummins for a similar dismissal, which Hawkeye said was a leg stump clipping.
At the first drinks break, Netherlands was down 62 for 5, as Engelbrecht's seemingly flawless pull shot off Mitchell Marsh's second ball found its way into the hands of a jumping Warner just in front of the square-leg sponge.
It took just 27 deliveries for the wickets to stop. Unfortunately, Nidamanuru gloved Marsh down the leg side. Zampa then snared a two-in-two, while van Beek cut to Josh Inglis, and van der Merwe was caught in front by a googly. With a thick inner edge, Dutt survived another googly, the hat-trick ball.
He had no such luck when he was on the back foot and struck in front in Zampa's next over. Then, after van Meekeren's back foot had scampered in front of the line after an attempted sweep, Inglis managed to scoop the ball back onto the stumps, giving the legspinner his third successive four-wicket haul.
The Netherlands were then 90 all out as their last five batters gave up just six runs. Meanwhile, the captain Scott Edwards appeared despondent from the other end. Even if his team now occupies an unfortunate place on the wrong side of history, he will know that a loss of this magnitude won't define them.
Pat Cummins, the Australia captain:
"(Assessment) Just about the complete game. Couldn't be happier. (Maxwell's innings) That was crazy. Thought we both contributed equally in that 100-run partnership [laughs]. (Smith, Labuschagne runs) We are starting to play to our potential and play in the style we talk about. We had another good batting power play. (Bowling powerplay wickets) It's what we are aiming for. We've bowled quite well but without a lot of luck. Zampa, another four-for. (New Zealand next) Prepped as well as we can be. They are a good side. They've played in Dharamsala before. It's a big game, it's a World Cup. (Better next game – what?) Haven't nailed 50 overs in the batting. Something to work on."
Scott Edwards, the Netherlands captain:
"(Challenges with the bat) Defending 400, yeah, they've got world-class bowlers and we should've been better today. (Bowling during Maxwell assault) Execution obviously. You miss by fractions and you're going out of the park. Full credit to their batting line-up. We almost got in there with 10 overs to go and pick up Maxwell but we couldn't stop him. (Bowling at Delhi) Pretty nice wicket and the ball travels. So that means margins are small. (Dutch opening partnership) Those two have been awesome for us in 18 months. They're a big reason we're here. We're backing them all the way. Just want to bat to click the last four games. (Bangladesh game) Look at a few things from this game but otherwise move on quickly."
David Warner on TV:
"Special moment for Maxwell. Great to get the fifty and get the hundred. Signal to rock the cradle (for his infant baby) was special. (Two hundreds back-to-back) Its about timing and rhythm. You have to allow yourself to do that in these tracks. The first game against India in Chennai was always going to be a challenge. In Lucknow, the timing wasn't there too. But then I've backed myself and had control and batted those 50 overs. (Running b/w the wickets, intensity) I pride myself on my fitness – think it's part of my game. You see Virat does it a lot as well. You've got to have that inside you, it's an attitude thing. (Aryan Dutt over – four boundaries, square cut) I was trying to work out where the gap was and how to pierce the gap. I was thinking of playing the reverse sweep but they were bowling it short. Helped get us into a rhythm. (Sixth WC hundred, equaling Sachin and passing Ponting) It's about going out there and doing my best. I get up for tournament play and live for World Cups. You have to shine on this stage. You have to emulate what you do in the bilaterals over here. At this moment, we are staying in the present. Might enjoy that 20 years on. (Zampa's bowling) Proud of him. He was under some issues – back spasms etc. We were laughing that we should change his bowling to 'right-arm googlies'. Good to see him landing them on the spot. Good confidence before the NZ game. (Power play wickets) The ball was swinging; the boys hit those lengths, and got to penetrate them through to the keeper."
Glenn Maxwell is the POTM:
"(Fastest WC hundred record) Not something I set out to do. Just the situation of the game. Wanted to put a good platform for the back end and cash in on this ground. The ball can run away quite quickly. Nice to get in rhythm. (What clicked) Just making good decisions. Give myself a little bit of time and give myself a bit of confidence and a platform. (Going forward) Huge confidence booster knowing I've got that in my locker. Doubts can creep in when not scoring consistently but good to score this. (Clinical?) Close to the perfect game if you score 400 and bowl them out for under 100. A lot of guys got to have a hit. We've had three really good wins in a row."