Against Derbyshire, Ollie Price's century gives Gloucestershire the lead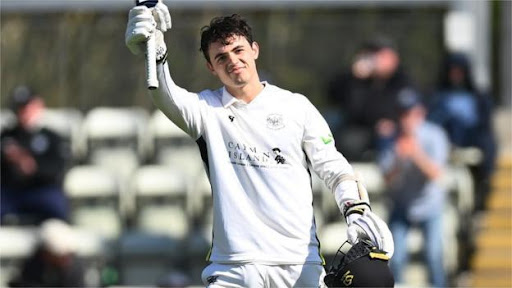 Ollie Price led Gloucestershire with his third first-class century
On the first day of the LV= Insurance County Championship match between Gloucestershire and Derbyshire at the Seat Unique Stadium in Bristol, Ollie Price's third first-class century gave Gloucestershire a commanding lead.
The 22-year-old batsman, who this season has scored Championship hundreds against Yorkshire and Worcestershire, backed them up with a career-best 125 not out. He received outstanding support from captain Graeme van Buuren (78) in a fifth-wicket stand of 157, which helped their team end on 333 for six.
The most effective Derbyshire bowler, Anuj Dal, finished with three for 42 from 16 overs. However, the guests had a strenuous day in the field in the oppressive heat.
Despite initially sweltering, cloudy circumstances, Gloucestershire chose to bat first and gave 22-year-old leg-spinner Ed Middleton of Exeter his first-class debut. Ben Charlesworth and Chris Dent's 32-run total from the opening seven overs, with only the occasional scare, made the decision appear justified.
Pat Brown, a new hire, failed to find the appropriate line and gave up 21 runs from his first three overs despite Sam Connors' four tight overs from the Ashley Down Road End for just seven runs.
Just 30 minutes into the game, the umpires deemed the light quality to be too low for play to continue and turned on the floodlights. The heavy blankets were promptly donned as rain began to fall shortly after that.
Before play resumed at 1:00 p.m., thirteen overs on each side of a quick lunch were lost. The weather for batting quickly got better, with increasingly strong sunshine, and Dent, who was undefeated and had eight before the break, played more forcefully.
The seasoned left-hander had comfortably advanced to 41 from 72 balls with six fours before edging a back-foot defensive shot off Luis Reece through to wicketkeeper Brooke Guest in his first over.
The 80-run opening stand was broken in the 20th over by the breakthrough. In his second over, left-arm seamer Reece added another wicket when Charlesworth, who was on 30, tried to drive into the leg side and received a leading edge that carried to Wayne Madsen at second slip.
Gloucestershire had to start again after going 85 for two. In 12 overs, Price and James Bracey added 43 runs together, which was a solid partnership. Bracey was eventually bowled for 23 by Dal after his apparent flawless defensive stroke was broken.
Soon after off-spinner Alex Thomson was inserted from the Ashley Down Road End, Price demonstrated his confidence with a quick reverse sweep for four. Miles Hammond started things off by edging a boundary from Dal to third man, and by tea, the two had put up a fourth-wicket stand of 33 runs, bringing the total up to 161 for three from 42 overs.
When the halftime whistle blew, Brown had statistics of 0 for 36 from 6 overs. But as soon as Hammond top edged a short-arm pull shot and skyed a catch to Guest, retiring for 21, the former Worcestershire seamer claimed his first Derbyshire wicket.
At 169 for four, the hosts needed consistency, and he became the fourth top order player from Gloucestershire to lose his wicket after a promising start. By hitting a two through the covers off Brown after facing 71 balls and eight fours, Price provided it and reached his seventh Championship half-century of the year.
In just 14 overs, the captain van Buuren and Price put together a half-century stand in the now gorgeous early evening weather. He quickly got busy sucking singles and swatting the odd bad ball to the boundary.
Price added some luxurious straight drives to his innings, and van Buuren hit his second six off Thomson, lifted high over wide long-on, to reach fifty off 68 deliveries. By that time, Gloucestershire had secured their first batting point and were attempting to press forward against a worn-out bowling attack.
Using a Price two off Conners, who had moved into the eighties, the hundred partnership was raised. He reached three figures off 155 balls with his 13th four, which was skillfully hit off spinners Mark Watt and Thomson after a string of sweeps and cuts off both of them.
Price surpassed his previous career-high score of 115 after that. With less than four overs remaining in the day, Dal dismissed van Buuren, capping up an intrepid innings, and with the second new ball, he helped Derbyshire's spirits by having Zafar Gohar caught behind.