Listening to MS Dhoni always helps, says Ajinkya Rahane after winning IPL match for Chennai Super Kings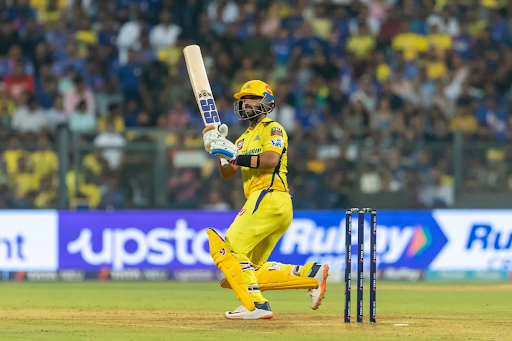 Ajinkya Rahane has been in superb form this IPL season
Former India batsman and captain Ajinkya Rahane said on Sunday night that listening to the advices and directions from Mahendra Singh Dhoni always work out well for other cricketers, after this month this month 71 not out powered Chennai Super Kings (CSK) to Kolkata Knight Riders (KKR) by 49 runs in the Indian Premier League (IPL) 2023 contest.
Chennai Super Kings went to the top of the IPL 2023 points table with their huge victory over Kolkata Knight Riders giving them 10 points in seven matches with five victories and two defeats. Chennai Super Kings made a huge total of 235/4 batting first, other batsmen such as Devon Conway and Shivam Dube hitting their respective half centuries.
Kolkata Knight Riders could not scale the challenge presented by Chennai Super Kings but they did well to fight right until the end, it is 186/8 in their response, with Jason Roy hitting 61 from just 26 balls with five sixes and five fours and Rinku Singh playing an unbeaten innings of 53 not out from 33 balls with four sixes and three fours.
Ajinkya Rahane said after the match, "Just had a clear mindset. If the thing between your ears is right, your mind is right then you'll be fine. I'm just trying to enjoy my game. The wicket was a bit sticky, but once you are in you have a great chance. We had a great start, and after that I wanted to play my shots and keep the momentum."
He added, "I've enjoyed all my knocks so far, I still feel the best is yet to come. It is a great learning experience. I've played under Mahi bhai for India for many years, and now even at CSK it has been a great learning experience. If you listen to whatever he says, you will more often than not perform."
MS Dhoni said he was delighted to see the home crowd of KKR turning up in Chennai's colours at the Eden Gardens. "I will just say thanks for the support, they came in big numbers. Most of these guys will come in a KKR jersey next time. They are trying to give me a farewell, so thanks a lot to the crowd. Fast bowlers are doing their job, so are spinners in the middle. The wicket was short on one side so we needed to get early wickets and keep the pressure. They have plenty of power hitters, so we had to give respect to the opposition," Dhoni said.
"I have a clear funda, if someone is injured he can't do anything. You just move on and motivate the youngsters to perform. We have been fortunate that all the guys coming in are performing. We realise the potential of someone when we allow him (Ajinkya Rahane) to bat the way he bats. We give him the freedom, give him the best position. In a team environment, someone has to sacrifice his slot to allow the others to get more comfortable, and allow the team to succeed," he added.