Khawaja learns from past Ashes failures ahead of 'toughest' challenge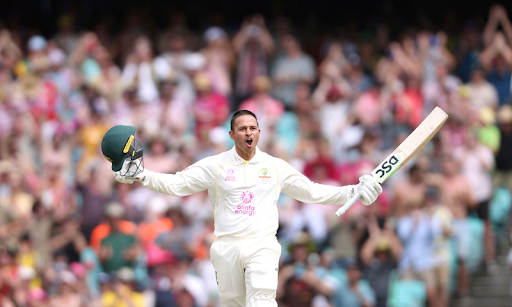 Although Khawaja does not have good recollections of visiting England, he has recently been in fantastic form
Usman Khawaja is in a good mood right now. Khawaja has experienced it all, from emerging as a prodigy in his earlier years to finding himself in and out of the side to now being one of Australia's stalwarts in the longest format.
No Test batsman has scored more runs since January 2022 than the graceful left-hander (1608), and Khawaja's average (69.90) is the highest among the top 10 run scorers during this time.
Khawaja is fully aware that these six red-ball matches in England will be a significant test of his abilities because both the World Test Championship Final and the Ashes are just around the way. Khawaja spoke extensively on his development as a batter and the difficulties he would face in England prior to the pre-tour camp in Brisbane.
"I feel like I'm a better player than I was 10 years ago," Khawaja said. "I have more experience than I did back then. But there's no guarantees, Anderson, Broad, they're unbelievable bowlers, they're tough work at the start."
"I guess the other side is, that's what makes it so awesome when you do score runs and you contribute to a winning team, which hopefully I'll do, and others will do over there, when you do it against guys like Broad and Anderson in England, it's just that much more satisfying."
Khawaja has only participated in 60 Tests in his career, which is surprising considering that he made his Test debut back in 2011. For the record, since his debut in 2011, Australia has appeared in 124 games. The 36-year-old believed that the Australian selections had made erratic preparations.
"Over the last 10 years, I think they've been very reactive, and the media itself is also reactive. As a cricketer, you're going to fail one, two or three games, that's very normal, and then you score runs, and then you'll fail, and then your score runs. It's just a cycle of cricket."
"So I've always been big on just picking your best players and sticking with them, because they'll score you the most runs consistently, and I think over the years with selection for Australian cricket, we have chased our tail a little bit, trying to pick players 'in form'. But form is 100 percent temporary, class is not."
"I think the new selectors (George Bailey and Tony Dodemaide), and with Andrew McDonald at the top, they've both experienced that too, and they understand that part of the game, hence why there's a lot more stability, and selecting and picking players and sticking with them, and I'm all for it. I love it."
Over the previous ten years, Australian batters have had a difficult time playing in England. With the exception of Steve Smith (65.08), Chris Rogers (49.82), and Marnus Labuschagne (50.42), no Australian hitter has averaged 40 or more during their travels.
Khawaja's statistics are quite unimpressive; he has played 12 innings in England and has an average of a pitiful 19.66; he will be eager to improve on this. especially in light of his most recent accomplishments abroad.
"England is, in my opinion, the toughest place in the world to bat for a top three batsman, plain and simple. New ball is tough work, but then you get some conditions, and it's a bit of luck involved in it, too; sometimes you get the other team out, then suddenly the clouds roll over, other times you're out there and it's nice and sunny."
"If I've learned anything, it's work hard, train hard, and, if you're going to England, go with low expectations, and then just work on every game one at a time, because you are going to fail as a batsman. But when you do score, you try to cash in as much as you can."