Kane Williamson: Quite hard to get our heads around after getting that total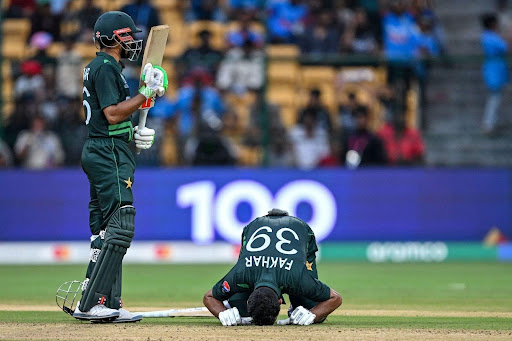 Babar Azam says to be honest; we just planned to build a partnership. I wanted to give a strike to Fakhar; we knew we had short boundaries and we tried to utilize it
With 401, their biggest World Cup total, including a century from Rachin Ravindra and 95 from the returning Kane Williamson, New Zealand had Pakistan on the ropes while with rain predicted for much of the second innings, Pakistan was able to maintain momentum with the DLS asking rate because to a brilliant counterattack by Fakhar Zaman, who hit an undefeated 126 in 81 balls.
Pakistan had won the toss and decided to bowl first. After a good start by Devon Conway and Rachin Ravindra, Pakistan, who had strangely chosen to go without Mohammad Nawaz and both of their leg spinners, found them looking to Iftikhar Ahmed's spin in the sixth over.
New Zealand pursued him as well, and it was Haris Rauf who struck first, a short delivery that touched Conway's bat en route to Mohammad Rizwan. It was Williamson's second game in the tournament, yet he looked as though he had never left. Despite having vastly different backgrounds, the two felt a common comfort in handling a Pakistani attack that appeared utterly helpless, with Babar Azam calling the changes and trying to find any way out.
They had already surpassed their half-centuries and were rapidly approaching three digits. This was fueled by a Hasan Ali overtake that saw eighteen of them pass as they got closer to the 90s.
However, neither of them was going to slow down; with New Zealand being at 240 for 1, there wasn't much need to stop the momentum in the hopes of reaching a milestone.
Williamson's risk-taking escalated to reckless levels; he nearly ran himself out three times while he was just short of a century. In the meantime, Ravindra smeared Wasim through the onside to reach 99, and in the birthplace of his parents, a single lifted him to his third World Cup hundred.
Ravindra took one up to the midwicket boundary shortly after Williamson fell, who was attempting to reach his own century with a straight six as he holed out to long-off.
However, Daryl Mitchell and Mark Chapman quickly disabused Pakistan of the belief that adding two extra batters would stop the bleeding.
Together with Glenn Phillips and Mitchell Santner, the two made brief appearances to ensure that New Zealand scored 140 runs in the 14.1 overs that have elapsed since Ravindra was dismissed surpassing the 400 mark against a severely damaged and fractured Pakistani fielding force.
Pakistan didn't start that way; they needed everything to go their way to have a snowball's chance in hell. With one of the tournament's most impressive catches—an outstanding diving grab that forced Abdullah Shafique to give up—it was the unstoppable Williamson who took the lead.
However, Fakhar Zaman was exactly what Pakistan needed in this kind of circumstance, and his attack on Trent Boult made it apparent what he intended to do.
The tone was established in his third over with two fours and a six; the 17 he conceded was Boult's most costly World Cup over. Later, when Babar joined the group, it was followed by another 16 in his next.
It was the Fakhar show, though. As soon as the first power play finished, Pakistan had scored 75 and Tim Southee and Santner were both taken on. With a late cut-off Ish Sodhi off 39 balls, Fakhar swiftly reached his half-century, but he was just warming up.
With a pair of sixes off Glenn Philips, Williamson was also finding it difficult to control Fakhar, who appeared to be in a zone where every ball would disappear for a six.
Before you knew it, he had hit Santner for his ninth six of the innings and was suddenly only one ball short of three figures, setting up an incredible 62-ball century soon after.
Pakistan was up on the DLS by ten runs when the rains came, but it was only going to be a temporary stoppage. But as soon as they resumed, they firmly established their dominance, reducing the chase to 342 off 41 overs, thus turning it into a T20 match.
Williamson switched to Sodhi, who unfortunately gave up 32 in the two overs he bowled, including two massive sixes from Fakhar that showed he had not lost any of his momentum despite the break.
Pakistan was 21 runs ahead of their required position when the steady rains started again. And on a wet evening, they would never be able to recover, as Pakistan made a memorable smash-and-grab to take the two points.
Babar Azam, Pakistan Captain:
"When we started batting, we believed (in ourselves). Inside the dressing room, we passed the message that we need one good partnership. Back of the mind, we knew rain was coming but didn't expect it to be too much. To be honest, we just planned to build a partnership. I wanted to give strike to Fakhar; we knew we had short boundaries and we tried to utilize it. We were trying to give 100 % but in some matches, we were not up to the mark. If we win our next match, let's see…we will try to play positively and we are going match by match."
Kane Williamson, New Zealand Captain:
"Quite hard to get our heads around after getting that total, for us we will take the positives before the next game. I mean they played exceptionally well, gave themselves every chance, and got over the line; they were certainly on target with their chase. Zaman played beautifully, they deserved that result today and for us, it's about moving on to our next challenge. Sort of, maybe we wanted 450, I don't know. (On positives) A lot of really good partnerships, and a very good surface, and that can be tough on the bowlers. So yeah a fantastic first half and obviously Rachin was batting beautifully and having a fantastic time, hope that continues, some good signs from the unit. If you get a wicket or two and you're able to take the short side out of it in terms of the left and right combination things can change quickly, but we weren't able to do that today and Pakistan exploited that to the max."
Fakhar Zaman, Player of the Match:
"We planned to see off the first few overs, A few times I got lucky and enjoyed this innings. We know that every game is doing or die for us. In a team meeting, our management decided that we will play aggressively so we were playing with that mind and everybody was trying to score more runs. This is one of my best (century), I will always remember my 193 against South Africa but this is one of my best. (On World Cup hopes) we were also praying for (no resumption). We want to continue playing aggressively in our next game."