Josh Tongue: "At this point in my career, I needed a change"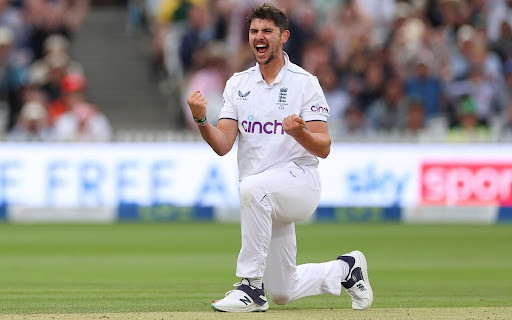 Josh Tongue performed well in his two Test matches this summer at Lord's
Josh Tongue says he will leave Worcestershire at the end of the current campaign because he needs "a new challenge," but he does not think there is a concrete reason for the departure of several of the team's local players.
At the end of his contract, Josh Tongue, who earned his England debut this summer, will join Nottinghamshire, while Dillon Pennington will do the same. While Moeen Ali and Ed Barnard joined Warwickshire this winter, Pat Brown, who played four T20Is in 2019, is departing for Derbyshire. Pat Brown has struggled with injuries.
Following his appointment as chief executive earlier this month, Ashley Giles has taken care of contract discussions for a number of other Worcestershire players whose contracts expire at the conclusion of the current campaign. However, Jack Haynes and Ben Cox are both anticipated to quit the club. This week, Giles made Rob Jones, a Lancashire batter, his first acquisition.
Tongue had discussions with a number of counties before deciding for Nottinghamshire, who prevailed over Lancashire's fervent interest to win his signing on a three-year contract.
Having previously received coaching from him as part of the ECB's pace program, he said that the chance to collaborate with Notts bowling coach Kevin Shine once more played a significant role in his choice.
"I've been at the club since I was six years old and I've grown up playing for Worcester through the age groups and the academy and obviously signed my first pro deal there,"

Tongue said, speaking at a #Funds4Runs session organized by LV= Insurance at Stockport Georgians Cricket Club.
"I've got a massive heart for the club but I just feel like I'm at a time in my career when I need a new challenge and a new place to play.
"I had a few meetings with a different number of clubs and Notts just really excited me with the way they play their cricket and obviously the squad is very strong. Peter Moores, the coach, and Kevin Shine, the bowling coach, really attracted me.
"I've had stuff to do with Shiney in the past, growing up. I feel that's going to benefit me, to have a different set of eyes on me to see how I can get better. If that's more pace, or getting me in a better position at contact, we'll see."
Asked if there was a single reason behind players leaving, Tongue said:
"I don't think so. I'm not sure about the other lads leaving, but at my stage of my career now, I just felt like I needed a change and to work with some different coaches and different players. Obviously that is hopefully going to benefit me in the future."
Moeen, whose brother Kadir is Worcestershire's assistant coach, suggested that money was a motivating factor for some departures.
"I think it could be financial – it probably is financial with a couple of players," he said. "But I think some players probably feel like they want to play at a bigger venue or a bigger club. It doesn't always work out, but good luck to them.
"I love Worcester, I still love Worcester. Obviously my brother's there and the coach, Richo [Alan Richardson], so I still follow their progress and stuff. It's a shame, but it's always been a club or a county that's produced good players and I'm sure they always will."
After beating Leicestershire this week at Oakham thanks to the combined efforts of Tongue and Pennington, Worcestershire moved up to third place in Division Two of the County Championship, only two points behind a promotion slot.
Richardson acknowledged having conflicting feelings but assured everyone that they would still be chosen for the remainder of the season.
"Obviously I'm disappointed that they are leaving,"

Richardson said,
"but at the same time they are still our players and they still want to perform for us for the rest of the season, to help us achieve our goals. Having them in the team makes us better. We aren't going to change our opinion on that just because they are leaving at the end of the season."