Jonny Bairstow and Dan Lawrence score winning runs from England to win the first Test against Sri Lanka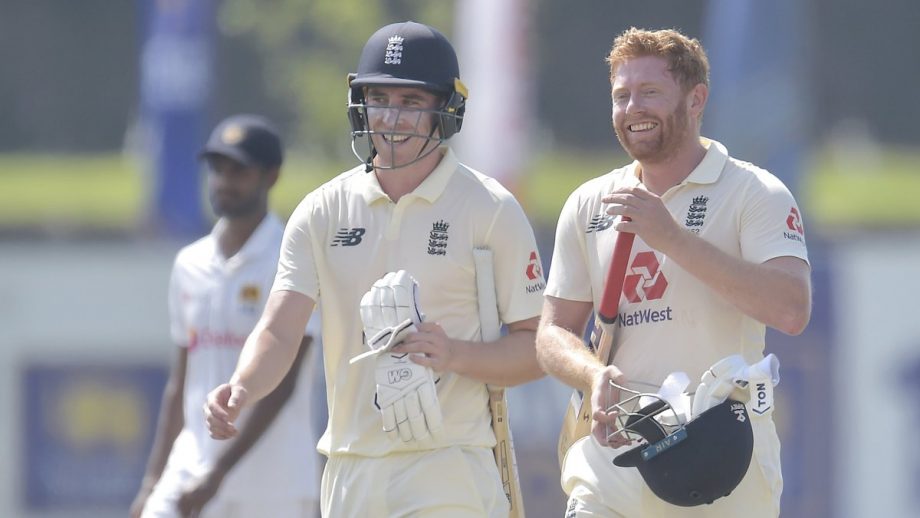 England Cricket/ Twitter
England beat Sri Lanka quite comfortably at Galle in their first Test match to lead the two-match series by 1-0, Bairstow and Lawrence scored winning runs.
England won their first Test against Sri Lanka at Galle on Monday with Jonny Bairstow and Dan Lawrence scoring tricky runs to take their side into a comfortable win. After losing three quick wickets on day 4, Jonny Bairstow admitted that the pitch was tricky to find runs on the final day and they managed to score wisely.
Bairstow hit the boundary to seal the win in front of an empty crowd at Galle but just a single England fan who was watching the game from the fort overlooking the ground. Joe Root later called that fan to thank him for his special support.
The spinning track gave the Sri Lankan spinner some hope to turn things towards their side but Bairstow (35) and Lawrence (21) played a sensible knock to reject the spinners, England scored 76-3 after resuming on 38-3.
It was a little twist in the first over when Lawrence tried a sweep to Perera and caught in an lbw appeal. The decision was reviewed but Lawrence was lucky enough to edge the ball with his gloves.
Sri Lanka collapsed on 135 in the first innings but England gave a strong reply after scoring 421 including a double century from the skipper, Joe Root. The home side did not lose and gave a determined reply in the response of 359 runs in their second innings before England made it interesting on 14-3 late on Sunday's play.
Bairstow played his first match since 2019 and said that it was an important win for England as they are preparing for a serious four-Test match series against India next month.
"You need 36 runs, it doesn't matter how you get there. If you are not proactive then there is going to be a good ball come your way. We had to make sure we were pressing them in the field and running hard,"

said Jonny Bairstow.
England skipper, Joe Root said that England's lack of performance due to biosecure bubble after their arrival could have been a problem.
England has won four consecutive Tests at away tours, their best performance since 1955-56. Joe Root has won 24 Test matches as a captain, just two Test wins away from Michael Vaughan's record of 26 wins.
Lahiru Thirimanne scored a confident 111 runs in their second innings to give hopes to Sri Lankan batting and Chandimal confessed that they could have scored 70-80 more runs if their batting had not collapsed badly.
He also said that the first innings total would matter the most in their second Test at Galle on Friday.
'Unacceptable batting performance'
Meanwhile, the Sri Lankan head coach Mickey Arthur called the Sri Lankan first innings performance "unacceptable". He said that after winning the toss and electing to bat, Sri Lanka had the advantage to take on the driving seat but they tossed the advantage to England after bowling out on 135.
"The first innings was very poor, it was an unacceptable batting performance. I am not one to ever look for excuses. It was like we were batting at the Wanderers and Centurion in terms of tempo. We hadn't changed our tempo to batting in the subcontinent, coming back and batting in Sri Lanka where it is all about patience. It is about trusting your technique, about trusting your game-plan, about wearing the opposition down and grinding away,"

said Mickey Arthur on Monday.
"We got that in the second innings after we had a long, hard chat about our performance day one and spoke about how we were going to make it better. The guys responded very nicely in the second innings, but it was too late. Even if we get 220 in our first innings, we keep ourselves massively in the game. That is where it was lost, that was disappointing but we have put it right in the second innings," he added.