Jaiswal, according to Rohit, "never wavered from his plans at any point"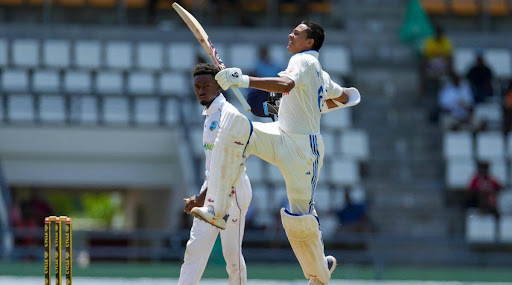 'In the middle, it was just about having a chat, letting him know, "You belong here."'
Yashasvi Jaiswal's temperament during his 171-run debut in the Dominica Test against the West Indies has been praised by India skipper Rohit Sharma. India won by an innings and 141 runs late in the third evening, and the 21-year-old Jaiswal was named Player of the Match.
The longest innings by an India Test debutant, Jaiswal's lasted 501 minutes and 387 balls, and Rohit Sharma observed a big portion of it from the other end during an opening stand of 229 runs.
"He's got the talent," Rohit said of Jaiswal. "We knew about it. He's shown us in the past couple of years that he's ready for this big stage. Came and batted sensibly, showed a lot of patience, and the temperament was tested as well – at no stage [did it look] like he was panicking or going away from his plans, which was good to see."
Ten years ago, Rohit scored a century on his Test debut against the West Indies. Rohit said that during their partnership, all he ever said to Jaiswal was that he belonged at the Test level.
"In the middle, it was just about having a chat, letting him know, 'You belong here.' That is the most important thing, because when you're playing your first Test match, you kind of keep asking yourself whether you belong here or not, but my job from the other side was to just keep telling him, 'You've done all the hard yards, it's just about enjoying your time in the middle. Don't worry about the results, just enjoy your time, and if you do that the results will flow.'"
India's bowling coach, Paras Mhambrey, praised Jaiswal as well, praising him in particular for his adaptability to the circumstances.
"The way he batted was fabulous,"

Mhambrey said of Jaiswal's innings.
"It was a slow wicket and got slower as the game progressed, stroke-making wasn't easy. If you look at the way he's batted earlier, he's the kind of guy who likes to take on the game, likes to play his strokes. But the way he applied himself on that wicket was very good to see. 
That's what you need at the international level, to be able to adapt to different conditions and situations, and that was expected by the team. He did the role for the team so it's definitely very heartening and positive to see. This performance will give him a lot of confidence and hold him good going ahead."
Ishan Kishan, the keeper-batter who had to wait 145.2 overs for his turn to bat and was only able to spend seven overs at the crease before Rohit Sharma declared, was the other debutant for India in Dominica.
Two balls later, after Rohit had signaled its impendingness from the dressing room balcony, the announcement was made. With just 20 balls played to him, Kishan had just enough time thanks to the early warning to work Alzarri Joseph off his hip for a single and begin his Test cricket career.
"I was just letting them know that we probably have an over or so and then we're declaring," Rohit said. "I just wanted Ishan to get off the mark, because he had probably played close to 15-20 balls without getting off the mark, so I wanted to tell him, get your first runs in Test cricket and then we have to declare.
"I can understand, playing your first Test match, you have a lot of nerves going around, and I could see, he was sitting there in the dressing room, entire [second] day, wanting to go out to bat, so I know the feeling, but I was just letting him know that we probably have an over or two and then we're going to declare."
The greatest match-winners on a field with a sluggish but sharp turn were obviously R Ashwin and Ravindra Jadeja, who shared 17 of the 20 wickets India took. Ashwin claimed match stats of 12 for 131, his highest in international Test matches.
"The results speak for themselves,"

Rohit said of the two spinners.
"Both of these guys have been doing it for a while for us now. They know exactly what is expected out of them. There's not much to tell them [about] what we need to do. It's just about going to them and giving them that freedom to go and express, because that is when they're doing their best for the side as well.
"When you have the kind of experience that these guys have, bowling on pitches like this, it's always a luxury, but yeah, you've got to come out and pitch it in the area that you want, and get the pitch to do the rest. Both Ashwin and Jadeja were magnificent in the game, especially Ashwin. To come out and bowl like that shows his class."
Ashwin was rightfully referred to by Mhambrey as "one of the greatest match-winners" India has ever produced.
"He has been one of the greatest match winners from India, he's right up there,"

Mhambrey said.
"The way he has won us so many matches can't be praised enough. He has been performing for so many years, I can't even put it into words."