India seals World Test Championship final spot with 2-1 series win: Player Ratings for the hosts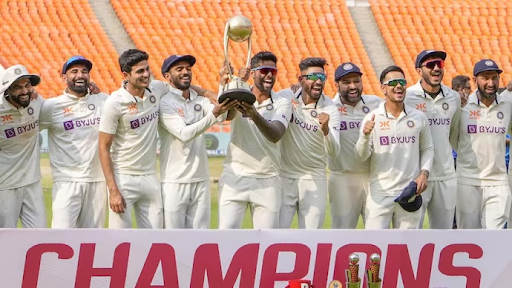 India won the series 2-1
India retained the Border Gavaskar Trophy with a 2-1 win over Australia, which also meant that they qualified for July's final of the World Test Championship. After winning the first two matches in Nagpur and Delhi, Rohit Sharma's team suffered a shock defeat in Indore. But with a draw in Ahmedabad, the hosts pocketed the trophy.
Let us check out the report card of the Indian players:
Top Order
KL Rahul (3/10): KL Rahul was given chances in the first two days before the team management was forced to hand him the axe, as he could not produce anything worth mentioning in those matches. The opener scored just 38 runs at an average of 12.66.
Rahul scored 20 runs in the only innings at Nagpur, while the second Test at Delhi was his last chance of making a mark. He was unsuccessful in that attempt, registering scores of 17 and 1 in the two innings.
Shubman Gill (9/10): Shubman Gill was not given a place in the playing XI until the third Test, but with his performance, the youngster has proved why he should be regarded as an undroppable player of the side. Gill scored 154 runs in those two matches at an average of 51+.
In extremely difficult conditions in Indore, he did well to score 26 runs. The Punjab lad was then seen at his best on the batting-friendly Ahmedabad surface, where he scored 128 runs.
Rohit Sharma (7/10): Indian skipper Rohit Sharma was not always consistent, but overall, he will be happy with how the tournament went for him. He was India's third-highest run-scorer with 242 runs, which came at an average of 40.33.
Rohit's best performance was in the first match at Nagpur, where he scored 120 runs. The second match at Delhi saw him getting starts on both occasions, with scores of 32 and 31. After scoring 24 runs in Indore, the captain struck 35 runs in the last game.
Cheteshwar Pujara (5/10): India's great wall of the modern era, Cheteshwar Pujara could not prove to be much of a wall in this series except the rare occasions. He scored only 140 runs, with his average being under 30.
After scoring 7 runs in Nagpur, the lad from Gujarat scored 31 runs in Delhi. He then got out for 1 run in the first innings of the third Test, but since then, his performances have been good. Pujara scored 59 in the second innings at Indore, before scoring 42 runs in Ahmedabad.
Middle Order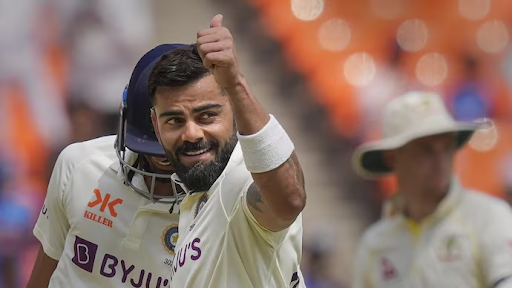 Virat Kohli (9/10): Virat Kohli was not only India's leading run-scorer in this series, but he also scored his first Test century in over three years. The former captain of the men in blue scored 297 runs at an average of 49.50.
After a poor Nagpur Test where he scored only 12 runs, Kohli had a decent match at his home ground in Delhi, where he scored 64 runs. The difficult pitch at Indore saw him scoring only 35 runs before he played a brilliant knock of 186 runs in the last Test.
Shreyas Iyer (3/10): The Indian team management persisted with Shreyas Iyer in this series, but he could not repay the faith shown. The batter scored just 42 runs in the three matches that he played, with an unacceptable average of just 10.50.
After not being selected for the Nagpur Test, the 28-year-old scored just 16 runs in Delhi. The first innings of the Indore Test saw him getting dismissed for a duck, though he should be credited for scoring 26 runs under difficult circumstances in the second innings.
KS Bharat (4/10): KS Bharat got a rare chance because of Rishabh Pant's injury, but it cannot be said that he has managed to completely impress the selectors. The wicket-keeper scored 101 runs in four matches, which came at an average of 20.20.
The player from Andhra scored only 8 runs in Nagpur, before adding 29 runs more to his tally in Delhi. After yet another poor show in Indore, where he scored just 20 runs, he finally showed some form in Ahmedabad by scoring 44 runs.
All-Rounders
Ravichandran Ashwin (10/10): Ravichandran Ashwin was India's best bowler in this series, as he picked up 25 wickets at an average of just 17.28. Besides that, he also did well to score 86 runs in the four matches.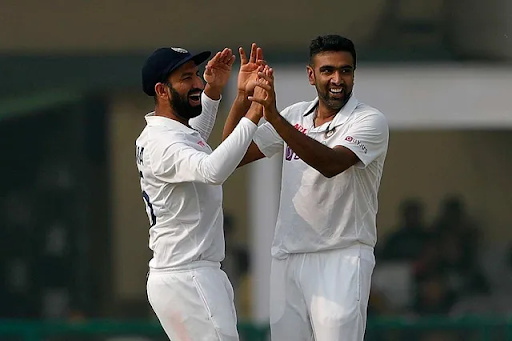 Ashwin picked up 8 wickets and scored 23 runs in Nagpur, before scoring 37 and scalping 6 wickets in Delhi. The Indore Test was not his best outing as he picked up only 4 wickets, but he was once again back to his usual rhythm in Ahmedabad, where he picked up 7 wickets.
Axar Patel (9/10): Axar Patel could not really live up to the expectations with the ball in hand, but interestingly enough, he managed to be India's second-highest run-getter in the series. He scored 264 runs at a superb average of nearly 90, although as for his bowling, he picked up just 3 wickets.
Axar scored 84 runs in Nagpur, where he also picked up a wicket. He went wicketless in the next two matches but scored 74 runs and 27 runs in Delhi and Indore respectively. Lastly, the all-rounder scored 79 runs and picked up 2 wickets in Ahmedabad.
Ravindra Jadeja (9/10): Ravindra Jadeja's story is the exact opposite of that of Patel's. He could not realize his full potential with the bat, but with the ball, he was India's second-highest wicket-taker. Jadeja picked up 22 wickets, while also scoring 135 runs.
The series opener at Nagpur saw him scoring 70 runs and picking up 7 wickets. Then in Delhi, he was seen at his absolute best as he picked up 10 wickets and scored 26 runs. After picking up 4 more wickets in Indore, Jadeja had a rare poor outing in Ahmedabad as he picked up only 1 wicket.
Bowlers
Mohammed Shami (7/10): While the pitches on which this series was played were not tailor-made for the pacers, Mohammed Shami can be satisfied with his numbers. He was the pick of the bowlers among India's seamers, picking up 9 wickets at an average of 28.22.
Shami picked up 3 wickets and scored 37 runs in Nagpur, before picking up 4 wickets in Delhi. After being rested for the Indore Test, he had a poor showing in Ahmedabad, where he picked up just 2 wickets and conceded 153 runs.
Umesh Yadav (4/10): With Jasprit Bumrah unavailable with injury, Umesh Yadav had a brilliant chance of making a case for his selection in the red-ball team. However, the pacer failed in that regard, as he picked up just 3 wickets at an average of almost 50.
His first chance was in the match in Indore, where he did really well to pick up 3 wickets and score 17 runs. However, he was all over the place in Ahmedabad, as he conceded 126 runs without any wickets to his name.Mohammed Siraj (2/10): What is being said about Yadav can also be said about Mohammed Siraj, as he too failed to utilize the opportunity he was presented with. The Hyderabadi speed gun was given three chances but he picked up just 1 wicket – going wicketless in Delhi and Indore.