Imran Khawaja beats Ricky Skerritt in a close contest to remain the deputy chairman of ICC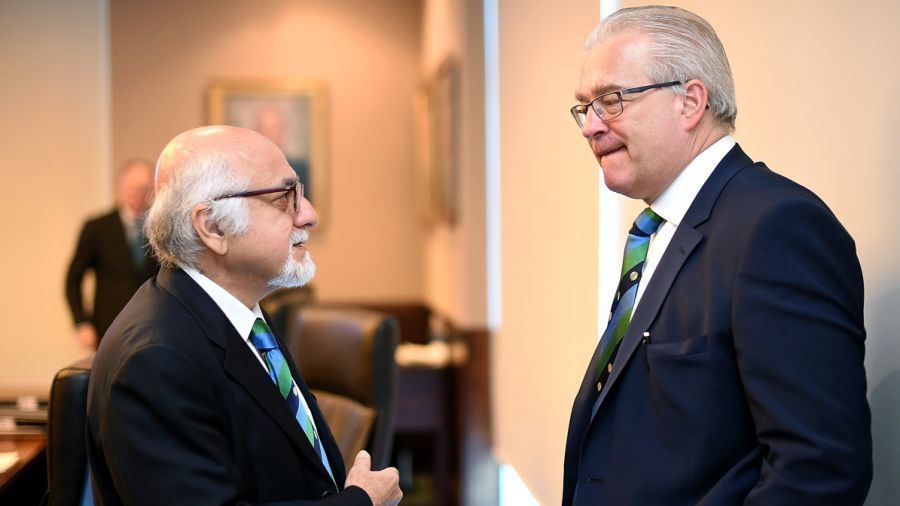 The 64-year-old lawyer of Singapore will be the deputy chairman of ICC
Imran Khawaja is having a conversation with his fellow ICC member of ICC.
It is not officially confirmed yet that Imran Khawaja, the 64-year-old lawyer of Singapore will be the deputy chairman of ICC (International Cricket Council), following a fiercely-fought election against Ricky Skerritt.
Imran Khawaja beat Ricky Skerritt with the closest margin possible, won the election by one vote (9-8). The elections were conducted in an independent panel and were believed to be held earlier this week.
An Old member of ICC also confirmed the experience and links of Imran Khawja. He said that in the highly polarized electoral Chanel of 17 members, Khawaja won the position and it is not immediately known who would have voted for him. He has been with the ICC board for quite a long time and he knows how to compete politically.
India, Australia, England, New Zealand, West Indies, Afghanistan, Ireland, and chairman (Greg Barclay) are known as a close-knit group in ICC and it is believed that they must have voted for Skerritt.
While the votes from Pakistan, Sri Lanka, Zimbabwe, South Africa, Bangladesh, three associates countries (Bermuda, Malaysia and Singapore) and independent director (Indra Nooyi) are expected to have gone for Khawaja.
The 9-8 verdict is a clear indication that the boardroom of the World cricket body is vertically split. The biggest issue before ICC is how to go about the FTP cycle of 2023-31. The Khawaja group has insisted on eight global events in eight years while the opposing group led by BCCI's Big Three has been demanding fewer global events.
Last year, Greg Barclay was elected as the new independent chairman of ICC. And according to an official statement, Barclay replaced Shashank Manohar who stepped down from the post earlier in 2020.
"It is an honour to be elected as the Chair of the International Cricket Council and I would like to thank my fellow ICC directors for their support. I hope we can come together to lead the sport and emerge from the global pandemic in a strong position and poised for growth,"

said Barclay in an official statement.