ICC Men's T20 World Cup 2022 First Round: All you need to know- Dates, Venues, and Format Explainer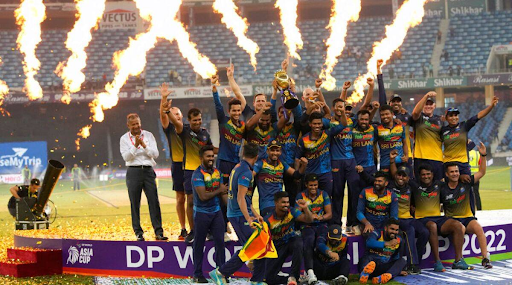 Sri Lanka, the winners of Asia Cup 2022, will feature in the first round
It has not even been a year since Australia defeated New Zealand to win their first-ever ICC Men's T20 World Cup title, but in the modern-day cricket world where the only admissible speed is the speed of light, there is simply no time to cling on to the past.
The focus has already shifted to the next big event – the ICC Men's T20 World Cup 2022. With less than a month remaining for the competition, the teams have started drafting their list of agendas and preparing their strategies.
Australia will have the home advantage, but the pressure of defending the title will be enormous. The likes of Pakistan and New Zealand will look to improve on their impressive run in 2021, while teams like India and South Africa, who had a poor run last time around, will look to avoid making the same mistakes all over again.
Those, however, are equations we will see in the Super 12 stage. Before the competition even moves into that stage, the cricket fans will be in for a treat as eight promising teams will battle it out in the group stage, fighting for a unilateral goal – a chance to rub shoulders against the big boys.
The teams who finished between 9th to 12th in the previous edition – namely Namibia, Scotland, Sri Lanka and West Indies, were given a direct entry into the group stage. Besides them, four other teams have advanced by virtue of their performance in the Global Qualifiers. Those four teams are Ireland, Netherlands, Zimbabwe and the United Arab Emirates.
Namibia, Netherlands, Sri Lanka, and UAE will be competing in Group A, while Group B will be comprised of Ireland, Scotland, West Indies, and Zimbabwe. Among these eight teams, two teams from each group will make it to the next round.
Dates
The ICC Men's T20 World Cup 2022 group stage matches will commence on 16th October, with a match between the Asia Cup 2022 winners Sri Lanka and the emerging team from Africa, Namibia. The group stage will conclude on 21st October.
Over these six days, a total of 12 matches will be played, with two matches of the same group scheduled for each day. The first match will start at 3 PM local time every day, while the second match will start after the former's conclusion, at 7 PM local time.
Venues
The matches in the group stage will be played on two venues – Kardinia Park in Geelong and Bellerive Oval in Hobart. Kardinia Park will host all of Group A's matches, while Bellerive Oval will host the Group B contests.
Kardinia Park has previously hosted only one T20I match – back in 2017, where Sri Lanka handed Australia a two-wicket defeat. Bellerive Oval, on the other hand, has hosted three T20I matches between 2010 and 2018. Australia won all of those three matches.
ICC Men's T20 World Cup 2022 group stage teams and where they will play their group stage matches:
| | |
| --- | --- |
| Teams | Venue |
| Namibia | Kardinia Park, Geelong |
| Sri Lanka | Kardinia Park, Geelong |
| Netherlands | Kardinia Park, Geelong |
| Australia | Kardinia Park, Geelong |
| Scotland | Bellerive Oval, Hobart |
| West Indies | Bellerive Oval, Hobart |
| Ireland | Bellerive Oval, Hobart |
| Zimbabwe | Bellerive Oval, Hobart |
Format Explainer
The eight teams competing in the group stage have been divided into two groups, with each group consisting of four sides. Every team will be playing three matches in the group stage and will get a day's rest between their matches.
Two points will be awarded for a victory, while a tie or an abandoned game will yield one point. Following the conclusion of all six matches in a group, the two teams who have accumulated the most points from each group will make it to Super 10 – meaning a total of four teams will qualify for the next round. As is the norm in cricket competitions, in case of a tie in terms of points, the net run rate will be the differentiating factor.
Star attraction
Quite a few heavyweight teams are playing in the group stages, which will make the competition enthralling before we even enter the Super 12 stage. West Indies, who are the most successful team in this competition, has failed to earn a direct entry into the Super 12 stage.
Besides them, Sri Lanka will also feature in the group stages, and given how they performed in Asia Cup 2022, every team will be wary of the Lankans. Besides them, Namibia was impressive in the last edition, while teams like Ireland and Zimbabwe are always capable of pulling off unexpected giant killings.
In terms of individual star attraction in the group stages, there will be a plethora of global superstars in action. Nicholas Pooran, the skipper of West Indies, is a fantastic player in this format, while Odean Smith is a power-packed package, who can do wonders with both the bat and the ball.
Sri Lanka will boast of Bhanuka Rajapaksa, the left-handed power-hitter who was at the top of his game in the Asia Cup. Besides that, young pacer Dilshan Madushanka, who stunned the world by uprooting Virat Kohli's stumps not very long ago, will also feature.
In their possession, Zimbabwe has a talented all-rounder in Ryan Burl, who made the headlines recently for picking up a five-wicket haul against Australia. Sikandar Raza is now 36 years of age, but he still remains one of his team's most important players.
Paul Stirling and skipper Andrew Balbirnie are the most experienced players on the Ireland side, but the star attraction is a 22-year-old batter who recently showed his class by taking the attack on the Indian bowlers – Harry Tector.