I thought these last five games, the bowlers have really stepped up – Rohit Sharma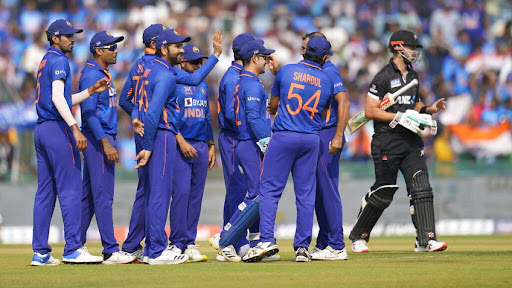 IND defeated New Zealand by 8 wickets to win the series
At the Shaheed Veer Narayan Singh Cricket Stadium, India's captain Rohit Sharma scored an impressive fifty, and Shubman Gill finished the second ODI undefeated on 40. This victory gave India the series victory over New Zealand by a margin of eight wickets.
Following an excellent performance to bowl out New Zealand for just 108 runs, the Indian bowlers, led by Mohammed Shami's 3/18, were precise with their bowling, attracted strong swing, turn, and bounce, and collected quick return catches.
In response, Rohit scored 51 and set the pace for the team's successful pursuit of the total in 20.1 overs. The victory also gives India an unbeatable 2-0 lead in the three-match series, and it is their second home ODI series win of the year.
With the exception of Lockie Ferguson, New Zealand bowlers were unable to provide the same degree of movement as Indian bowlers did in the opening ten overs. Rohit and Gill were able to start their round without difficulty as a result.
While Gill started off with an uppish square drive over backward point off the same bowler for striking three boundaries of the first four overs, Rohit began by pulling and slashing off Henry Shipley's short deliveries with ease.
By flawlessly hooking off Ferguson's speed and over fine leg, Rohit scored the game's opening six points. Gill reacted quickly to overpitching by leaning into the drive into cover for four more.
In the power play, the India captain hit some beautiful shots. He quickly drew a short ball from Blair Tickner over mid-wicket for four and then sailed an effortless inside-out drive over extra cover for a towering six.
In the 13th over, he introduced Mitchell Santner with a powerful sweep through square leg before Gill scored another boundary off of him with an outside edge that ran wide of slip.
Rohit attempted to work a short-of-length ball from Shipley through leg-side two overs after reaching his fifty. But Rohit was caught lbw for 51 as the ball struck him on the knee roll while remaining low.
In the 17th over, Virat Kohli delivered a magnificent straight drive that presented the full face of the bat for a lovely boundary off Shipley, before pulling through backward square leg for his second four of the innings.
In the 18th over, Gill welcomed Michael Bracewell with a pull and sweep over the midwicket boundary for two boundaries, advancing India's chances of winning.
Ishan Kishan hit two boundaries off spinners before Gill hit the winning runs by dancing down the pitch and lofting the ball over mid-on off Santner to seal a crushing victory for India despite Kohli being stumped off Santner for 11 runs.
India took the series by two games to 2-0 with one match remaining after a nail-biting last-over victory in Hyderabad. In Raipur, they cruised to an eight-wicket victory behind an outstanding effort from their quick bowlers.
India's dominance began with an accurate exhibition of swing and seam to bowl New Zealand out for 108 in under 35 overs in the Shaheed Veer Narayan Singh International Stadium's inaugural international match. Two deft return catches added to the advantage.