I don't want to remember the past and I want to look forward – Taskin Ahmed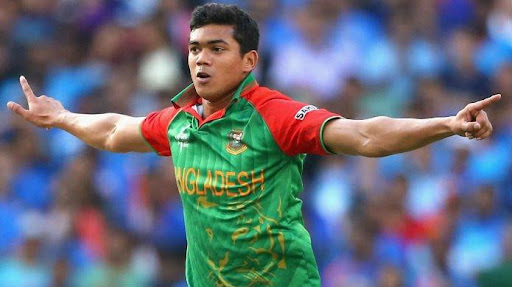 Twitter
Bangladesh's Taskin Ahmad has melancholy memories of the World Cup and is ready to deliver his side in the upcoming T20 World Cup.
Bangladesh right-arm pacer, Taskin Ahmad made his T20 debut against Australia in the 2014 T20I World Cup at the Sher-e-Bangla National Stadium and was highlighted with the economic figure of 1-24 from his four overs.
In the following year, he became an essential part of Bangladesh's speed unit, under Mashrafe Mortaza's guidance.
Taskin's last T20 World Cup memory in the 2016 edition in India was pungent. He had to return home after his action was reported.
Taskin then vanished after his repainted bowling action. With injuries, his form submerged to such an extent that he was nowhere in the national retribution anymore.
In 2019, he could easily make a position in the World Cup squad due to his outstanding performances in the domestic circuit but he had dropped out of the selection for injury and team management was not in the position to take any risk.
He was emotional and tears spilled in his eyes after the team was announced as he felt he was ready to play and his emotional affair in front of media had such an impact that it made it into the headlines of all the major dailies.
He did great hard work and has improved a lot as they are gearing up for another World Cup starting 17 October in Oman and UAE.
"I don't live in the past,"

Taskin said. 
"It's disappointing (not to play in those World Cups) but I cannot change it and don't want to lose my sleep over it. I don't want to remember the past and I want to look forward,"

added the 26-year-old.
Taskin Ahmad participated in the T20 series against Zimbabwe but dropped out of the series against Australia and New Zealand due to the slow nature of wickets.
He said that he is excited to be part of the World Cup journey and will be backing his strengths at the event if he manages to make it to the playing eleven.
"I am excited to make the World Cup team though I have not played in Oman and Dubai so far,"

he said. 
"I didn't play the last two series due to the conditions but I was able to play the last game.
"I think the mental shift is very important because of the wicket that we played on here and the wicket that we are expected to have in the T20 World Cup will be different. I will try to back my strength that is bowling over 140kmph and hit the seam on the right spot, and if the wicket is favorable then it will certainly work."
Bangladesh is set to travel to Oman in October where the Bangal tigers will have to play a qualifier before making it to the Super 12 in the T20 World Cup.
Super 12 will have two groups 1 and 2. Bangladesh will contest with Oman, Papua New Guinea, and Scotland. In group A, Ireland, Namibia, Sri Lanka, and Netherland will contest.
"We will be getting around 10 days to adapt there and prepare while we will be playing three T20 practice games and we are looking forward to it. Whatever the conditions are, we have to play according to it. When the wicket is not assisting cutters at that point the length ball and the yorker becomes very important. It will be an ICC event so we have to keep in mind that it will be sporting or flat track. It will be challenging for the bowlers but at the same time if we can execute our plans we will have a chance,"

Taskin noted.
Do not miss: Latest Updates on Indian Premier League