Shakib optimistic about Bangladesh chances at the T20 World Cup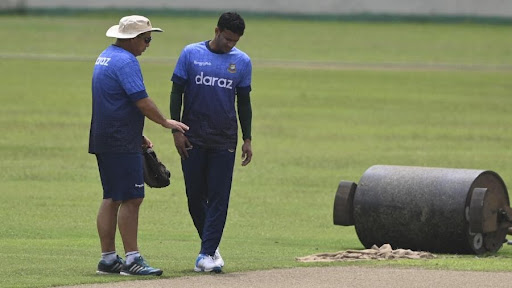 Twitter
Shakib Al Hasan believes that three successive T20I series wins recently will give Bangladesh a good chance in the T20 World Cup.
Bangladesh all-rounder, Shakib Al Hasan has said that the team will head to the upcoming T20 World Cup in UAE and Oman having built a "winning mindset" after back-to-back series wins against Zimbabwe, Australia, and New Zealand.
Although there have been a lot of matches in the recent series that were low-scoring affairs, with Bangladesh batsmen struggling alongside their visitors on pitches that have come under criticism, Shakib feels that there is no better way to prepare other than winning.
The all-rounder said about the IPL that it will benefit the players of his team a lot. Shakib and Mustafizur Rahman will be playing the IPL's UAE phase. He further said that I and Mustafizur can share our IPL experience with other players as well.
"I think we have a good chance in the World Cup. We had a good preparation. There is lots of criticism regarding wickets and low scores but at the same time, we have to understand that there is nothing that gives you more confidence than a win. A team carries a winning mentality after success and that gives you the confidence to a different level. We want to go to the World Cup with this confidence,"

Shakib said.
"We will go there 15-16 days before the World Cup and I feel that will be enough to adapt to those conditions and wickets and I don't think this pitch and conditions will have an impact over there. We have developed a winning mentality and want to go there with it."
Shakib feels Bangladesh can go all the way if things go right in the T20 World Cup.
"It is difficult to say how far we can go, but I feel we can go all the way at the World Cup,"

he added. 
"We have to play match by match and if we can do well in the first round, we will carry that confidence and we can give our best in the main round (Super 12).
Bangladesh is set to travel to Oman in October where the Bangal tigers will have to play a Qualifier before making it to the Super 12 in the T20 World Cup.
Super 12 will have two groups 1 and 2. Bangladesh will contest with Oman, Papua New Guinea, and Scotland in Group B. In group A, Ireland, Namibia, Sri Lanka, and Netherland will contest.
Shakib added that batsmen and precisely the openers should not be judged on their performances against New Zealand and Australia. He said that the batters will have to forget about playing in Dhaka if they are to do well in the T20 World Cup.
"Everyone is out of form, those who played these 9 to 10 matches. Here no one (batsman) did very well that we can say that the (openers) did badly, so I feel we should not count these games to judge our batsmen. I feel a batsman will end his career if he plays 10 to 15 matches here. Everyone is trying, can win matches for the country,"

Shakib said, adding that IPL will be good preparation.
"I think it (IPL) will help. We will be staying there and will get accustomed to those conditions and we (Mustafizur and I) can share our experiences with other teammates. The two of us can understand the mindset of the cricketers regarding the World Cup and we can share that with our teammates that will help us to do well in the World Cup.
"Last time I went to the World Cup (2019) after completing the IPL and this time around it will be a similar case. I will try to prepare to the best of my ability for the World Cup but it's not a certainty that I can deliver in the same manner. But preparation-wise, I want to be a hundred percent,"

he said.
"For me, team performance is most important and how I am contributing behind any win. My mindset always remained like that and still it is the same. Even if that means I am bowling economically without picking any wicket."