I don't remember another tournament like it – Nat Sciver after scoring 148 for England in the Final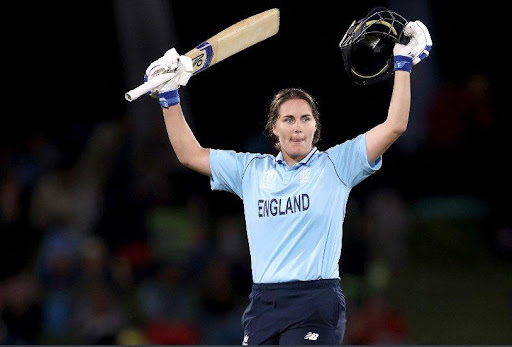 Nat Sciver's unbeaten 148 went in-vain for England as they lost the WC Final against Australia by 71 runs
England's right-hand batter Nat Sciver scored 148 in the Final of the World Cup against Australia at the Hagley Oval in Christchurch which served no cause as they lost the match by 71 runs.
England would have never imagined chasing a total of 357 in the Final of the World Cup game against Australia when they opted to field at the Hagley Oval in Christchurch.
England's right-hand batter Nat Sciver scored 148 in the Final of the World Cup against Australia at the Hagley Oval in Christchurch which served no cause as they lost the match by 71 runs.
It was a venue that was new to Australia, who played their first game – the final – in the tournament at Christchurch, while England had already experienced two games before coming into the clash.
England had hoped to use the familiarity of the conditions to their account but Alyssa Healy's outstanding knock of 170 helped Australia put on a giant total. Nat Sciver on the other hand kept England in the chase with an unbeaten 148 but it went in vain as they lost the Final by 71 runs.
"Yeah obviously I'm very disappointed,"

said England skipper Heather Knight on Sunday (April 3).
"I am really proud of Nat and the fight she put on, obviously to give us a chance of winning, but we, unfortunately, didn't have anyone with her to be able to really maximize. All credit to Australia for the way they played in a final. It was pretty amazing and they made it very tricky for us to set fields, it was a very good wicket and innings by Alyssa – yeah, it was outstanding. One of the best I've certainly seen live. So yeah, obviously disappointed but I think we can take a lot of pride in what we've done as a group, the way we fought throughout the competition to be in this position, and the way we fought tonight."
England did not have an ideal start to the campaign as they lost their first three games of the event which eventually put them in a dangerous position. From there, they put on a stunning effort to win five consecutive games to get out of the crisis.
"A lot of positives, I think the character and the resilience in the group to turn it around after those first three games when obviously we were in a pretty tough situation shows volumes I think about this group and the people that we've got in it and the staff we've got as well to get here with a chance of winning, but I think in terms of things we need to do differently. I think it will take a little bit of time to digest what went wrong. And I think also, it's fair to say credit to Australia and their players and they put their best game on the biggest stage so – fair play to them."
Australia went for winning their third consecutive ICC event including the T20 World Cup titles of 2018 and 2020, unbeaten throughout the competition. Sciver, however, made sure that England do not lose their hope and put on some fight. While Australia kept bagging wickets at regular intervals. Sciver went on her own from the start while getting no support from the other end.
"When you're chasing 350 odd runs and there is really only one way you can play it,"

Sciver said.
"I saw the batters had already got us off to a really good start. I was about a bit scratchy at the start and Heather was hitting it nicely, so yeah, I've stuck in and knew that I would be able to get one away. But I guess when you're chasing that – the mentality of scoring runs takes care of itself really – know that you need to be in there for a long time but also picking up boundaries where you can and do that seem to come naturally. But it just got a bit too much, I guess."
England was pushed against the wall after being reduced to 213/8 and Australia kept building the pressure. However, Sciver stitched 65 runs stand for the ninth wicket with Charlotte Dean lighting some hopes until the end.
"Yeah, I think actually when Charlie Dean was there we had a really good chat like if we were there with two three overs to spare. We knew that – I mean, it would be a big ask but, there would be a chance that we could get over the line. And you could tell that – yeah, the Australians were really keen on obviously taking our wicket and yeah, changing the momentum again. Because we did have a bit of momentum, I guess. But just if anyone stuck around for a 50 or 100 run partnership, it would have been maybe a different story. But yeah, we are still in it until then."
Whatever the fate of the tournament was, one thing is sure it was a highly competitive event that had a lot of close encounters and people saw some real brand of cricket from all sides which is a positive thing for women's cricket.
"This tournament has been unbelievable, the number of close games we've had the competitiveness of all the games really have been brilliant,"

said Sciver.
"I don't remember another tournament like it really. Yeah, I think it has been a brilliant World Cup, I think the standard of cricket, the competition, the tenseness of the matches there's been a lot of close matches, I think it's a brilliant advert for the women's game and means it's in a really healthy place I think. Probably not a lot of people were expecting I think going into this competition, but I think – albeit it was bad for us at the start of the competition to have everyone beating everyone, is a really good place to be and I think in the future, to keep that happening there needs to be countries that play more cricket.
"I think we're quite lucky – we and Australia are the best two supported teams in the world. But I think there needs to be more regular cricket for some of the nations that don't play as much. I think Sri Lanka obviously wasn't here, they have hardly played cricket in the last two years because of the COVID and to keep the game, the women's game, in a healthy state, there needs to be that support throughout the different nations I think."