I can add a ton of value to this team, says Liam Livingstone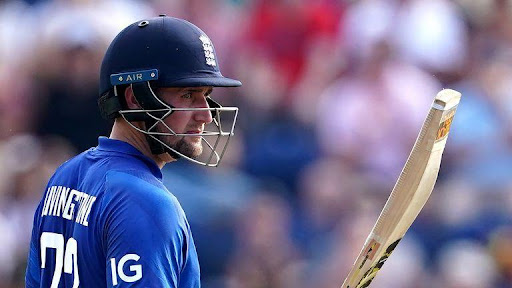 Liam Livingstone reached his second half-century in ODIs
Liam Livingstone is a party guy, not a guy for the long haul. His innings of 52 off 40 balls in an eight-wicket loss to New Zealand on Friday was the second-longest of his 47-match England career, trailing only the whirlwind 103 against Pakistan from two years ago that served as his international debut by three balls.
It was a timely affirmation of his talents in 50-over cricket after a slow summer, given England will soon announce their World Cup roster. Livingstone added that spending time in the middle had done him "the world of good" because prior to his innings in Cardiff, he had not reached the fifty-run mark in any form of the game since the IPL in May.
"This is my role: I'm somebody that comes in towards the end of the innings, I'm not going to be someone who bats at No. 3 for England in ODI cricket."

Livingstone said, having walked out at No. 6 in the 38th over.
Livingstone had an ankle problem last year but returned quickly to play in England's victory over Australia in the T20 World Cup. However, the problem cropped up again earlier this year, delaying his trip to the IPL.
In December, he injured his knee when playing in Pakistan for his first Test match. He later claimed that he had been "half-cooked" while participating in the T20 Blast.
"It's not always ideal to play when you're injured and get yourself out of form, that sort of stuck with me through the Hundred and the T20s [against New Zealand] so I've been crying out for a bit of time in the middle. I had a bit more time in the middle today and, as it went on, I felt like I was moving better, I was seeing the ball better."

he said.
He may be rested in the second ODI at the Ageas Bowl on Sunday, but it is not believed that his fitness will be seriously compromised for the remainder of the series. He temporarily held his back while bowling.
"I've not played 50-over cricket for 18 [14] months, I've had two pretty big injuries… I feel like I'm finally getting back to my best. Hopefully these games will help me get closer to that. Fifty-over cricket is a different animal [to T20] on your body."

he said.
When he was having his "golden summer" of 2021, which included that T20 century against Pakistan, a strong run in the Hundred, and a straight six off Haris Rauf that cleared the football stand at Headingley, Livingstone exuded a self-assured confidence that he has struggled to reclaim in the past two years.
On Friday, however, there were signs of it, not the least of which was when he smacked Kyle Jamieson with three successive sixes, two over the leg side and one back over his head, toward the River Taff. Recently, Livingstone has been playing golf with Jos Buttler.
The two have taken to dressing as Bryson DeChambeau and Brooks Koepka, respectively. Their power-hitting has converted into a partnership worth 77 off 59 balls.
"Sometimes, without the volume in the middle, it can be pretty difficult to just walk in and smack the ball out of the park without a lot of confidence in the middle behind you."

Livingstone said.
"I really pride myself on being someone that can change a game; the more I can do it like I did today, over an extended period, the bigger asset I'll be to this one-day team… I know that when I'm at my best, I can be a massive asset to this team."
However, Livingstone's bowling is what Eoin Morgan calls "a key part" of England's World Cup preparation.
"It's his all-round ability: in the field, he's unbelievably good, but also his ability to bowl wrist spin and finger spin makes him almost a dead-cert to play every game."

Morgan said during an interview with Sky Sports
His versatility guarantees that England will maintain their equilibrium even when Ben Stokes is playing as a specialist hitter and they have a frontline bowling option in their top six in addition to Joe Root's outbreaks.
On Friday, Livingstone gave up 47 runs in 7.4 wicketless overs, with a late flurry from Daryl Mitchell hurting his stats. After practicing with Jeetan Patel at Birmingham Phoenix in the Hundred, he said he is still in "a development phase" and has made a small technical adjustment to his action, "trying to hold my front side as long as I can."
"I work on my bowling to become a genuine allrounder," he said. "It doesn't come as naturally to me as batting, but it was nice that the first few overs came out really well. [I'm trying to] be more of a threat rather than just someone who bowls really quick. I only made the change about three weeks ago.
"It's a technical thing I've been working on to try and get a bit more shape on the ball, to ultimately try and get more wickets and become a bigger threat. I was just fed up of being someone who bowls flat into the pitch and gets milked… I'm just trying to evolve as a bowler, which will ultimately make me a better cricketer."