'Hungry' Roy dominates the spinners from Bangladesh with sweeps and reverse sweeps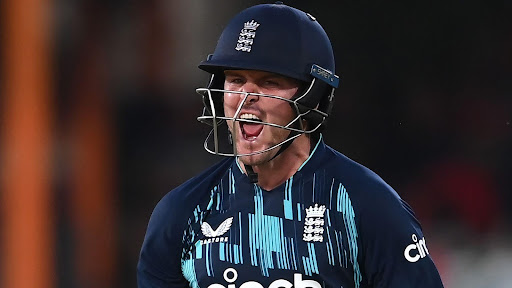 Jason Roy scored his 12th ODI century against Bangladesh
In the second ODI against Bangladesh, Jason Roy scored 132 off 124 balls to help his team win the series. He did this by following a planned strategy to attack the spinners with sweeps and reverse sweeps and by ignoring the "smoke" surrounding his batting form.
The historic home record of seven unbeaten ODI series victories in seven years was broken by Roy's huge total. While trying to reach 327, Bangladesh was quickly run out of the game for 194, and Roy's innings was largely responsible for that.
Along with playing the standard sweep to take advantage of the slow bowlers, Roy got four boundaries with reverse shots off the left-arm spinners.
"It was a plan to sweep and reverse sweep with the amount of turn," Roy said. "To go over point was the safest option for me. I tried to go over cover a couple of times, it was just too slow and too much spin. I tried to put that to bed quickly. Once Shakib Al Hasan got that undercutter, I should have hit it to the sightscreen, but I tried to sweep him and got out."
"It was a slightly poor decision but apart from that, I think you had to keep your boundary options very simple. You can hit it wherever you want when you get a lot of runs. Out there, hitting the sweeps and reverse sweeps was one of the only boundary options for me today."
According to Roy, the batters benefited from the Dhaka pitch. Unlike the first ODI, where the pitch gave unpredictable bounce, this match's surface was slow but had consistent spin, making fast bowling simpler.
"I only faced four balls the other day, it was clearly a lot easier today," he said. "But there was a bit more spin, but it was consistent. The other day it was a slightly inconsistent bounce as well as turn. It was far lower scoring whereas today there was a slow bounce. I think the boys showed a high amount of skill to give us that total."
Roy talked about how it was a relief to score runs during this Bangladesh tour, especially after being bowled early in the first game.
"Every single time scoring a hundred means the world. I worked hard to right my wrongs from the first match. I made a silly mistake then, and I was hungry to make some runs. There are some hundreds in the past when you get to 40, and you feel really free-flowing when you get to the hundred. Every boundary was a scrap. I built a great partnership with Jos Buttler. We ticked over nicely."
"Every place poses completely different skill sets. None more so somewhere like here. I have scored runs in India. As far as skill set for batsmen, to score runs in these sorts of conditions is as rewarding as it can get. I am very happy to score. The amount we scored today on that wicket in a series-defining match was awesome."
When Dawid Malan scored his fourth ODI hundred in the first ODI, Roy said that he had learned from the left-hander. In fact, it prevented England from losing because Malan controlled the circumstances to drive the guests home.
"I realized that very quickly once I stuck that one up in the air in the first game," Roy said. "The way Malan went about his innings, I quickly realized to switch on, put my head in and bat some time.
"It was just time at the crease. I can score a lot of runs if I batted that amount of time. As simple as that. I reduced the risk in boundary options. The one I got out to, was the highest risk for a boundary option I took. I got out stupidly."