His life has changed – Justin Langer on visiting 'drained out' Tim Paine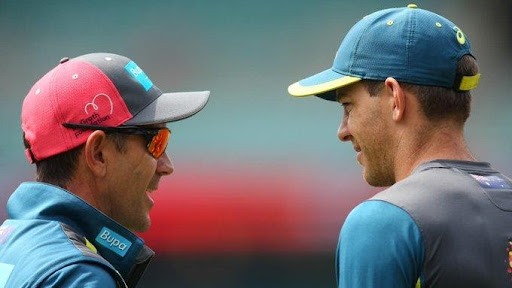 ESPNcricinfo/ Twitter
Justin Langer spoke about Tim Paine on Saturday mentioned him as one of his closest friends. He kept answering about him for a couple of minutes and it never looked like a Head Coach talking about the fallen captain.
Justin Langer spoke about Tim Paine on Saturday mentioned him as one of his closest friends and he gave him a visit last week. He kept answering about Paine for a couple of minutes and it never looked like a Head Coach talking about the fallen captain of his team.
There was real emotion in his words and one can see the hurt there. Justin Langer had gone to Hobart last week to check on one of his closest friends and not only a work colleague but a friend whose world he has seen crumbling down.
It sounded when the Head Coach provided a bit of insight about how the glove man is going through and what possibly his future could be. It's easy to jump on Langer as he was being emotional in defending the former Test skipper.
But it was the Australian Head Coach at the press conference talking about someone who he considers a beloved friend and whose life has completely changed forever.
"I'm very sad about what's happened. He and I have been through a journey like we have with this entire group. He's one of the best people I have met in cricket, so it was nice to go down and see him. He's obviously shattered with what's happened. Because he's been such an exemplary figure in Australian cricket for the last four years,"

said Langer.
Langer admitted that he has heard about the incident from Paine himself a few years ago and that he wasn't aware of the investigation but now he has understood the whole situation completely.
"I heard about it, I think I was getting on a bus on the way to England about an incident. Because, Painey told me about it. That was nearly four years ago. And literally the first I heard about it after that was the day or two days before he resigned. So, I had no idea about an investigation. I didn't know anything about that. I obviously know deeply the full story now and the context of it all. But I certainly didn't know that before. And again, what other people make of it again is completely out of my control,"

he said.  
Tim Paine's incident came on the back of a challenging year for the Australian cricket team and Justin Langer. It has been a couple of months back when the Australian Head Coach was having trust issues with some of his players.
These twists in the unit were followed by a tough 2020-21 summer in which they lost the home Test series to India twice in three years.
And things were getting back in the right direction for the team and Langer when they got the maiden T20 World Cup title. But then came the biggest blow in their unit and Langer himself felt like he and his team members have grown and learned a lot.
"I'm growing all the time. No doubt about that. It's a tough business, I've been in it for 30 years and you learn to grow and evolve. You're always under the spotlight."
He also took a moment to talk about the society we are living in and in his opinion, it was unforgiving when someone comes under the 'spotlight' or makes the wrong footstep.
"We live in a world of perfectionism, don't we? We're a very judgmental society. And as I said at my very first press conference, I was asked about Steve Smith and David Warner and Cameron Bancroft, there's not one person who's asking questions … or who is listening to this who hasn't made a mistake in their life. There's not a single person. And our captain, one of the best, made a mistake and is paying a heavy price for it. I continually see in this job, and I see in this society we live in, is it can be brutal. You learn your lessons, but we live in an unforgiving society and that's a real shame."
There has been a lot of debates going on about Paine's incident and its impact on the upcoming Ashes series against Australia but Langer was quick to respond and he said that he talked with his team and committed them to stay focused as they were at the T20 World Cup.
"Not in this Test match. Not for this series. We made a commitment probably six months ago to be very mission-focused and to have real clarity with everyone's roles in the team. Whether it's the players and the staff, very mission focused on the World Cup and in the Ashes. The World Cup has been accomplished and there are distractions then. But if you stay mission-focused, then all those distractions, you haven't got time to be focused on anything else except winning. We did that in the World Cup. We'll do it in the Ashes."
Langer also revealed that the players might decide to catch up with the former captain and keep paying him a visit and the respect he deserves.
The Head Coach also ruled out the possibility of the 37-year-old to return back in the Test cricket even after the incident and his age but he sounded more like a mature and successful coach who has seen all in cricket.
"He loves cricket. He absolutely loves cricket. And he's 37. He is a fit as an athlete, certainly in our squad. He looks after himself so well. He's very focused. So who knows. His No.1 priority at the moment is family as you can imagine, and that's how it should be. I'm not sure we've seen the end of him. But we'll wait and see. That'll be his decision,"

he signed off.