We'll have some clarity about the South Africa tour very soon, says Kohli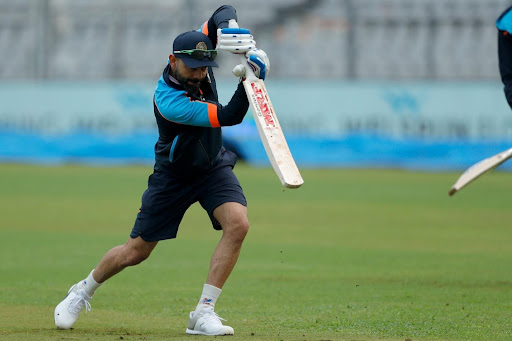 ICC/Twitter
India's tour to South Africa has been in doubt after the discovery of the new Covid-19 variant in the South Africa region while Indian skipper Kohli said they'll have clarity very soon about the tour.
The World Health Organization alarmed the siren in the countries after the discovery of the new Covid-19 variant in the South Africa region.
India is ready t tour South Africa which is scheduled for three ODIs, three Tests, and four T20Is but now after the discovery of a new variant tour might have been in doubt.
Indian skipper Virat Kohli said on Thursday that a conversation has been initiated within the team and expected clarity on the situation soon.
He further added that the situation is something that can't be ignored and must be handled with a "realistic" approach.
"It's pretty natural (to be concerned), we're not playing in normal times anyway. So there's a lot of planning involved. There's a lot of preparation involved in terms of understanding exactly what's going to go on. Some players are not part of the group right now who will be entering quarantine to join the team, in the bubble, to fly in a charter. Those kinds of things, you want to seek clarity as soon as possible,"

Kohli said in the press conference on the eve of India's second Test against New Zealand.
"We have spoken to all the senior members of the squad. Rahul Bhai has initiated a conversation within the group, which is very important to know. At the end of the day we understand – our focus from the Test match will not shift regardless – but you want to have clarity and want to be in a situation where you know exactly what's going on. We've been talking to the board and we are pretty confident that within a day or two, or pretty soon we'll have absolute clarity as to what is going on.
"But we need to be realistic about things as well. We cannot just ignore the things that potentially could put you in a confusing place. And no one wants to be there. I'm sure everyone is working hard towards finding clarity and giving us the situation as it unfolds, as soon as possible. We all are hopeful that that will happen soon and as I said, our prime focus right now is the second Test. And the other things are simultaneously being taken care of,"

added Kohli.
While the Indian A side, which is currently in South Africa, has continued with the tour, several other fixtures in South African countries have been canceled recently.
ICC Woman Cricket World Cup 2021 has been abandoned due to the discovery of the new variant.
The tournament was scheduled to be played till December 5 and would have decided the final three spots for the ICC Women's World Cup in New Zealand as well as two additional teams for the next cycle of the ICC Women's Championship but now they didn't proceed further due to Covid-19 issues.
CSA also announced that
"the B-section 3-Day and 1-Day matches featuring Northerns and Easterns set for the same weekend have also been postponed until 2022".
On Wednesday, CSA had expressed confidence in its BSE protocols.
"CSA has instituted world-class standards and measures to ensure that all players, staff, and officials are protected within this environment. Our main focus was to safeguard the cricket biosphere by managing strict entry standards and limited movement outside of its cordon. What we have implemented at our BSE is a cordon sanitaire which offers full and continuous protection to all individuals who respect and abide by our very demanding guidelines and rules",

said Dr. Shuaib Manjra, CSA's Chief Medical Officer.