He's on track with where we want him to be – Gary Stead on Williamson ahead of England Tests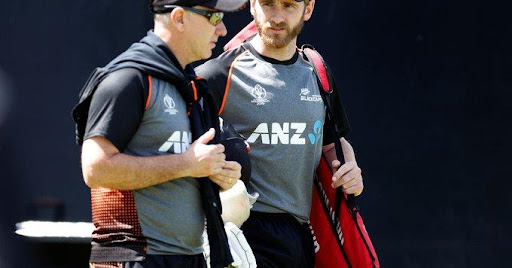 An elbow injury kept Kane Williamson out from the game in the summer
New Zealand coach Gary Stead said that Kane Williamson, who has suffered an elbow injury that kept him out from the game in the summer, is back "on track" for the upcoming three-match Test series against England and "dying to play cricket for New Zealand again."
Williamson, who is currently featuring in the Indian Premier League (IPL) while skippering for Sunrisers Hyderabad in IPL 2022, missed the entire summer of cricket for New Zealand following an elbow injury. The injury cost him unavailability during all the four-Test matches against Bangladesh and New Zealand at their home.
New Zealand coach Gary Stead said that Kane Williamson, who has suffered an elbow injury that kept him out from the game in the summer, is back "on track" for the upcoming three-match Test series against England and "dying to play cricket for New Zealand again."
"Everything's going to plan in terms of how he's feeling and how he's preparing,"

Stead said of Williamson.
"He's on track with where we want him to be, with our view of getting him ready for the Test match series in England."
Stead mentioned that he is expecting Williamson to return to New Zealand as a skipper, which was previously led by Tom Latham in his absence.
 "At the moment, Kane's just out of that role because he hasn't been available for us. So when Kane comes back, I expect him to be captain for us again."
Williamson's trouble started when he was in India last year in November-December for the Test series, that is where he picked up an elbow injury and he had to sit down from the second Test in Mumbai.
After that New Zealand missed their skipper for a couple of months, and they lost a single Test each to Bangladesh and South Africa at their home, which Stead called the right decision for the skipper and the team.
"He's one of our great batsmen, so he'll always be missed,"

Stead said.
"But we still maintain that it was the right thing by Kane and it'll be the right thing by us in the long term. The catch-22 is, Kane comes back early, scores a hundred, and his elbow's gone again, and then we'd be in the same place.
"I'd like him to play everything. Any team with Kane Williamson in it looks slightly stronger than one without him.
"Like many of us, Kane needs breaks at certain times. He's dying to play cricket for New Zealand again, I can absolutely assure you of that – but we can't burn him out in the future, we have to be smart around those things."