"He was really nice, and just said any time to reach out and even sent me a message on Instagram," says Matt Kuhnemann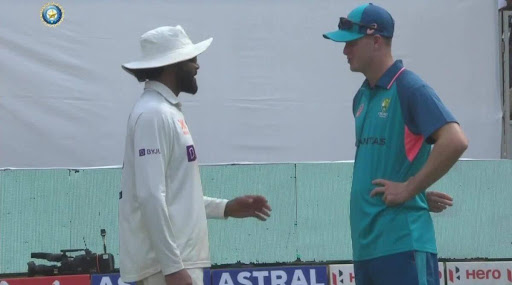 Ravindra Jadeja giving some tips to Kunhemann in India
Ravindra Jadeja is a man of his word. The Indian all-rounder had promised to give Australia spinner Matt Kuhnemann a lesson following the Border-Gavaskar series, and he delivered on his promise.
Jadeja found time to speak with the newcomer from Australia after the fourth Test in Ahmedabad on Monday finished in a tie.
Jadeja has a self-described "big fan" in Kuhnemann, who said after taking 5 for 16 in the third Test in Indore that he spoke with Jadeja following his debut in Delhi that he spoke with Jadeja.
"I said, 'Have you got any tips for me after the second Test?' He said, 'Yes, at the end of the series',"

Kuhnemann had said in Indore.
After just traveling to join the team after Australia's series-opening loss in Nagpur, the left-arm spinner was still in a happy mood on Tuesday after playing three Tests on his first trip.
The fact that Matt Kuhnemann ran through South Australia in a game for Queensland in 2021 earned him the nickname "Jaddu" from his Sheffield Shield teammates only served to compound the situation.
"It was probably about 15 minutes, he (Jadeja) was just giving me some awesome tips; we talked about everything," Kuhnemann told AAP. "Nathan Lyon helped organised it [the chat] as well. He (Jadeja) was really impressed with Todd Murphy, Gaz Lyon and myself so that was really cool to hear that from him.
"He gave me some good tips for the next time we're in the subcontinent, and some tips to go back home with as well. He was really nice, and just said any time to reach out and even sent me a message on Instagram, so that was pretty cool."
The 26-year-old's ambition and desire to keep becoming better at the international level have only been inspired by his interactions with some of the greatest players in the game during a chaotic month.
After the series, Indian coach Rahul Dravid gave Kuhnemann, Lyon, and Murphy the highest praise possible, describing the Australian trio as the strongest spin attack the hosts had faced in their own circumstances in more than ten years.
Throughout the course of the four Test matches, all three had a turn collecting lots of wickets, totaling 45 between them, with Lyon leading the pack with 22.
"The way that it happened, I wouldn't change it for the world," Kuhnemann said. "Nathan Lyon took myself and Todd under his wing from the get-go, he was pretty much like a big brother to us over here.
"I think we're very lucky to have Gaz and his experience to learn off. I'm ready to get back in the nets, get back in there after speaking to Jadeja. I'm really keen to tinker with a couple of things, trying just to keep improving my skills and play as much cricket as I can."
If all of that wasn't enough, Kuhnemann offered to bat first as the nightwatch opener in Ahmedabad during Australia's second innings after Usman Khawaja was troubled by a leg ailment. Kuhnemann made history by becoming the first Australian since Percy Hornibrook's match against England in 1929 to open and bat at No. 11.