Hasaranga fifer helps Sri Lanka thrash Oman while a Berrington ton powers Scotland's win against UAE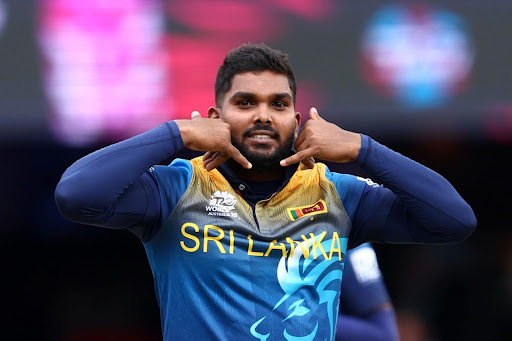 Wanindu Hasaranga dominated yet another match in the 2023 ICC World Cup Qualifiers
Sri Lanka continued their winning spree by defeating Oman with ten wickets in hand in their match in the ICC World Cup Qualifiers 2023 at Bulawayo. Wanindu Hasaranga scalped five wickets while Dimuth Karunaratne stayed unbeaten at 61 to make light work of Oman.
In the other match of the day, Scotland got their second win as they swept UAE aside to bag two more crucial points.
Match 1: Sri Lanka vs Oman
Oman was put to bat first and stumbled in the first powerplay itself. They had lost four overs as they failed to read Lahiru Kumara's swing. Kashyap Prajapati, Aqib Ilyas, Zeeshan Maqsood, and Mohammad Nadeem went back to the hut in single digits with the latter failing to put any runs on the board.
Jatinder Singh and Ayaan Khan piled up 52 runs on the board for the fifth wicket but it all came to an end when Wanindu Hasaranga came into the picture. His googly proved to be too deceptive for Jatinder as he was trapped in front of leg before wicket. Shoaib Khan and Jay Odedra fell in the same over as Hasaranga snapped three wickets in no time.
Ayaan Khan tried to stay on strike for the most deliveries and notched up four boundaries in the process. However, a superb catch at slip trimmed his flow of runs at 41. Oman was all out at 98 as Sri Lanka aimed to win the match as quickly as possible.
Aiming to increase their net run rate, Dimuth Karunaratne and Pathum Nissanka wasted little time. Striking at a rate of 119.60, Karunaratne struck eight boundaries while staying unbeaten at 61.
Nissanka was relatively quieter with only 37 runs coming off his bat from 39 deliveries. Oman tried five different bowlers but was unable to pick a single wicket. In the end, Sri Lanka won the game with 35 overs to spare.
Match 2: Scotland vs UAE
Scotland also got to four points from two matches with a 111-run win over UAE at Bulawayo to keep alive their hopes of qualifying for the Super Six. The loss also drew curtains on UAE's hopes of making it to the ICC World Cup 2023.
Scotland started the game on a backfoot with Christopher McBride and Brandon McCullen losing their wickets in the first four overs. Junaid Siddique, Zahoor Khan, and Ali Naseer proved to be too strong for Scotland in the opening exchanges as the scoreboard read 48-4 by the end of 15 overs.
While the Scottish top order panicked, Richie Berrington held on to his wicket. Accompanied by Michael Leask, the duo put 67 runs on the board for the fifth wicket. But, it finally came to an end when Meiyappan got the wicket of Leask. Chris Greaves provided further solidarity in the middle as Scotland mitigated the risk of being all out.
The European team came up with all guns blazing in the final ten overs. Berrington and Watt notched 63 runs from the last 30 deliveries as UAE failed to pick a single wicket in the spell. The only wicket which they managed to pick came via run out when Berrington tried for an extra run in the last ball of the innings. With 282 runs on the board, Scotland breathed a sigh of relief.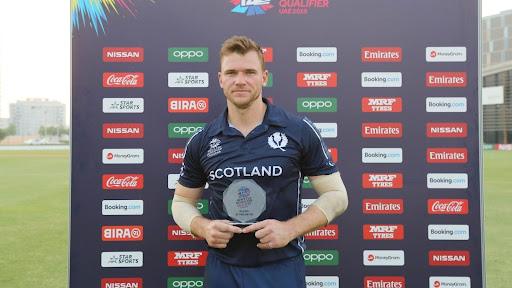 Chris Sole gave little time for UAE batters to settle as he picked up two wickets in his third over with both Aryansh Sharma and Vriitya Aravind playing no further part in the game. Rohan Mustafa departed soon after putting 12 runs on the board.
The lower middle order kept the scoreboard ticking but failed to stitch a long partnership. UAE remained under pressure with the highest run off the innings coming off opener Muhammad Waseem's bat at 36. Safyan Sharif allowed little time for the lower order to settle as he finished the innings with figures of 4-20.
UAE got all out at 171 with 87 deliveries to spare. The tournament has raised a lot of questions about their batting abilities and the qualities of their bowlers to finish off the game.