Gubbins and Brown lead the pursuit as Hampshire makes two out of two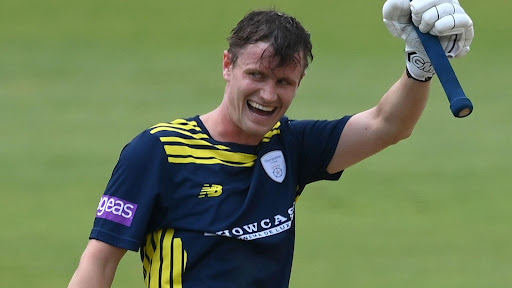 Nick Gubbins played an innings of 63 runs
Hampshire beat Essex by four wickets as a result of half-centuries from Nick Gubbins and Ben Brown, maintaining their perfect Metro Bank One-Day Cup record.
While Brown snapped out of a slump to total 59, Captain Gubbins cruised to a 63. Together, the two scored 92 before Aneurin Donald's thrilling 47 off 45 all but ended the match.
In order to reach 236 scores, Australian Beau Webster and South African Simon Harmer had to preserve Essex from being 53 for 4 thanks to Keith Barker's 3 for 25.
However, when Fletcha Middleton got off to a fast start, Hampshire never seemed in danger and triumphed with just over an over remaining to make it two wins in a row in the competition and send Essex home with two losses and a no-result.
When the game was reduced to 45 overs per side due to rain, Essex decided to bat and soon found themselves at the receiving end of a brutal Barker spell.
The seasoned left-armer defeated Robin Das for pace with a ball that smashed into the top of off stump after pinning Josh Rymell with an in-seamer on his second delivery, finding Tom Westley trudging across the line to deep square, and finding Tom Westley slogging across the line to deep square.
Barker recorded his best List A figures for Hampshire—3 for 25 off of nine overs—since recording 4 for 33 for Warwickshire in 2010.
Essex was 27 for 3 after a rogue start, 53 for 4 when Noah Thain pulled Scott Currie to fine leg, and in danger of repeating their 69-deathmatch against the Notts Outlaws.
Webster had already been run out on 11, but with Harmer they were able to correct the slump with a 121-run stand that defined the innings.
The rebuild was primarily played without taking any risks, and the players gradually gained confidence to the point where both of them hit sixes off Dom Kelly.
Webster reached fifty in 78 balls, and Harmer completed a reverse sweep in 60, but the other five wickets fell for 62 runs as a result of their death.
Currie's removal from the attack due to two no-balls hindered Hampshire, and the continual drizzle that made the ball soapy didn't help either. However, Gubbins made up for the lost overs with a brace of wickets to finish with a 2 for 24 total.
With Aaron Beard being ejected by Felix Organ and Essex finishing with 236 points, Ian Holland recorded 2 for 42 in the death.
Middleton, coming off his first century, sped out of the gate with a 25-ball 36 in a 51-run opening stand. Tom Prest nicked off as Jamie Porter took a lightning-quick double after Tom Prest caught him off a skier.
Brown and Gubbins held the innings together despite Gubbins' less impressive performance, reducing any potential sting from the chase. In addition to Webster bowling off spin to Gubbins and medium-pacers to Brown, the seasoned combination put up 92 runs for the third wicket.
Before being bowled by Tom Westley's first delivery, the former Middlesex batsman had started his season with 40 runs but had overtaken that mark and achieved his fifty in 80 balls. When it came to all formats, Brown reached his first half-century since April but lost to Harmer by a leg.
Donald, on the other hand, had already entered and won the match with his customarily brisk manner, capped off with two huge sixes on the hook.
The Welshman failed in his attempt to reach fifty with a six to the long boundary, and Organ was dressed to mid-on, but Barker successfully carved a boundary to win it.