Going down to the wire again is a good game to be a part of – Ben Stokes on the 2nd Test victory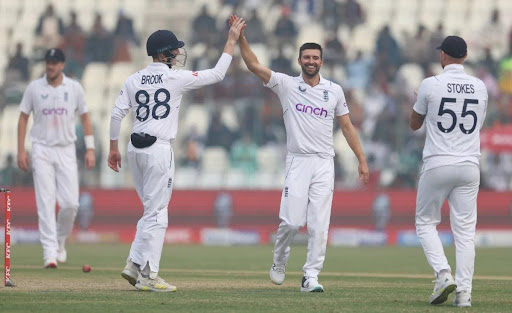 Babar Azam says we have a simple plan to carry on the momentum, we had good partnerships between Imam and Saud and then Saud and Nawaz, the tail also fought well, but we didn't finish well
On a nerve-shredding fourth and final day in Multan, Mark Wood was that man, as Pakistan's gutsy pursuit of 355 was upset with only 26 runs left to defend while the third and last test match of the ongoing series will be played in Karachi on Dec 17.
It was a breathless completion to another throbbing fourth inning and one that had been distinctly yet to be determined all along of the day.
With win or bust enticing for the two teams, Pakistan had continued on their overnight 198 for 4 – still a burdening however obtainable 157 away but it was England who took the day's most memorable action.
With a pair of left-handers at the crease, Joe Root was thrown up the ball to dismiss it from the edge, and on 10, Faheem Ashraf pushed forward at his routine round-the-wicket line for Zak Crawley to pocket a sharp opportunity at slip as the ball straightened and kissed the shoulder of the bat.
Shakeel, however, was unruffled as he prepared himself only for perseverance, safe in the knowledge that so long as he was there, Pakistan was very much on track.
Nawaz, however – pushed up to No. 7 ahead of Salman and adopted a more proactive strategy to his innings of 45 from 62.
By taking on England's spinners, he persuaded Stokes to turn to the second new ball the moment it became available, and though Robinson caused him some problems with his lifting line outside off stump, Nawaz answered with a crashing drive through the covers to leave Stokes scratching his head as he evaluated his options.
Shakeel penetrated Jack Leach through the covers for his most forceful stroke of the morning and then top-edged a sweep in the same over that looped away to safety to take him into the 90s.
At which point Stokes responded by turning back to Mark Wood, whose round-the-wicket angle leaked another precious boundary as Nawaz flicked a short ball off his hips.
That, however, would be the last moment of true progress in the session for Pakistan. Two balls later, Nawaz flicked to Pope, and England's route to victory had reopened. Wood's irrepressible will to win meant there would be no denying his side a truly historic victory.
Pope – forever in the action in his apparent stand-in role as a wicketkeeper was the man to scoop up both offerings, although the debate will rage about the second, and most crucial, of Wood's incisions.
With a brilliantly gutsy century approaching, Shakeel swung into his pull and under-edged his stroke, for Pope to make good ground and scoop the ball milimetres from the turf.
Subsequent replays proposed, however, the ball may have connected with the ground as his gloves closed around the chance, however, directed by Aleem Dar's on-field soft signal of out, third umpire Joel Wilson considered there was insufficient proof to upset.
On a nerve-shredding fourth and final day in Multan, Mark Wood was that man, as Pakistan's gutsy pursuit of 355 was upset with only 26 runs left to defend.
"Yes, we were not up to the mark in the first innings. We had a couple of soft dismissals. After that, we had a fightback in the bowling, and second innings we fight well, but unfortunately, we did not finish it. We have a simple plan to carry on the momentum, we had good partnerships between Imam and Saud and then Saud and Nawaz. The tail also fought well, but we didn't finish well. [Abrar Ahmed] Dream start for Abrar, he used conditions very well in the first innings and after that, he bowled well. Good for him and the team. [Karachi] Looking forward to that and we will do our best,"

says Babar Azam. 
"Different condition and a different game. Things happened quickly this week compared to last week. Going down to the wire again is a good game to be a part of. [Approach to setting target] Take a look at the conditions; it was a tricky wicket for slower bowling. We were fortunate that with the cracks opening up our seamers became effective. Jimmy, Robbo, and Woody put in a seriously good effort, so hats off to the lads. The way they bowled throughout the game, they looked like a huge threat. When it came down to the wire I had three guys to turn to. They bowled short spells and always seemed to pick up a wicket when needed. [Abrar] It's the mindset you go out with, he had an amazing debut so congratulations to him but we still managed to score off him. Being 180 for 5 in that first session on day one, other teams might not have had that many runs but still lost wickets. It was pleasing the way we stuck at the task of going out and putting them under pressure even if conditions aren't in our favor,"

says Ben Stokes.