Despite having side pain, Australia is hopeful in Hazelwood's fitness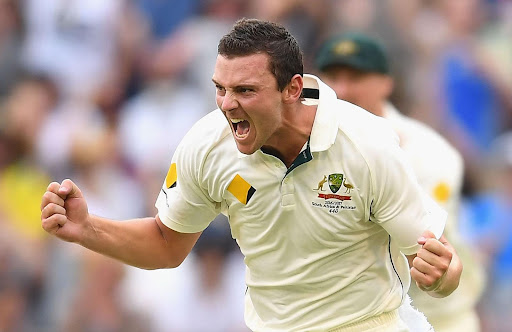 There hasn't been much Test cricket for Josh Hazlewood lately
Josh Hazlewood, who has missed a lot of Test cricket over the past couple of years due to injury, left the IPL early after complaining of side pain, despite scans in Australia not revealing any damage. In preparation for the team's trip to the UK at the end of the week for the World Test Championship (WTC) final and the Ashes, he has recently resumed bowling.
Hazlewood bowled a total of nine overs in the IPL 2023 before playing the final of his three games for Royal Challengers Bangalore on May 9.
"Josh Hazlewood returned home from the IPL last weekend after experiencing minor side soreness after the completion of his most recent IPL match,"

a CA spokesperson said.
Hazlewood's participation in the IPL marked his return to action after an Achilles injury he sustained against South Africa at the SCG in January caused his tour of India to end early. That in itself had been a return game after he strained his side against the West Indies in Perth. He had previously gotten one during the 2021–22 Ashes, which resulted in him missing four of the Test matches.
"After a brief and precautionary rest period, Hazlewood returned to high intensity bowling last week and will continue to increase his bowling workloads in preparation for the WTC and Ashes series. Hazlewood is considered fit and available for the WTC and Ashes Series."
Hazlewood has only been able to participate in four Test matches since the beginning of the England series, however he was allowed to play in Pakistan and Sri Lanka because of Australia's balanced lineup that included the extra spinner.
When he made his comeback earlier this year against South Africa, he was outstanding. He was effective with reverse swing and took five wickets in the game. Hazlewood continued to be a first-choice attack when he was chosen at the SCG to replace Scott Boland as one of the two quicks. In eight Test matches in England, he has 36 wickets at an average of 23.58.
Hazlewood's reputation as a T20 bowler has grown significantly during the same time as his Test bowling has been limited. In June 2022, after helping Australia win the T20 World Cup for the first time, he attained No. 1 in the rankings.
However, he discussed the difficulties of training for Test cricket as a multi-format bowler before the Sydney Test last summer.
"If you have to focus on either a strength period or bowl a few more balls at training when you are playing with the white ball, at the detriment of maybe not being 100 percent for those games, then it puts you in a better place for a Test series that follows,"

he said.
"Just little things like that we're talking about with coaches or medical staff. That will be something I'll look to do in the next little period."
Even though Australia is satisfied that they avoided a serious injury issue just days before departing for the UK, they do have additional resources at their disposal. Prior to the WTC final against India, Michael Neser and Sean Abbott, who have been playing for Glamorgan and Surrey respectively, will join the team for their training camp.
Neser took a career-best 7 for 32, including a hat-trick, against Yorkshire before concluding the most recent Championship game against Sussex with a century.
Australia initially selected a 17-player team for the tour, however on May 28, only 15 players remained for the championship match.
There is no tour match in the lead-up, as has been customary for them. Instead, the team trains in Beckenham, south of London, in preparation for the final lead-up to playing India on June 7. Less than two months pass between each of the tour's six Test matches.