Chris Woakes and Travis Head star to leave England needing 251 to keep Ashes alive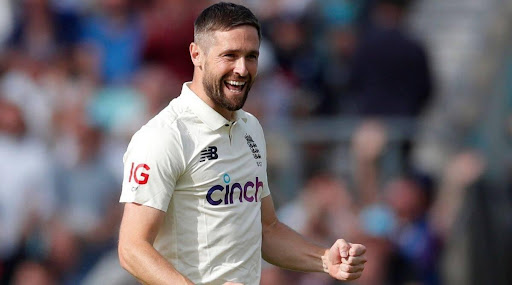 Chris Woakes made significant progress following the delayed start
It took six hours in the rain to get there, but the third day at Headingley delivered an intense final session where both sides traded blows in an effort to secure victory. The target was set at 251, but Travis Head launched a counterattack by taking the final two wickets for company after England's Chris Woakes scored the first run.
Zak Crawley and Ben Duckett missed the target by 27 when they had 25 minutes left to finish the day and the sun was coming out. Australia also wasted a review for a leg-side catch made against Duckett.
England chased 296 against New Zealand last season, and 2019 needs little reminder, so they won't be intimidated by the pursuit. With a score of 142 for 7 and a 121-run deficit at lunch on the second day, England would have happily accepted this situation.
Play eventually started at 4.45 p.m. after routine showers throughout the day, although there was only time for one over at first before another brief break. Even though the allotted overs were reduced by another three, the remaining overs delivered another exciting section of the series, which had been gripping from the beginning.
Australia was 170 for 8 with a lead of 196 after Woakes got Mitchell Marsh and Alex Carey, and it appeared as though he had struck a decisive blow when Pat Cummins was bowled by Mark Wood.
After having already delivered a number of game-changing and game-defining runs, usually in the first innings to establish a game, Head was then able to add 54 in seven overs for the final two partnerships in what might end up being one of the most significant innings of his Test career.
Once again appearing to be in superb touch when he attempted to withdraw the bat, Woakes was outstanding when play restarted for the second time, finding Marsh's outside edge. He quickly added Carey, who had earlier been involved in one of the series' more odd tales involving incorrect declarations of an unpaid haircut, when he too attempted to leave the ball and hit into his stumps.
Given the frantic tempo, Wood's return to the lineup has garnered most of the attention, but Woakes' recovery has had a similar impact. Marnus Labuschagne, Usman Khawaja, Head, Marsh (twice), and Carey are on his list of victims in this match.
For a brief moment, Mitchell Starc displayed assurance before losing control to Chris Wood's short ball. The top-edge got backward of square, where there was almost a terrible mix-up, with Jonny Bairstow seemingly bailing out of the catch and Harry Brook sprinting from short leg to pull off a full-length dive.
Although Murphy had cover-driven his first ball from Wood to the boundary, Head, who was 34 from 82 balls at the time, felt it was time to switch gears when Wood gave Cummins a quick and highly effective working over, just like he had in the first innings.
Head reached fifty off 94 balls in the following over from Woakes, pulling and carving two boundaries, then collecting another brace from Wood. Even when there were nine players on the boundary, England continued to bowl short balls to Head, which did not always seem like the best strategy, but Woakes was also blasted over midwicket for six when he went to length.
When he came back from the Football Stand End, Broad used a skillful over to work Murphy, but Head still had time to cause additional harm. Before falling, he attempted a similar shot from Broad that found deep midwicket but pulled Wood for two successive sixes over the leg side.
A chase of 251 is easily within England's reach given their recent performance, but with the Ashes on the line, there must be one or two more twists in store.
England 237 and 27 for 0 need 224 more runs to beat Australia 263 and 224 (Head 77, Khawaja 43, Broad 3-45, Woakes 3-68)