Chapman's 104 and Neesham's 45 off 25 stun Pakistan, tied the series at 2-2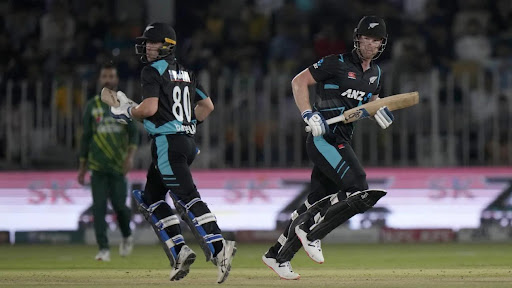 With their century stand, Mark Chapman and James Neesham surprised Pakistan
In the middle of the series' most intense conflict, Mark Chapman finally carried out his vow to do this. The 28-year-old scored an unbeaten 57-ball 104 while chasing down 194 to build a comeback for the ages and shock Pakistan in a dazzling show of brilliantly clean hitting against some of the best bowlers in T20 cricket.
Even though New Zealand trailed 2-0 after the first two games of the series, they tied the second-highest total ever chased against Pakistan in T20s. Additionally, it marks the 100th T20I victory for New Zealand, a milestone that will be honored in New Zealand T20 legend.
When they arrived in Pakistan from halfway around the world with only one practice session under their belt before the series started, few people would have given them much hope of accomplishing this.
Due to the reduced character of their team—eight first-team players were absent due to IPL duty—the challenge was made even more difficult. When Imad Wasim struck to dismiss Daryl Mitchell, leaving New Zealand teetering at 73 for 4 at the midway point, victory appeared extremely impossible even on the day.
Chapman, though, remained unaccounted for by Pakistan, and in a series in which he finished with 290 runs after being removed just once, it made all the difference. In the eleventh over, he struck Faheem Ashraf for 14 to send a message to Pakistan that the game and series were not yet finished.
They should have paid attention to the warning, but Chapman's assault left them defenseless. Chapman destroyed every bowler from Pakistan, including the quick and slow, right-arm and left-arm, with the help of James Neesham unbeaten 45 off 25 as a more-than-capable supporting act.
New Zealand had completely changed the game after scoring 71 runs in the following five overs. Chapman was getting close to his hundred by this point but kept attacking.
A little bit of bad luck went against Shaheen Shah Afridi; Shadab Khan missed a simple catch before Afridi dropped him on 98 off his own bowling. He was able to return for two quickly and finish the 100 he so thoroughly deserved.
For the final two overs, the equation had changed to a run-a-ball format by this point, and for Chapman it was simple. With four balls remaining, a slight push into the on side clinched the outcome, providing Pakistan with a reality check – and a bloodied nose – prior to the start of the five-match ODI series later this week.
Although Pakistan may have had a solid start thanks to Babar Azam and Mohammad Rizwan, New Zealand's bowlers came back forcefully once more, just like they did in nearly every game this series.
In the final over of the powerplay, an off-color Babar made a poor on-side slog and became the first culprit. In an effort to make up for lost time, Mohammad Haris entered the game with two balls remaining in the powerplay. However, he misjudged a Blair Tickner off cutter and attempted to lap over short fine leg with his first delivery.
Saim Ayub was easily caught by Ish Sodhi before he came on and killed him with a wrong gun for another duck. A promising Pakistani start had been destroyed when they unexpectedly lost three wickets for one score in five balls.
Oh, how we've been missing out. Afridi went the entire series without recording a first-over wicket, but on Monday in Rawalpindi, it seemed as though his most alluring talent had never been absent.
First ball wicket – not quite the inswinger bursting through a right-hand batter's defenses, but one that moved away from left-hand batter Tom Latham, who sliced it politely to Shadab at point – marked the beginning of the innings.
He was prepared for the one that angled away, touched the outside edge, and carried through to Rizwan after a couple of inswinging deliveries to Will Young. After one over, New Zealand was down by two runs, and Afridi was back.