Bangladesh batting coach Siddons, "Mushfiqur Rahim generally comes good when the chips are down"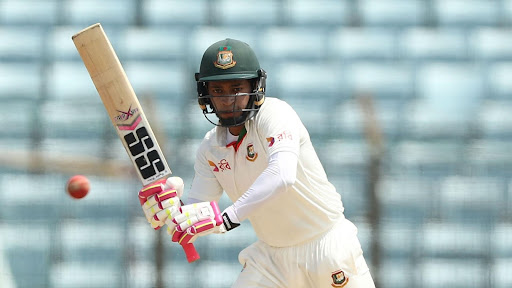 Mushfiqur Rahim scored a 10th century in test career
The Dhaka Test against Ireland brought back to light Mushfiqur Rahim's proclivity for scoring hundreds when Bangladesh were in challenges. The home team scored 369, but at the beginning of the second day, they were 40 for 3, and they needed to be saved. In order to reach a respectable total, the remaining batters worked around Mushfiqur.
It wouldn't have worked out as well without Mushfiqur Rahim, though, as Bangladesh now has a 128-run advantage after Ireland was reduced to 27 for 4 at the end of game.
As of right now, he shares second place on Bangladesh's all-time list for Test centuries with Tamim Iqbal with ten. The most ever at Shere Bangla National Stadium, this was also his fourth century there.
"Mushfiqur Rahim's century was amazing," batting coach Jamie Siddons said at the end of play. "We were in a little bit of trouble with him at the other end. Mushy generally comes good when the chips are down. He sticks in there and makes sure to get the score for us."
"He got the score going nicely. Again he was aggressive when it was required. When the ball was there, he put it away. He was very disciplined around his defence and his leaving game. We need to have that in Test cricket."
At a rate of 4.58 runs per over, Bangladesh scored their runs. They were equally quick throughout the white-ball part of the tour, and Siddons said that this was all part of the strategy.
"I think we have been building to that for a while now. Of course, we are playing against Ireland, so we were confident to go aggressively against them. Our challenge was to go big against Ireland. To make sure we got quick runs in the ODIs."
"We can't afford to make 230-250 in the World Cup. We have to make 300-plus. We have to get 200-plus against good teams as well. It is a good time. We batted really well."
Siddons was supportive of Shakib Al Hasan, who scored 87 runs off 94 balls, but felt that the batsman should have done a little more with the ball that ultimately caused him to be dismissed. Shakib Al Hasan attempted to sweep a very wide offbreak from Andy McBrine but ended up top-edging the ball to the wicketkeeper.
"He scored quickly but he didn't hit the ball in the air a lot,"

Siddons said.
"He was the pick of the batsmen today. He was very disciplined. We lost three early wickets today, but he held up really well. Put a big partnership together to put us in a really good position in the end of the day.
"I guess he kept playing the way he wanted to play. He played the sweep shot quite well throughout the innings. It was probably the wrong shot with that tactic employed. You make one mistake and you get out.
"I don't think it has anything to do with getting towards a hundred. He was only 80-odd. He was a little bit closer in the ODIs. I am sure he'd love to score a hundred but we are happy with his contribution to the team."
Rapid scoring from Shakib, Mushfiqur, and Litton Das also gave Mehidy Hasan Miraz the opportunity to secure a fifty for himself. Siddons also loved his inning.
"I think Mehidy is a batsman now. He has proven that in ODIs and Tests. His fifty today was really well timed. He was aggressive but still working the ones and holding up the end."
"He protected the bowler at the other end. He is seen as one of our key batters as far his hitting abilities are concerned. He is batting beautifully at No 7. What's happening under him is a little bit thin."