Australia scores ten WTC points and England receives 19 for slower overrates during the Ashes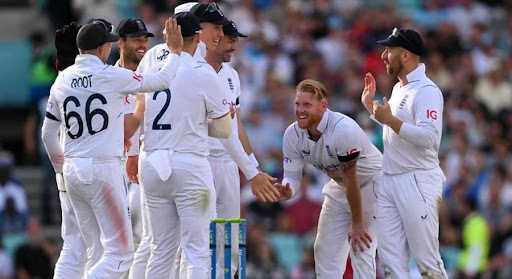 With only nine WTC points to show for their efforts, England won two Test matches and drew one during the Ashes
For their slow over-rates throughout the five-match Ashes series, which concluded 2-2, England and Australia have been penalized 19 and 10 World Test Championship (WTC) points, respectively.
At the conclusion of the series, it was discovered that England had fallen short of the required total in four of the five Test matches: the first Test at Edgbaston was delayed by two overs, the second at Lord's by nine, the fourth at Old Trafford by three, and the final Test at The Oval by five.
Australia performed admirably in four of the Test matches, but fell short at Old Trafford by 10 overs.
Due to the over-rate penalties, England finished the series with just nine WTC points (24 for two victories, four for a draw, minus 19), whereas Australia finished with 18 points (24 for two victories, four for a draw, minus ten).
As a result, England was at No. 5 on the WTC table, below West Indies (16.67) with 15 points, and Australia was at No. 3 with 30 percentage points, behind Pakistan (100) and India (66.67).
A team will be penalized 5% of their match fee and given one WTC point for each over they are judged to be short according to the most recent over-rate punishments for Test cricket, which were announced at the ICC annual conference in Durban on July 13 of this year.
The fines were a difficult situation for England as well. Australia received a 50% (for ten overs) fine for the Old Trafford Test, whereas England received fines of 10%, 45%, 15%, and 25% for the four Tests they lost, correspondingly.
The two teams' routes to the WTC championship game have been hindered by the penalties. India, who placed second on the 2021–2023 WTC standings, qualified for the championship round by winning 58.8% of the points they competed.
Using 60% as a general guideline for qualifying for the 2025 final, England would need 151 more points from their remaining 16 Test matches, which would translate to about 11 victories and three draws, or 12 wins (and, of course, no further point penalties).
Australia would require 137 points from their final 14 Test matches to reach the 60% level, which would entail 10 victories, nine victories and three ties, or eight victories and six draws.
India, who have won one and lost one of their two Test matches thus far in this cycle, will require an additional 121 points from their remaining 17 Test matches to reach the 60% threshold.
That works out to just over seven points each Test, which is much more manageable than England's 9.4 points per Test (a victory awards a side 12 points, a tie results in six points, a draw earns four points, and a loss result in zero points).
Speaking before the final Ashes Test, Pat Cummins had said,
"This series has been a bit of an outlier, I think. We haven't had any over-rate sanctions over the last few years until this series. It feels like this one has been played at a different pace. It's something we need to speak about in ODI cricket as well, when you're setting fields, the time can run out pretty quickly.
"It feels like there's different plans every second over, or every over, every couple of balls. One batter might have a totally different plan to another one. So, there's lots of field movement. [There is] a lot more fast-bowling over than there ever has been. No Nathan Lyon [from the third Ashes Test onwards]. A combination of those things.
"This series is maybe that little bit higher-pressure, and it's not only the fielding side but you see the batters taking that little bit of extra time."
There weren't many overs from spin bowlers in a series when rain was practically a constant presence, which might have been the cause of the slow over-rates. Moeen Ali and Joe Root, England's primary spinners, combined to bowl 179.1 overs. More than that was bowled by Stuart Broad alone: 184.2.
Nathan Lyon, who played the first two Tests for Australia before suffering an injury, bowled 66 overs, and Todd Murphy, who played the final two Tests, bowled 38.2 overs. That comes to 104.2 in total. Josh Hazlewood (111), Mitchell Starc (128.1), and Pat Cummins (158.4) all bowled more overs, with Starc and Hazlewood each doing so in only four appearances.
Former Australia captain Ricky Ponting placed the onus on the match officials to keep up the pace of play.
"I think the umpires need to start just getting the players around more,"

he said on the ICC Review,
"Getting them ready, getting them organized, making sure the batter's ready to face up, making sure the bowler is at the end of his mark when the batsman gets back to his crease. We've got to find a way not to be losing so much time in these games.
"I know cricket [in the Ashes] has been ultra-entertaining. Crowds are not going to be whining about what they have seen as far as the cricket's concerned, but when you go to a day's play and you expect 90 overs, but you see 80, you have got to be a little bit disappointed.
"I mean at the World Test Championship final, by the evening session on day three, one whole session of play had been lost. Two hours of play have been lost over three days and I just don't know where it goes and I'm not sure what the right punishment is.
"I honestly don't know what the answer is but if a team, like Australia did last time, if they miss out on playing in the World Test Championship final just because of a few overs here and there then it is a pretty harsh penalty."
Nasser Hussain, a former England captain, was strongly in favor of harsh fines for slow-over rates.
"I do think the ICC should continue to be strong with teams,"

he said before adding that players shouldn't break for lunch or tea until the overs they are meant to bowl are bowled. 
"Now what that will do is make players get through the day quicker, earlier, because the last thing you want is a three-and-a-half-hour last session. The seamers in particular aren't going to be overly thrilled if they have to bowl three and a half hours at the end, so umpires need to be stronger with players."