Australia could receive "a good hiding" from England:  Ollie Robinson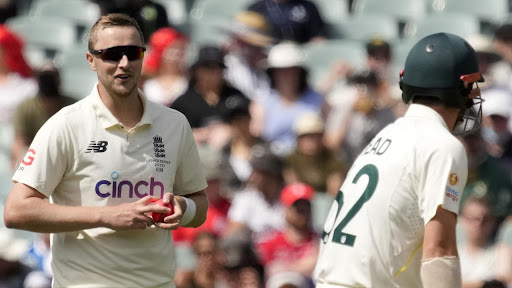 Ollie Robinson has made a strong vocal debut during the Ashes build-up
In this summer's Ashes series, England might "give Australia a good hiding," according to Ollie Robinson, who also thinks his teammates have delivered levels of entertainment "like nothing we've seen in Test cricket before" during the past nine months.
After Brendon McCullum and Ben Stokes took over as coach and captain, respectively, last year, Robinson has participated in all five of England's Test matches and taken 15 wickets on their trips to Pakistan and New Zealand. This has continued a strong start to his international career.
In addition, three months before to the first Ashes Test of the summer, on June 16 at Edgbaston, he may have sparked the phony battle that always dominates the lead-up to the series by claiming in an interview with BBC Radio Sussex that England is in a strong position to reclaim the trophy.
"It is the pinnacle for me: it doesn't get much better than that. It's a dream come true to be involved in a home Ashes. When we went to Australia in 2021-22, we weren't quite at our best.
"But with the team and the squad we've got at the moment, it's such an exciting time to play Australia at home. I really feel like we could get one over on them, and give them a good hiding.
"Brendon McCullum and Stokesy have just changed the game for us [with] the confidence that they've given the players – the batters especially. I think the fans can see that [from] the way we're going out there and trying to put on a show, almost, trying to perform for people."
Robinson went on to say that he believed England could change how Test cricket is played internationally.
"There will come a point when other Test nations will have to try and play the way we play to compete,"

he said.
"That can only be good for the fans and good to watch.
"The entertainment we're producing is like nothing we've seen in Test cricket before. I think teams will follow suit at some point. It just depends how long it takes for some to do that."
Robinson's team, Sussex, will play Durham at Hove on April 6 as the County Championship season gets underway. He has a centrally contracted position, so the ECB will closely monitor his workload, but he plans to play "four or five" Championship games before the start of the Ashes summer.
"Hopefully I'll be able to play quite a lot," he said. "Last year, I had a month of not playing at it sort of put me back in the summer, so this year I'm going to try and play early, play as much as possible and just keep myself playing cricket. I feel like that's when I'm at my best and that's when my body's at its best."