Australia coach Andrew McDonald, Usman Khawaja back Steve Smith and Marnus Labuschagne to find form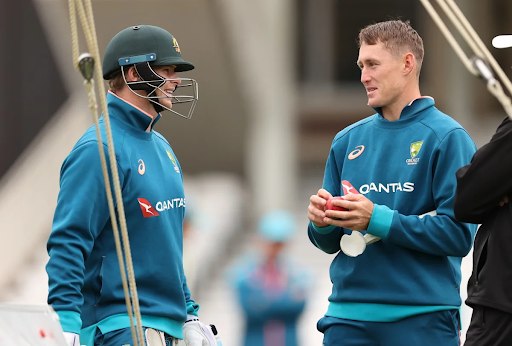 Both Steve Smith and Marnus Labuschagne failed to make runs with the bat in the first test of the Ashes series
Australia head coach Andrew McDonald and batsman Usman Khawaja Bagh have backed Steve Smith and Marnus Labuschagne to find their form with the bat after a disappointing show in the first test of the Ashes series against England, which Australia won by a close margin.
While Australia managed to get over the line with two wickets to spare in a thrilling finish, the visiting side were certainly left disappointed as their main batsmen Steve Smith and Marnus Labuschagne who not able to get runs in the opening match of the five match series.
Steve Smith had scored a fine century against India in the final of the world test championship when he made 121 at the oval but he was dismissed for 16 and six in the first test against England whereas the recently ranked world number batsman Marnus Labuschagne scored 0 and 32 lives as their combined failures added more pressure from the hostility.
Australia head coach Andrew McDonald says that there could be extended sessions for the day right-handed batsmen who are the backbone of their batting and are expected to make big contributions in the series which the visiting team wants to come after a gap of 22 years in England.
"It's very rare that Marn and Smudge miss out in the same Test match. It's an appetising thought,"

head coach Andrew McDonald said. 
"They will be no doubt a craving for more net sessions from Marn and Smudge. They're disappointed they missed out in this game, but I think any time the Australian cricket team can win without those two performing at high level is always a positive. We've got some areas we can improve, there's some growth within the team and there's two obvious ones,"

said Andrew McDonald. 
"I think there's always a curiosity to get better, so we're not going to stall that in any way, They'll come up with different plans, different movements."
"They've seen what England are going to do and how they're going to attack them, and they're probably two of the greatest problem-solvers we've had over a period of time so you would expect them to go back to the drawing board. [Batting coach] Michael Di Venuto will be part of that process. They'll come out pretty clear what they need to do next innings. But there's no issue there," the team's head coach said.
On the other hand, Usman Khawaja had a great match as he made 141 and 65 to play a huge role in their win, which was completed on the final day in the last session.
Usman Khawaja was quoted by ESPNcricinfo,
"I genuinely just expect [Labuschagne] to score a hundred next game. We had potentially our two best batters not score runs this game. It's very unlikely, doesn't happen very often. In my opinion, the greatest batter of my era in Test cricket, Steve Smith, not very often he misses out twice. We've still got four Ashes Tests. Might be a good thing for us, they have some runs in the bank."
The second Test of the series will start on June 28 at the home of cricket, Lord's cricket ground in London.