Athanaze fastest fifty on his debut assists West Indies in a 3-0 victory over UAE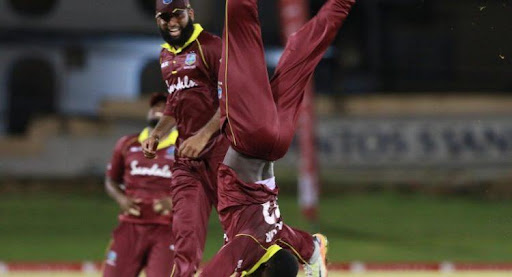 Kevin Sinclair displayed his signature celebration
West Indies defeated UAE 3-0 in Sharjah thanks to performances from Alick Athanaze, who made his ODI debut with the joint-fastest half-century, and Kevin Sinclair, who returned with a four-wicket haul.
Athanaze, who looked up to Brian Lara, unleashed some daring pulls that would have made Lara proud, and Sinclair found a precise grip and spin to start a UAE collapse that resulted in 8 for 42.
Even though West Indies experienced a brief collapse later in the evening, they still managed to surpass their 185-run goal with four wickets and about 15 overs remaining.
The West Indies' selection for the forthcoming ODI World Cup Qualifier in Zimbabwe does not include either Athanaze or Sinclair, but they both gave a glimpse into the team's potential.
Carlos Brathwaite even referred to 24-year-old Athanaze as the "future of West Indies cricket" when he sped to a half-century in just 26 balls while providing TV commentary at the time. As soon as Athanaze topped the run charts at the 2018 Under-19 World Cup in New Zealand, he was expected to make it big.
Athanaze quickly got going on Friday, blazing left-arm finger spinner Aayan Afzal Khan for a pair of sixes. He then caught seamer Junaid Siddique for three consecutive fours, scoring 30 runs in just 11 balls.
When he hit a drilling four off Rohan Mustafa, he then tied Krunal Pandya's record for the fastest fifty on ODI debut. Aayan cut off Athanaze's batting after he had reached 65 off 45 balls when he appeared ready for a debut century.
The West Indies middle order was then forced to work hard for the victory by wrist spinners Aayan and Karthik Meiyappan, whose go-to ball is the incorrect one.
West Indies went 81 balls without scoring a boundary in the absence of vice-captain Brandon King and regular captain Shai Hope, who were rested among other adjustments. However, Keemo Paul and acting captain Roston Chase successfully ended the chase without any additional problems.
The spinners' performances will encourage UAE, who will also benefit. When it came time to throw the new ball, Aayan advanced and did a good job of changing his angles and pace. Karthik, who had given up 55 runs in 4.2 overs in the first game of the series, came back so forcefully that at one stage he was just one hat-trick away. Karthik kept posing a threat with his wrong'un, but Reifer prevented him from scoring a hat-trick.
Sinclair, however, was the day's top spinner. He had begun his career as a popgun blasting darts, but in more recent years, he has developed greater control over his offbreak. Aayan, Rameez Shahzad, and Vriitya Aravind, the highest scorer and vice-captain for the UAE, were all eliminated by that offbreak.
Leg Spinner Yannic Cariah, who returned 2 for 34, and Sinclair worked along flawlessly. Although Chase failed to take a wicket, he was the most efficient bowler for the West Indies, giving up only 3.87 runs per over.
UAE's start had looked better as they decided to make the first strike. Aravind and captain Muhammad Waseem put together a second-wicket partnership of 96 runs in just 55 balls. Both hitters frequently hit over the top, confusing the seamers from the West Indies with their lengths and lines.
Reifer was the one who broke the stand when, in the 12th over, he went around the wicket and smashed the top of Waseem's off stump. Aravind eventually reached fifty off just 42 balls, but Sinclair continued in striking as UAE's innings became out of hand. As impressive as his outbreaks and sliders were, Sinclair also performed somersaults in celebration.
UAE eventually fell for 184 after starting out with 142 for 2, with 14 overs going to waste. Despite the powerful charms cast by Aayan and Karthik, there would be no way for them to return.
West Indies 185 for 6 (Athanaze 65, Brooks 39, Aayan 2-40) beat UAE 184 (Aravind 70, Waseem 42, Sinclair 4-24, Cariah 2-34) by four wickets.