As World Cup preparations become serious, Jonny Bairstow is prepared for an ODI reunion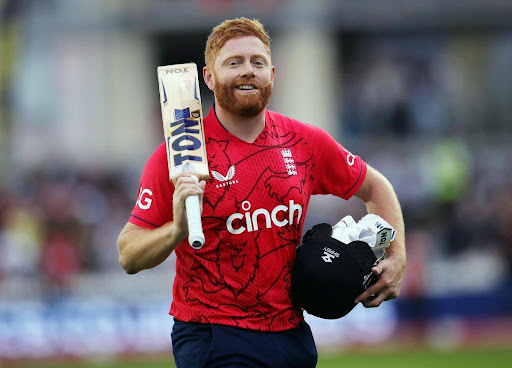 This series has seen Jonny Bairstow in excellent form
The group is reforming in England. The majority of their 2019 squad will return to a format they have only sometimes played over the last four years as they prepare to defend the 50-over World Cup in India by playing the first of four one-day internationals (ODIs) against New Zealand on Thursday in Cardiff.
Joe Root was in the nets at Trent Bridge prior to their six-wicket loss in a low-key fourth T20I on Tuesday night, and four other players from the team that won the trophy at Lord's — Jason Roy, Ben Stokes, Chris Woakes, and Mark Wood — will also be back in action in Wales with the white ball.
Their World Cup run-in officially begins with this. In the past 12 months, England has only played nine ODIs, and even those contests have been very low-key, with three of them taking place in Australia only hours after the nation had finished celebrating the T20 World Cup.
They were pleased with their 2-1 victory in Bangladesh in March but none of their team has since participated in a 50-over match.
"We'll rock up to Cardiff and see all the lads: it'll be just like normal, it's great to have a group that has got a wealth of experience coming back together."

said Jonny Bairstow, who missed England's nine ODIs last winter through injury but was an automatic selection for their World Cup squad, given his prowess as a one-day opener. 
"Naturally, there'll be conversations around, 'well, you're not playing much 50-over cricket together' and all this stuff. But the guys have been playing Test cricket or T20 cricket… to have the skillset to play both of those is a skillset that you're able to take both parts of into 50-over cricket. It can throw different bits at you.
"It is going to be good fun. I don't think there's too much worry about cohesion, or people not having played together for two, six, 12, 18 months – whatever it may be. I don't think that's too much of a worry when the group has played together for seven or eight years. It's one of those where you just fit back and you slot back into your roles."
These four ODIs will serve as England's most significant preparation with just four weeks till the same teams begin the World Cup in Ahmedabad on October 5. The majority of their starting lineup is probably going to be rested for the three games against Ireland later this month, and their two warm-up games in Guwahati will probably be rather low-key.
Since the World Cup currently consists of nine matches, it is a lengthy competition. England discovered four years ago that losing one or two games in the group stage early is not fatal.
"We'll be able to call upon some tough experience we had during that competition,"

It wasn't just plain sailing: having to win four out of the last four games in order to win the competition. We'll be able to call upon those experiences in the big moments in the big games during the World Cup.

Bairstow said.
"Everyone wants to go back-to-back. It's something you dream of. But we're under no illusion that in India, it's going to be very tough. There are some quality teams around the world. There will be some exciting games; there will be some upsets; there's going to be some interesting pitches, I'm sure, at times. There will be different conditions around the country and it'll be the team that adapts the best that gets the best results."
Having felt some pain in his right shoulder while batting, Bairstow downplayed the seriousness of the injury that forced him from the field during New Zealand's run chase on Tuesday night.
"We've got a lot of cricket ahead of us… it's better to take slightly more precaution than not it'll be absolutely fine."

he said.