As Ireland prepares for the return of the Test, Balbirnie hails England's "game-changing" strategy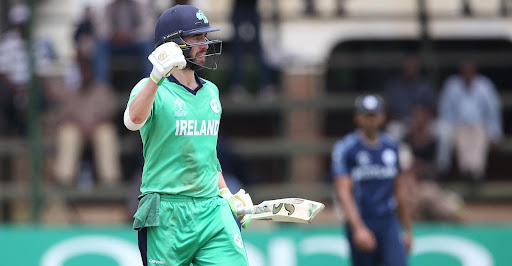 Next month, Ireland will be led by Andrew Balbirnie in their first Test match in nearly four years
As his Ireland squad gets ready for its first Test match in over four years, Andy Balbirnie has suggested that the ultra-attacking strategy England's Test team has adopted under Ben Stokes and Brendon McCullum "has a possibility of transforming the game" as a whole.
Ireland's third and most recent Test was against England at Lord's in 2019, but their absence from the longest format will come to an end in Mirpur the following month when they take on Bangladesh in a single Test on April 4 as the tour's finale in a variety of formats. Afterwards, on April 18, they will depart for Galle, where they will play a Test match against Sri Lanka.
The centerpiece of Ireland's Test schedule for this year is a return to Lord's for a four-day Test on June 1. According to Balbirnie, their opponents have created "a change" in the way that red-ball cricket is played during the last nine months, which his team will need to find a method to counter.
"It's pretty obvious to see what England are doing has a chance of changing the game,"
In the days leading up to Ireland's departure for Bangladesh on Saturday, Balbirnie spoke with Cricket Ireland's internal channels.
"I think it'll naturally filter down to county cricket over the next number of years and we're going to see it first-hand at Lord's this summer, and we're going to have to find a way to create our own brand – whatever that is.
"As cricketers of our generation, we've seen a massive shift in the game in all three formats. The beauty of white-ball cricket is that it's always evolving. Test cricket probably hasn't had that recently, but now, in the immediate past, we've seen a shift. It's going to be really exciting to see how that continues."
Despite the fact that Ireland hasn't played a men's international game in Bangladesh since the T20 World Cup in 2014, Balbirnie has recently had exposure to the country's conditions thanks to his time playing for Khulna Titans in the Bangladesh Premier League.
"It was really beneficial for me,"

he said.
"I was there to see first-hand a couple of their players, some of the grounds and conditions we're going to come up against in the next week or two, and just chat with some of the local guys about how they go about playing certain spinners or seamers.
"Over the next week, leading up to the first ODI on March 18, we're going to be chatting as a team. Any little things that I picked up on in Bangladesh – or Curtis Campher, who played for Chattogram Challengers at the BPL – will only be beneficial to the group."
For all three of the Bangladesh tour's formats, Ireland has added Fionn Hand to its squads. Conor Olphert withdrew from the T20I team owing to academic responsibilities, and Josh Little is rested prior to the IPL after suffering a slight hamstring injury at the SA20 that will prevent him from playing in the ODIs.