Andy Balbirnie proud of Ireland 'character' but already looking to World Cup challenge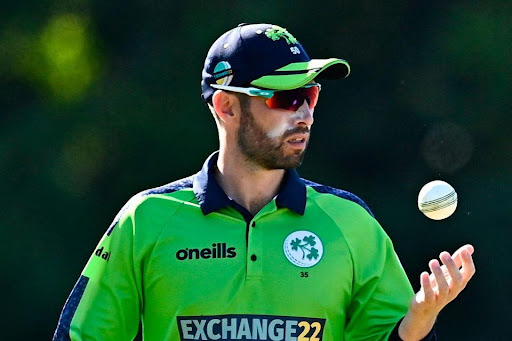 Ireland captain Andrew Balbirnie helped guide his team into the Super 12 stage
The captain of Ireland, Andy Balbirnie, complimented the persistence that his team shown on the third and final day of the Lord's Test in pushing England to bat again after it appeared an innings defeat was close overnight.
He continued, though, that Ireland's eventual ten-wicket defeat had "not been preparation" for the challenge that awaits next week at the World Cup Qualifiers in Zimbabwe.
The odds were in favor of a quick conclusion on Saturday morning after Ireland resumed their second innings on 97 for 3 – effectively four down after James McCollum suffered an ankle injury that ended the game – and were still 255 runs away from asking England to bat again after their impressive total of 524 for 4 in just 82.4 overs.
However, Mark Adair and Andy McBrine's 163-run stand at the seventh wicket, Ireland's highest in seven men's Tests, brought both batters within striking distance of a well-deserved spot on the Lord's honours boards after Harry Tector had bounced back from his first-day duck to set the tone with an appealing 51.
Both failed to succeed in the end. While McBrine, who had insisted that McCollum not risk causing his injury by trying to help him to three figures, was ultimately left high and dry on 86 not out when the No. 11 Graham Hume was bowled by Stuart Broad shortly after tea.
Adair had attempted to ramp shot through to Jonny Bairstow for 88, while McBrine had insisted that McCollum did not risk exacerbating his injury by trying to help him to three figures.
"He had the pads on, he had the boot on, it was all a bit chaotic in there,"

Balbirnie said of McCollum's potential late involvement in the innings, when it seemed he might emulate the likes of Graeme Smith and Colin Cowdrey of yesteryear, and come out to bat at nine-down in spite of his serious injury.
"Andy actually came in at tea and said he doesn't want him to bat. They're good mates and he [McCollum] is really sore. He really didn't want him to hobble out on the boot, but it was eventually agreed that if it was one hit away, that he would go out, and just hold up an end.
"And so it was chaos. He came out on the balcony with the crutches at tea-time and a couple of members looked over and couldn't really believe what they were seeing. It was quite entertaining.
"If the shoe was on the other foot, if you'll pardon the pun, I think Andy would have gone out for Prince [McCollum]," he continued. "But it wasn't to be. In the end it didn't really matter, but it was fairly chaotic at tea-time."
However, Ireland's tough performances delivered a second healthy Lord's crowd a fun day in the sun and continued a pattern of tail-end resistance from their Test team, with three of their top Test cricket partnerships all coming for the seventh wicket.
"[The dressing-room] was a tough place to be yesterday, in the evening particularly, but we showed character today,"

Balbirnie said.
"We've shown in our Test career that we have that character – and that bouncebackability – but unfortunately for us, it's when our backs are against the wall, that's almost when we seem to produce our best cricket.
"We need to find a way to not get so far behind the eight-ball that you need to really scrap it out. But get to 12 ahead, it's a small win to get them batting again. And certainly, after three days like that, you have to take those small wins."
Much of the discussion leading up to the Test had been on Ireland's lack of first-class experience; until their three Tests in Bangladesh and Sri Lanka in April, the majority of the squad had not participated in a single first-class match in four years.
And while Balbirnie repeated his call for more red-ball opportunities, especially on grounds like Lord's that don't offer much sideways movement, he also made it very clear that the team's top aim right now was to revert to a white-ball approach.
"I love being here and I've loved playing here, don't get me wrong, but yesterday was really tough,"

Balbirnie said. 
"You're looking around in the change-room, wondering what we can do here to get wickets to stop the run-rate. You want to go into a game knowing that, if you play your best cricket, you can be really close to beating them. But I'm not stupid. Everyone saw there was a gap and we have to close that as quick as possible. That's probably going to come from us playing more red-ball cricket. It's obvious and hopefully it happens."
Ireland will return home for a four-day break before departing for Bulawayo on Friday to start the crucial game. Before beginning their World Cup qualification campaign against Oman on June 19, Balbirnie's men play two exhibition matches against the United States and the Netherlands on June 13 and 15.
The following eight days will see them play additional matches against Scotland, Sri Lanka, and the UAE. The top three teams will then advance to the Super Six stage, where they will have a chance to compete for one of the two final spots at this winter's main event in India.
Balbirnie was direct about his Lord's experience because he already had that fixture pile-up in his head.
"I wouldn't say it's been preparation,"

he said.
"I've played in these tournaments before. It's really cut-throat. If you don't turn up for a couple of games, your qualifying tournament is over. So the guys need to be switched on, and I think they will be by the time we get out there.
"It's 9am starts, very early-morning stuff, the games are thick and fast, in a sporadic sort of a schedule. I've struggled over the years to differentiate between our [Test and white-ball] groups because it's many of the same names, but for the one-day team, next week is huge. I said at the start of my tenure that qualifying for that World Cup will be my greatest achievement as captain, and we've got three weeks to try to do that."
For the time being, Balbirnie added, he'd be switching off from cricket in a particularly homely fashion.
"My wife has told me I've got a crib to paint,"

he said.
"We have a baby coming in August so that'll take up most of my week. But it'll be just enough time to switch the pads and head out."