Allrounder refused to play in the tri-series against India after learning that his wife was not included in the T20 World Cup team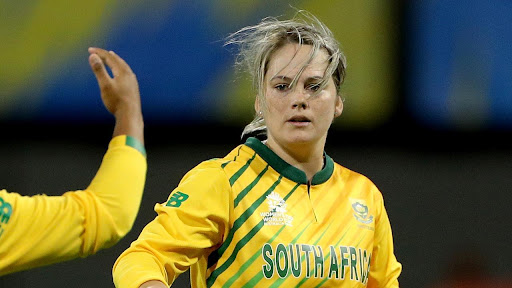 Marizanne Kapp withdrew to play in the T20I tri-series championship match against India
Cricket After receiving what coach Hilton Moreeng referred to as "compassionate leave" for the T20I tri-series final against India this week, South Africa (CSA) expects allrounder Marizanne Kapp to join forces with South Africa's T20 World Cup squad in Cape Town on Friday.
After her wife, Dané van Niekerk, was dismissed from the World Cup playing squad for failing to reach the CSA's two-kilometer time trial mark of 9:30, Kapp, who had talks with CSA on Thursday, asked time off.
The possibility of participating in the WPL next month is said to be the deciding factor in the plans of both Kapp and van Niekerk, who are both reportedly thinking about their careers on the international stage.
Both Marizanne Kapp and van Niekerk have entered the WPL player auction; however, van Niekerk's participation will be dependent on the CSA's willingness to provide her NOC.
The board has a policy of forbidding injured or unfit players from participating in foreign leagues, however this restriction is rendered irrelevant if the player retires.
If van Niekerk, who fell 18 seconds outside of the two-kilometer time trial mark, receives that concession, it would be the first time that CSA has sent players to a competition who were not deemed entirely match ready (like Anrich Nortje at the 2017 IPL).
The WPL player auction is scheduled to occur on February 11 or 13, the opening few days of the T20 World Cup, and Kapp has already shown excitement about it.
She has also been vocal in support of van Niekerk on social media, but she has been silent regarding the national team, who still see her as an important part of their plans.
"She is part of the World Cup. She is committed to the World Cup cause,"

South Africa's coach Moreeng said.
"She needed a break for compassionate leave and it was granted to her because we felt we are very happy with the form she is in, as far as her skills are considered. The leave was granted to her so she can come back ready to play."
It has "been challenging" for everyone in the South African camp, Moreeng said, as a result of losing his crucial all-around player, Kapp, for the final and the uncertainty surrounding van Niekerk's selection. However, he wants his players to "move on" as soon as as.
"It's been tough on everyone. The players I know will be very disappointed but at the end of the day, we need to move on,"
"The disappointment is one of the things we will have to deal with and move on as a team. The players are very professional. They know these kinds of things happen. We don't wish it for any player but it is what it is. They know they need to get on with it."
Moreeng claimed that the rule used to exclude van Niekerk from the World Cup was applied equally to all parties, in line with convenor of selectors Clinton du Preez, who unveiled the World Cup squad on Tuesday.
"When you look at the minimum standard required of players to be available for selection – players around the country know what is required,"

he said.
"It's a non-negotiable and every professional cricketer knows it. Hence we have bigger squads, so we can make sure we have depth in every position."
When asked if he believes he has his best team available, Moeeng replied,
"It's the strongest 15 available to us."