After Bairstow's blitz maintains England in control, Wood breaks open Australia's second innings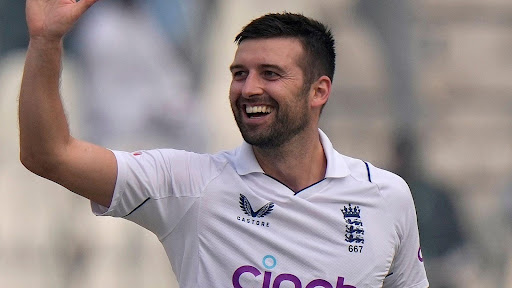 Mark Wood gets 3 wickets against Australia 4th Test
After Jonny Bairstow's blitz at Old Trafford resumed England's batting rampage as they did everything, they could to buy themselves enough time to beat a terrible weekend weather forecast and level the Ashes series, another stunning, high-octane session from Mark Wood sliced open Australia's second innings.
Wood's pace was once again the difference maker in England's attack after Bairstow's unbeaten 99, 50 of which came from his final 31 balls, increased their lead to 275.
He had dismissed Usman Khawaja in his first over before coming back late in the last session to bounce out Steven Smith (claiming him for the second time in the match) for his 100th Test wicket and Travis Head to leave Australia teetering on 108 or 4.
Even though Marnus Labuschagne and Mitchell Marsh made it to the end of the game, Australia had a trying two days and will need all the support they can get to win the Ashes here and avoid a deciding at The Oval the following week, when they are undoubtedly not favorites.
When James Anderson was bowled by Cameron Green for the final wicket in a barnstorming 66-run stand that left Australia ragged and scarred, Bairstow was left stranded one short of a wild century. The 'big three' quicks—Mitchell Starc, Josh Hazlewood, and Pat Cummins—returned a combined economy rate of 5.22 and all three gave up more than 100 runs for only the second time in as many Tests.
England, who had scored at a staggering 5.49 through their 107.4 overs, had two and a half days to make it count. However, in reality, they appeared to have far less time to complete the victory they needed to extend the series and continue on course to become just the second team to recover from a lead of 2-0 and claim a victory.
They will hope that, not for the first time, the forecast is wrong because Saturday's outlook remained incredibly dark and Sunday's was not good.
Since they were leading by 189 at lunch and 209 when the ninth wicket fell, England batted longer than many had anticipated. However, they clearly prioritized having as much of a lead as possible, and with Johnny Bairstow moving the ball around, the overs were being spent efficiently.
Despite the fact that bowling time would likely be limited, the four wickets they have already taken suggest that they may not require a large window of favorable conditions.
Before tea, they defeated Australia's first pair. Before Wood's first over, Khawaja and David Warner had made decent headway against the new ball. Wood then grazed Khawaja's outside edge. After speaking with Warner and learning that the spike was real, Khawaja went for the DRS.
When Warner was taken by Chris Woakes for the second time in the game, he lost for another average score. Warner was in doubt after he fizzled a delivery beyond the outside edge, and he deflected down into his stumps.
When Smith pushed Woakes low to Joe Root at first slip, the second ball came dangerously near to being lost. Root did not at all celebrate the catch; instead, he told the umpires that he believed it was out and that the ball should be taken to TV official Kumar Dharmasena.
It took a lot of rocking and rolling for Dharmasena to come to the conclusion that Root had not managed to get his fingertips under the ball in what was yet another questionable choice this summer.
On a surface that was showing hints of some varying bounce—the same bounce that had been on exhibit for Root's wicket the day before—Smith and Labuschagne put in a lot of effort to get through the last session.
But once more, Wood was vital in the outcome because he forced Smith to make a mistake with a short ball that he attempted to draw but could only get a glove through to Bairstow. Unsurprisingly, England attacked Head right away with the bouncer, and it only took seven deliveries for it to pay off when he fended a glove into the gully while unable to escape the line.
The day before, after their Zak Crawley-inspired rampage, England had resumed on 384 for 4. These things are all relative, and 122 runs were still scored from 24 overs despite the fact that they did not exactly find their best form during the morning session. The older, softer ball made strokeplay more difficult because Australia took its second fresh ball later than expected.
Although Stokes and Harry Brook didn't totally disregard wisdom, they had already made their intentions clear by charging down and hoisting Starc over midwicket. After taking 72 balls to reach his half-century, Stokes played around a Cummins delivery to give the helpless Australia skipper his first wicket of the innings.
Brook took 80 deliveries to reach his fifty before falling shortly after Australia chose to bowl with the new ball for the first time in the series after 90 overs when he top-edged Josh Hazlewood to long leg. In a nod to his unsuccessful catch at Lord's, Starc judged the catch brilliantly as it approached the rope and, as he rushed into his teammates, simulated scraping it down the ground.
Before lunch, Hazlewood added Woakes (England's first duck of the series) and Wood, and when Stuart Broad missed a return chance, he secured what will surely rank among his least-appreciated five-wicket hauls.
Stokes might have thought about ending the innings, but Anderson came to the middle to play what may have been his last Test innings on the ground, drawing cheers from his home crowd.
He did his bit by blocking multiple short deliveries, but he also pulled off a crushing hit on Cummins. During the partnership, there were also frantic moments when he and Bairstow three times stole byes to Alex Carey, whose underarming at the stumps was less precise than it had been at Lord's.
With his signature whip-pull for six against Starc, Bairstow surpassed fifty, but that was just the beginning. If there is such a thing as one-day mode with England's Test batting, he had switched to it by this point, and one of his sixes over the leg side put the windows of the brand-new hotel complex in danger. Even Stokes could be heard from the dressing room mouthing, "Wow, that's huge."
A stolen bye at the beginning of the following over put him back on strike after he had reached 98 with a fierce swat through the covers. After driving two balls firmly towards long-off, Anderson was about to sprint back for the next ball when Bairstow instructed him to stay put. Anderson overstepped the mark against Green on the subsequent delivery.
The third inning, which will decide this game, was signaled by its beginning. England had already done everything they could to position themselves, and all they can now do is hope they have enough time to make it count. Australia will be wishing for two days of rain in the meantime. An amazing change of events has occurred.