Afghanistan coach Trott was happy with the performance of his spinners in the team's opening victory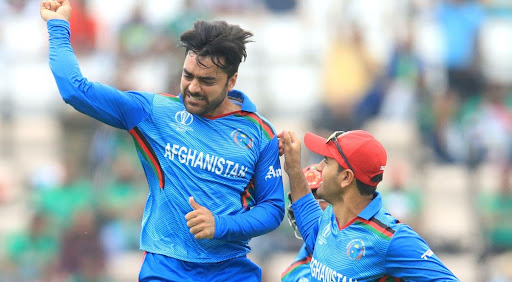 In the last ten years, Rashid Khan and Co. have caused Bangladesh a lot of trouble
In the past ten years of One Day Internationals, Bangladesh has found Afghanistan's spinners to be the most challenging.
For all teams playing Bangladesh in the format since July 2013, Afghanistan's spinners have taken the most wickets (50) and had the highest average (26.02). In the first ODI on Wednesday, Rashid Khan, Mujeeb Ur Rahman, and Mohammad Nabi combined for 5 for 69. With their aggregate bowling total of 24, they allowed fewer than three runs per over while bowling 24 overs.
Bangladesh's hitters didn't help themselves, even if they made the most of the inconsistent bounce that was available at the Zahur Ahmed Chowdhury Stadium. Mushfiqur Rahim allowed a Rashid half-tracker to slide through his legs, while Litton Das and Najmul Hossain Shanto were out to simple dismissals when they were beginning to look at ease.
"Our seamers didn't bowl well with the new ball, but then our spinners were excellent,"

Afghanistan coach Jonathan Trott said.
"We didn't expect the wicket to have as much uneven bounce as it did. It is surprising. Normally here in Chattogram, it goes through a little bit more. I think we adjusted well. We read the conditions. We played some good cricket.
"Today's wicket helped them [Afghanistan spinners] a little bit, but they have some good skills to put pressure on the Bangladesh batters. A lot of these [Bangladesh] batters would have been confident from the Test match [last month, which Bangladesh won by 546 runs]. But the quality of our spinners shone through on a wicket that we thought would seam more than it spun for us."
They were able to transition from T20Is to ODIs thanks in part to Trott's spin attack, which he highlighted. He claimed that they had a perfect understanding of when to bowl offensively and when to be slightly defensive.
"I don't think it is too dissimilar nowadays [bowling in T20Is and ODIs]. Batsmen have an attacking mindset in both formats," Trott said. "Spinners have to be clever. They are allowed four fielders out till the 40th over. That's when they usually bowl. They sometimes bowl in the powerplay [too]. So they have to figure out how they attack at the right times, but also how to defend on wickets where there's not much assistance."
However, none of these three spinners were present in the single Test between Bangladesh and Afghanistan, and Bangladesh had taken advantage of an inexperienced attack to post 382 and 425 for 4 declared.
Afghanistan and Bangladesh will now meet each other in the final two ODIs of the current series, as well as at least once each in the upcoming Asia Cup in August and September and their tournament-opening match at the ODI World Cup in Dharamsala.
How does Bangladesh attempt to minimize the harm before the major matches? The hitter who scored his third ODI half-century in the first game, only his seventh in the format, Towhid Hridoy, suggested that each batter would need to come up with their own strategy to deal with the spinners.
"It [Bangladesh] is a mature team. They have been serving the national team for a long time,"

Hridoy said.
"Nobody has to be told anything new. We will get out of this by thinking about it individually. We back everyone in the dressing room. We can come back from this position."
Hridoy was facing Rashid, Mujeeb, and Nabi for the first time at the top level, but thanks to the BPL, he was familiar with Nabi and Mujeeb.
"This was the first time that I faced Rashid. I have played Mujeeb in Under-19 cricket. We were also in the same team in BPL,"

Hridoy said.
"I played Nabi bhai in the BPL. I think they are the best spin combination in the world. You can spin better against any team after you do well against them. I was talking to Shakib [Al Hasan] bhai about it too. It was a bit challenging. We have to do better than we did today [in the first ODI]."
While Tamim Iqbal, Litton, Shanto, and Shakib, Bangladesh's top four, wasted good starts, Hridoy hoped that the lower order would save them.
He cited how Bangladesh was in a bad spot against Afghanistan the previous year until Afif Hossain and Mehidy Hasan Miraz helped them recover and eventually lead them to a successful chase of 216 from a position of 45 for 6. They did this without suffering any further casualties.
"We have played against their bowling before,"

Hridoy said.
"Someone or the other stood up. In the last series, Miraz bhai and Afif played well. We also had a feeling that someone would do the job [in the first ODI]. We didn't get a good partnership from the lower order. I am hopeful that in the next game, we will do better in a similar situation."