Thompson vs Neal: who will score victory at UFC Vegas 17?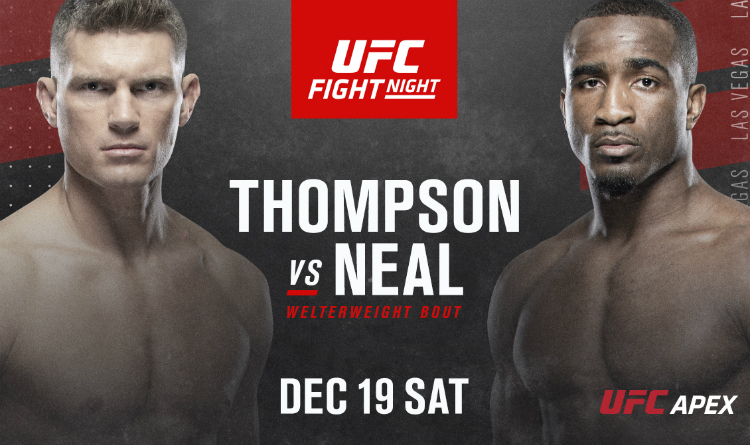 Thompson to face Neal at UFC Vegas 17
Welterweights Stephen Thompson and Geoff Neal are set to fight in the UFC Vegas 17 main event on December 19 in Las Vegas. How will the bout play out and who has a better chance to score victory?
Stephen Thompson stats
Thompson started competing in MMA as a pro in 2010 and compiled a record of 15-4-1. Wonderboy signed with the UFC in 2012 after winning 5 contests in a row. In 2012-2016, he gained 8 victories in 9 clashes and faced welterweight champion Tyron Woodley. The showdown resulted in a majority draw; therefore, Stephen got a second chance to win the belt. However, Woodley beat Thompson and retained the title in a rematch. In 4 last bouts, Wonderboy defeated Jorge Masvidal and Vicente Luque but lost to Darren Till and Anthony Pettis. He is ranked fifth at welterweight.
Geoff Neal stats
Neal began his professional MMA career in 2012. His current record stands at 13-2. Handz of Steel took on Kevin Holland in a contest for the XKO title in 2017 but dropped a TKO. Afterwards, Geoff defeated Chase Waldon at Dana White's Contender Series 3, struck a deal with the UFC and made his debut in the promotion in 2018. Neal won 5 fights in the UFC and took 11th place at welterweight. In his last 2 bouts, Geoff knocked out Niko Price and Mike Perry.
Matchup stats
Neal lands 53% more significant shots per minute. But Thompson absorbs 28% fewer strikes.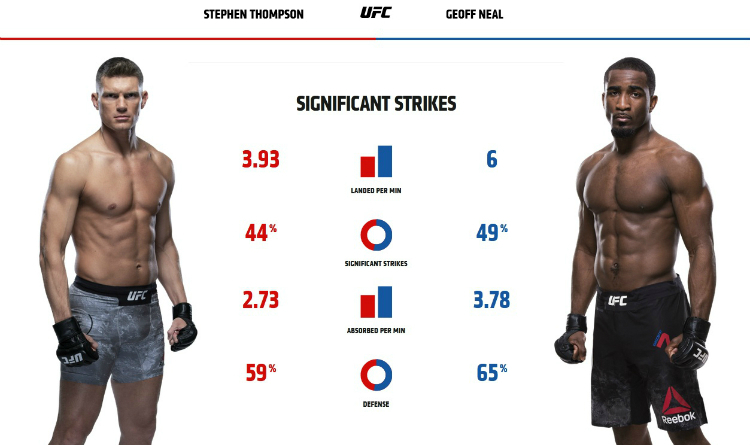 Geoff outnumbers Stephen's takedowns 2.5 to 1 and makes submission attempts. Besides, Wonderboy has poorer defence and brings the fight to the canvas less frequently.
Thompson vs Neal preview
Stephen earned a black belt in American kickboxing and a fifth-degree black belt in kempo. Geoff, on the contrary, has no ranks in striking martial arts. Wonderboy started training in combat sports at the age of 3. Handz of Steel played football and began coaching in MMA when he was studying at a university. Thus, there is a huge expertise gap in striking between the athletes.
Thompson got a first-degree black belt in Jujutsu and a brown one in BJJ. Neal has a blue belt in BJJ. Therefore, Thompson is a more skillful grappler. Geoff has an advantage in wrestling stats, because Wonderboy prefers fighting on the feet and avoids grappling exchanges.
Stephen was a professional kickboxer with a flawless record of 58-0. He has a ton of experience in striking and an excellent technique. Moreover, his takedown defence is solid. Geoff has a chance to win the bout only in case he takes the fight to the ground. However, his grappling skills might not be enough to make a takedown and control his opponent on the mat. Therefore, Thompson will likely be victorious.
Wonderboy has a relatively low finish rate – 53% and his average fight time is 13:49. Furthermore, Neal is famous for a great ability to take shots and has been knocked out only once. Given these factors, the contest will reach the time limit. In this case, Thompson is supposed to win by decision.
The most probable fight results
Stephen Thompson to win by decision (57/20);
Total rounds over 4.5 (13/10).
Disclaimer: Fight analysis is not a betting tip or a gambling advice of any sort. Our experts determine the most likely outcome of a sporting event based on statistics and personal views. Therefore, the actual result of a competition may differ from the predicted.