Smith vs Vlasov: who has better odds to win the WBO title?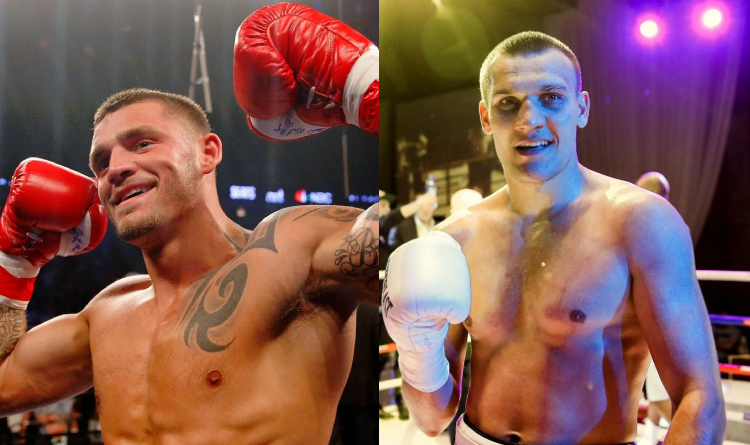 Smith to face Vlasov
Joe Smith Jr. is to take on Maksim Vlasov for the vacant WBO light heavyweight title on February 13. Who has better odds to win the belt?
Joe Smith Jr. stats
Smith started his professional boxing career in 2009 and compiled a record of 26-3. The Irish Bomber won the WBC International gold in 2016 in a bout against Andrzej Fonfara. He retained the belt against Bernard Hopkins but lost it to Sullivan Barrera in 2017. Joe faced Dmitry Bivol for the WBA title in 2019; however, the contest resulted in his loss. Last year, Smith defeated Jesse Hart in a contest for the WBO–NABO belt. BoxRec currently ranks him fourth at light heavyweight.
Maksim Vlasov stats
Vlasov turned pro in 2005. His record stands at 45-3. The Kill earned the WBC–ABCO belt in a fight against Mikhail Krinitsin in 2010. A year later, he beat Roman Shkarupa and added the WBC Baltic title at super middleweight. In 2016-2018, Vlasov won the IBO Inter-Continental, WBA International, WBA Continental Europe and WBC Silver belts at cruiserweight. Afterwards, Maksim faced Krzysztof Glowacki for the interim WBO gold but dropped a unanimous decision. In 2019, he moved down to light heavyweight and defeated 3 opponents in a row, winning the Eurasian Boxing Parliament and WBO Global titles. The Russian boxer takes sixth place in the rating of light heavyweights by BoxRec.
Smith vs Vlasov stats
Joe is 12% more powerful, but Maksim has a 7% better ability to take shots.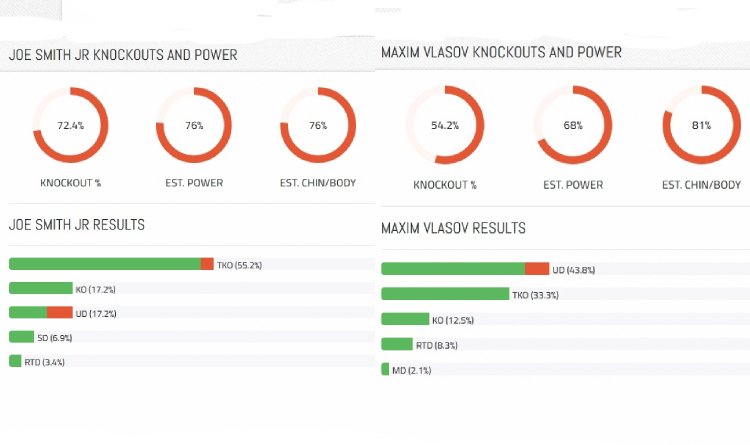 According to the results of the boxers' previous clashes, Smith lands 56% more punches per round (16.5 versus Vlasov's 10.6). Besides, The Irish Bomber outnumbers his rival's power strikes 2 to 1 (15.3 versus 7.6).   Nevertheless, Maksim absorbs almost half as many shots per heat (5.2 versus Joe's 10).
Smith vs Vlasov preview
Joe is an inside fighter. He tends to control the ring, work the opponents' body and brawl at a close range. Maksim, on the other hand, is an outside boxer. The Russian has an outstanding footwork, which lets him keep his rivals at the end of his punches and avoid dangerous exchanges. He likes fighting at medium distance and focuses on jabs. Consequently, Vlasov takes fewer blows, but Smith lands more strikes. Therefore, the result of the contest will depend on Joe's ability to close the range.
The Irish Bomber is much more accurate. He delivers 27% of shots, while only 10% of The Kill's strikes hit the target. Given this factor along with Smith's advantage in power and the number of punches landed, Vlasov will likely lose the contest. Joe gained 81% of victories by KO/TKO, but Maksim is extremely tough, and he has never been knocked out before. Thus, Smith is expected to win by decision.
The most probable fight results
Joe Smith Jr. to win by decision (7/5);
Total rounds over 10.5 (57/100).
Disclaimer: Fight analysis is not a betting tip or a gambling advice of any sort. Our experts determine the most likely outcome of a sporting event based on statistics and personal views. Therefore, the actual result of a competition may differ from the predicted.