Povetkin vs Whyte 2: will Russian Vityaz defend the WBC interim title in a rematch?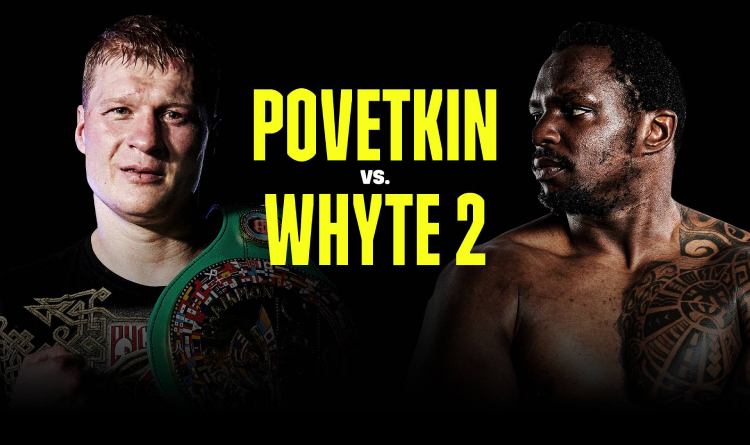 Povetkin to take on Whyte
Alexander Povetkin is set to defend the WBC interim heavyweight title against Dillian Whyte on March 27. Will Russian Vityaz retain the belt in a rematch?
Alexander Povetkin stats
Povetkin turned pro in 2005 and compiled a record of 36-2-1. Russian Vityaz won the WBA (Regular) gold in 2011 and retained it in 4 clashes. In 2013, he suffered the first career loss to Wladimir Klitschko in a contest for 5 belts. In 2014-2018, Povetkin captured the WBC International, WBC Silver, WBA Continental (Europe) and WBO International crowns. He took on Anthony Joshua for WBA (Super), IBF, WBO and IBO titles but dropped a TKO. Last year, Alexander knocked Dillian Whyte out and became a WBC interim champion. He currently takes fourth place at heavyweight.
Dillian Whyte stats
Whyte started his professional boxing career in 2011. His record stands at 27-2. The Villain won his first belt, WBC Silver International, in 2015. Then he challenged Anthony Joshua for the WBC International, Commonwealth and British belts but lost by TKO. In 2016-2019, Dillian amassed a whopping 11-fight winning streak and captured the WBC International, WBC Silver, WBO International and WBC interim belts. However, he failed to defend the latter title against Povetkin. BoxRec ranks Whyte eighth at heavyweight.
Povetkin vs Whyte stats
Alexander has a 9% power advantage and a 4% better ability to take shots. Furthermore, Russian Vityaz faced stronger and tougher opponents.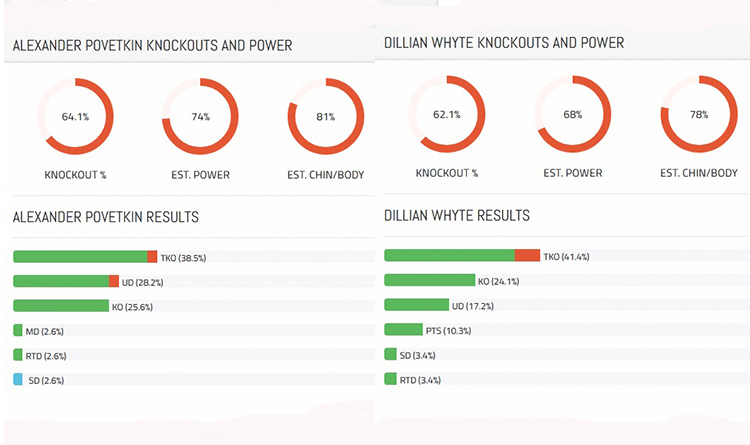 In their first clash, Whyte outnumbered Povetkin's strikes almost 2 to 1 (63 versus 34) and landed 36% more significant shots (30 versus 22). Besides, Dillian was much more accurate. He delivered 38% of punches thrown, while only 19% of Alexander's blows hit the target.
Povetkin vs Whyte 2 preview
The boxers are evenly matched in terms of power and abilities to take strikes. But Alexander works more effectively at close range, while Dillian looks better at the medium distance. The Villain has a 3-inch reach advantage. Consequently, he tried to keep Russian Vityaz at the end of his jabs in the previous contest. This game plan worked very well, because Whyte outstruck his rival in 3 of 5 rounds and scored 2 knockdowns. Nevertheless, Povetkin came back strong and turned the tables in his favor with a devastating uppercut in the fifth round.
Given Dillian's edge in the number of strikes landed and accuracy, he is poised to take revenge in a rematch. Alexander definitely has a chance to win the bout in case he closes the range and delivers one of his bombs. But The Villain has drawn his lesson from the first clash. Thus, he will likely focus on footwork to keep Alexander at the medium distance.
Whyte has a 67% finish rate, and his average winning round is fifth. In the first fight against Povetkin, The Villain started ramping up the pressure in the second heat and knocked his rival down in the fourth round. Considering these factors, Whyte is expected to score victory by KO within 7 rounds.
The most probable fight results
Dillian Whyte to win by KO (18/25);
Total rounds under 7.5 (9/10).
Disclaimer: Fight analysis is not a betting tip or a gambling advice of any sort. Our experts determine the most likely outcome of a sporting event based on statistics and personal views. Therefore, the actual result of a competition may differ from the predicted.