Nemkov vs Davis 2: will Vadim defend the Bellator belt in a rematch?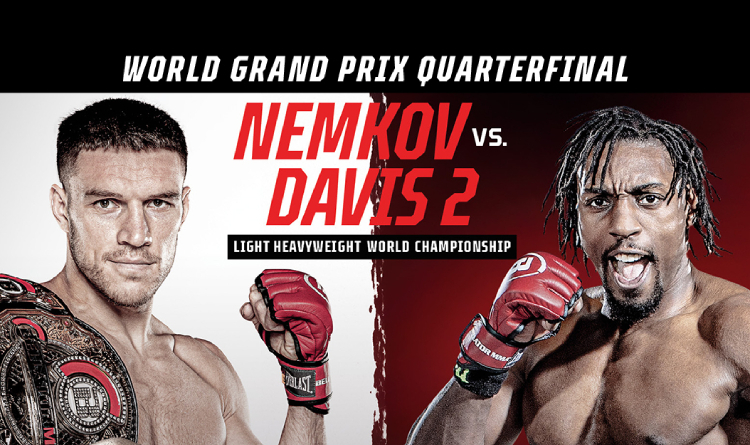 Nemkov to face Davis
Vadim Nemkov and Phil Davis are set to fight in a Light Heavyweight Grand Prix quarterfinal contest at Bellator 257 on April 16. Will the Russian athlete defend the title in a rematch against Mr. Wonderful?
Vadim Nemkov stats
Nemkov started his MMA career in 2013 and amassed a record of 12-2. In 2015, Vadim beat Goran Reljic in a Rizin Grand Prix quarterfinal match but lost to Jiri Prochazka in a semifinal. The Russian transitioned to Bellator in 2017, scored 4 consecutive victories and challenged Ryan Bader for the Bellator light heavyweight crown last year. He knocked the champion out and captured the gold. Vadim is currently riding on a 7-fight winning streak.
Phil Davis stats
Davis has been competing in MMA as a pro since 2008. His record stands at 22-5, 1 no contest. In 2010-2015, Mr. Wonderful participated in UFC tournaments but failed to earn the belt and signed with Bellator. In the promotion, Phil won the Light Heavyweight Grand Prix in 2015 and defeated Liam McGeary in a contest for the title. However, he lost the belt to Ryan Bader in 2017. In 2019-2020, Davis won 3 clashes in a row and took third place at light heavyweight.
Nemkov vs Davis stats
Vadim lands 7% more strikes per minute (3.05 versus Phil's 2.85), but Davis absorbs 15% fewer shots (1.33 versus 1.56). The Russian delivers 38% of blows, while only 34% of Mr. Wonderful's shots hit the target.
Davis outnumbers Nemkov's takedowns almost 5 to 1 (2.99 versus 0.60 per 15 minutes). However, Vadim has a better defence, as he blocks 13% more attempts to bring the fight to the canvas (81% versus 72%).
Nemkov vs Davis 2 preview
Both athletes coached in striking martial arts only during MMA training. However, Vadim has more refined boxing skills, better footwork and head movement. Phil focuses on punches and throws kicks less frequently than Nemkov does. Besides, the American misses more often.
Davis was a 4-time NCAA Division I All-American, while Nemkov won Combat Sambo World Championships 4 times. Thus, both sportsmen have a solid wrestling background. Nevertheless, Mr. Wonderful initiates grappling exchanges much more often, has locks and chokes in his arsenal. The Russian, on the other hand, prefers fighting on the feet.
In their first clash in 2018, Nemkov looked better in striking exchanges. He kept distance, landed heavy punches and low-kicks from the far range. Phil brought the fight to the canvas twice in the third round, but Vadim quickly got back to his feet after the first takedown and defended a Kimura lock. Mr. Wonderful clearly took the final heat but lost by split decision.
Vadim will most probably outperform his rival on the feet. Given his impressive defence and Davis's low takedown accuracy rate, Phil might not be able to bring the contest to the ground and control his opponent on the mat. Consequently, Nemkov has a better chance to secure victory. The Russian's knockout rate stands at 75%. Thus, Vadim is expected to win by KO/TKO. However, Davis is very tough, and he has never been stopped before. Hence, the clash will likely last at least 4 rounds.
The most probable fight results
Vadim Nemkov to win (21/50);
Total rounds over 3.5 (31/50).
Disclaimer: Fight analysis is not a betting tip or a gambling advice of any sort. Our experts determine the most likely outcome of a sporting event based on statistics and personal views. Therefore, the actual result of a competition may differ from the predicted.