Ioka vs Tanaka: will Kazuto defeat Monster of Chukyo in WBO title fight?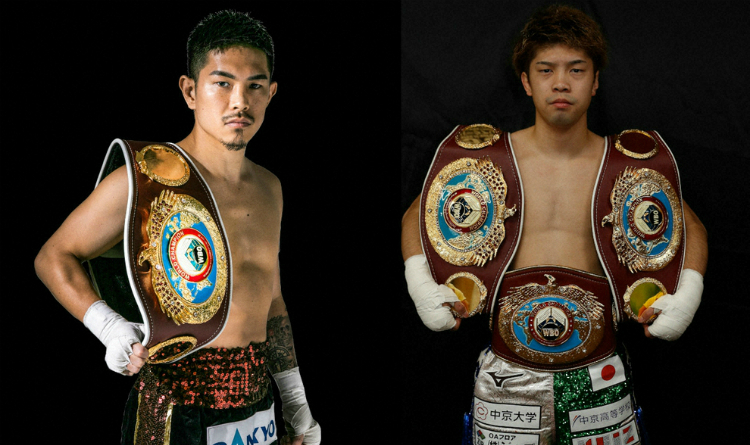 Ioka to face Tanaka
WBO junior bantamweight champion Kazuto Ioka is set to defend the title in a fight against Kosei Tanaka on December 31 in Tokyo. Will Kazuto defeat Monster of Chukyo and retain the belt?
Kazuto Ioka stats
Ioka began competing as a pro in 2009 and amassed an impressive record of 25-2. In 2010, he won the Japanese championship at light-flyweight. Kazuto earned the WBC mini-flyweight belt next year and defended it twice. Ioka knocked out Jose Alfredo Rodriguez and became the WBA champion at light flyweight in 2012. The Japanese faced Amnat Ruenroeng in a bout for the IBF gold but dropped a split decision and suffered the first career loss. In 2015, Ioka added the WBA Regular title and defended it 5 times. Kazuto got a WBO title shot in 2018; however, he lost to Donnie Nietes and failed to earn the belt. Nevertheless, Ioka won the WBO gold last year after knocking out Aston Palicte and retained it in a contest against Jeyvier Cintron. BoxRec ranks Kazuto fourth at junior bantamweight.
Kosei Tanaka stats
Tanaka is an undefeated boxer with a record of 15-0. He started his professional career in 2013. In 2014-2015, Monster of Chukyo won the OPBF and WBO mini-flyweight titles. He earned the WBO junior-flyweight belt in 2016 and defended it twice. Kosei became the WBO champion at flyweight in 2018. He beat 3 title contenders in 2019: Ryoichi Taguchi, Jonathan Gonzalez and Wulan Tuolehazi. Then, he moved up to the 115-pound division to challenge the reigning king Kazuto Ioka. Tanaka takes first place on the list of the best active flyweights compiled by BoxRec.
Matchup stats
The athletes are evenly matched. Tanaka's knockout ratio is slightly higher, and he has more punching power. But Ioka has a better ability to take strikes.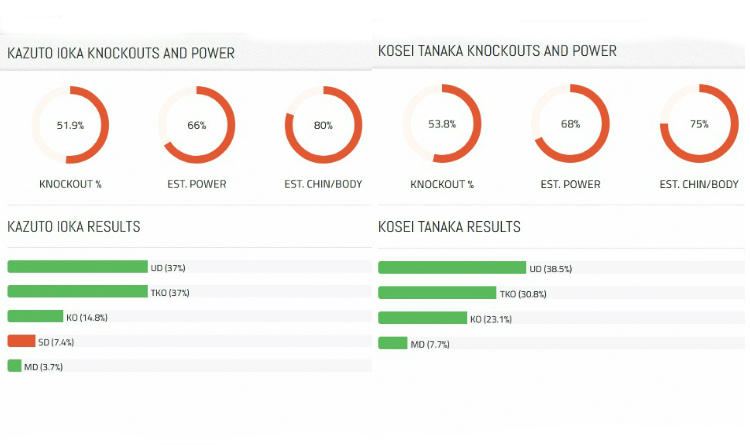 According to the results of the fighters' previous clashes, Kazuto landed 171% more shots per round (19 versus Kosei's 7). Besides, Ioka was much more accurate: he delivered 33.5% of punches, while only 18% of strikes thrown by Monster of Chukyo hit the target. However, the champion absorbed almost thrice as many blows per 3 minutes (10 versus Tanaka's 3).
Ioka vs Tanaka preview
The sportsmen employ distinct fighting techniques. Kazuto throws jabs much more often (3 to 1 on average) and lands 23% fewer power strikes. He rarely uses lateral movement, preferring straightforward attacks. Kosei is a much more creative and unpredictable fighter. He focuses on hooks and uppercuts, lands body shots more frequently, and his footwork is outstanding.
Ioka boxed nearly twice as many rounds, but he faced opponents with a lower power. Kosei is a less experienced athlete; however, he is 6 years younger and much faster. Besides, he has more gunpowder in his hands. Tanaka lacks accuracy, but Kazuto's defence is relatively poor. Therefore, Monster of Chukyo will likely outstrike the champion. Given these factors, Tanaka has a better chance to win the contest.
The most probable fight result
Kosei Tanaka to win (53/100).
Disclaimer: Fight analysis is not a betting tip or a gambling advice of any sort. Our experts determine the most likely outcome of a sporting event based on statistics and personal views. Therefore, the actual result of a competition may differ from the predicted.