Garcia vs Campbell: will The Flash win the WBC title?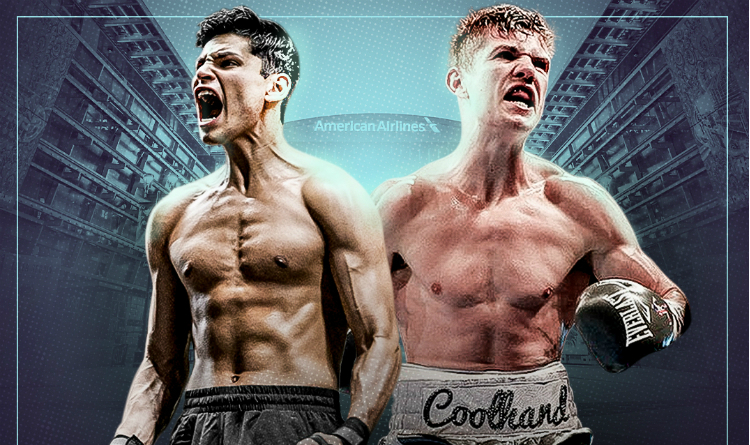 Garcia to face Campbell
Lightweights Ryan Garcia and Luke Campbell are set to fight for the interim WBC title on January 2 in Dallas. Will The Flash beat the veteran and win the belt?
Ryan Garcia stats
Garcia is an undefeated boxer with a record of 20-0. The Flash started his professional career in 2016. Next year, he faced Miguel Carrizoza for the WBC-NABF Junior title and won by KO in the first round. In 2018, Ryan beat Jayson Velez and added the WBC-NABF and WBO–NABO belts. Garcia moved up to lightweight in 2019. He knocked Romero Duno out in a contest for WBO–NABO and WBC Silver gold. In February 2020, Garcia defended the WBC Silver belt in a showdown against Francisco Fonseca. BoxRec ranks The Flash ninth on the list of the best active lightweights.
Luke Campbell stats
Campbell began competing as a pro in 2013 and compiled a record of 20-3. Cool Hand got the first title shot in 2015. He beat Tommy Coyle by TKO and became the WBC International champion at lightweight. However, Luke failed to defend the belt in a showdown against Yvan Mendy. In 2016-2017, Campbell earned the Commonwealth and WBC Silver belts. He took on Jorge Linares in a bout for the WBA and The Ring gold but lost by split decision. Luke challenged Vasyl Lomachenko in 2019; however, the contest resulted in his loss by UD. Campbell currently takes eighth place in the rating of the top lightweights by BoxRec.
Garcia vs Campbell stats
Ryan has 13% more punching power, but he faced weaker opponents. Neither of boxers has an edge in terms of an ability to take shots.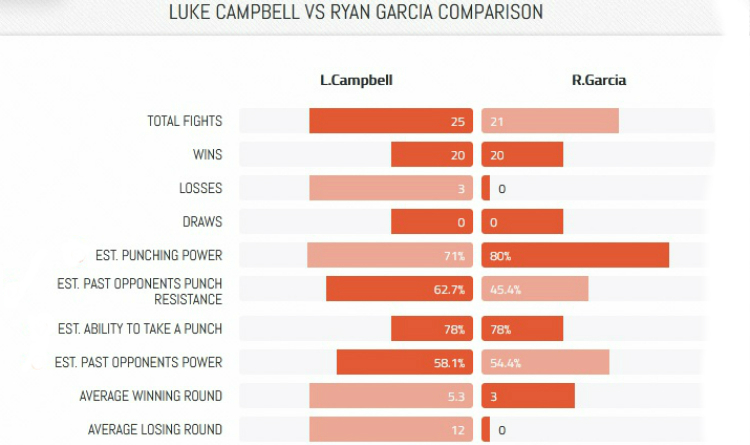 Based on the results of the fighters' previous bouts, Garcia outperformed Campbell on all key stats. He landed 34% more strikes per minute (3.3 versus Luke's 2.5) and absorbed 39% fewer blows per 60 seconds (3.3 versus Campbell's 5.4). Besides, The Flash was more accurate: he delivered 35% of punches, while only 31% of Luke's shots hit the target.
Garcia vs Campbell preview
Both athletes have similar fighting styles. They focus on keeping rivals at the end of their jabs and throw big hooks. Nevertheless, Garcia delivers power shots much more frequently (75% accuracy versus Luke's 38%). The Flash has the fastest and ones of the most powerful hands among lightweights. His defence and footwork are incredible. Campbell's reflexes are slower as he is 11 years older.
Ryan has an advantage in all aspects of boxing; thus, he will likely defeat Campbell. Considering Garcia's high finishing rate (81%) and immense power, he has a great chance to win by KO. The Flash's winning round is third. But Campbell has never been stopped before, and he is famous for a strong chin. Given these factors, Ryan will need more than 3 rounds to drop his opponent to the canvas. However, the contest is supposed to be over within 9 heats.
The most probable fight results
Ryan Garcia to win by KO (19/20);
Total rounds under 9.5 (4/5).
Disclaimer: Fight analysis is not a betting tip or a gambling advice of any sort. Our experts determine the most likely outcome of a sporting event based on statistics and personal views. Therefore, the actual result of a competition may differ from the predicted.