Estrada vs Gonzalez 2: will El Gallo take revenge in a rematch?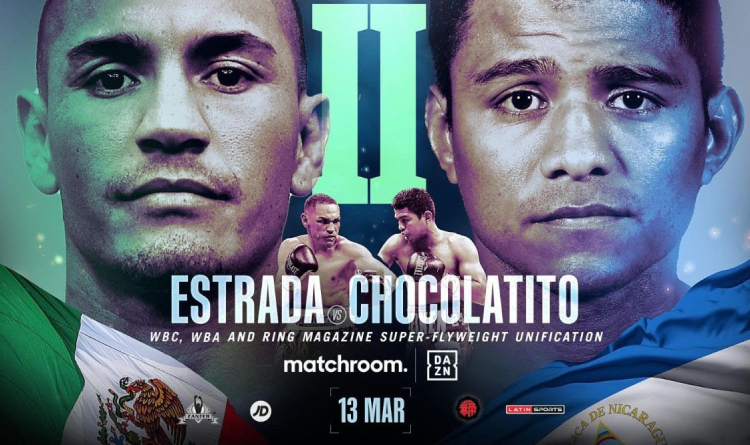 Estrada to fight Gonzalez
WBC and The Ring champion Juan Francisco Estrada is set to face WBA (Super) title-holder Roman Gonzalez on March 13. Will El Gallo take revenge in a rematch?
Juan Francisco Estrada stats
Estrada started competing in boxing as a pro in 2008 and amassed an amazing record of 41-3. El Gallo won his first gold in 2010 in a clash against Manuel Armendariz for the WBC Mundo Hispano title. 2 years later, he took on Roman Gonzalez for the WBA crown but dropped a unanimous decision. In 2013, Juan captured the WBA (Unified) and WBO belts. He defended the crowns 5 times and challenged Srisaket Sor Rungvisai for the WBC and The Ring titles; however, the contest resulted in his loss. Estrada defeated Srisaket in a rematch in 2019, won the belts and retained them in 2 fights. BoxRec currently ranks him third at super flyweight.
Roman Gonzalez stats
Gonzalez started his boxing career in 2005. His record stands at 50-2. Chocolatito earned the WBA Fedecentro and Nicaraguan belts in 2006. He added the WBA titles at minimum weight and light flyweight in 2009-2010. Roman became a WBC and The Ring champion in 2014 and defended the belts 4 times before moving up to flyweight. He won the WBC gold in the 115-pound division but failed to defend it against Srisaket Sor Rungvisai. Last year, Gonzalez beat Kal Yafai in a clash for the WBA (Super) crown and retained it against Israel Gonzalez. Chocolatito takes second place in the rankings of active super flyweights by BoxRec.
Estrada vs Gonzalez stats
Roman is 18% more powerful, but Juan has slightly better ability to take shots. Besides, Gonzalez faced harder-hitting and tougher opponents.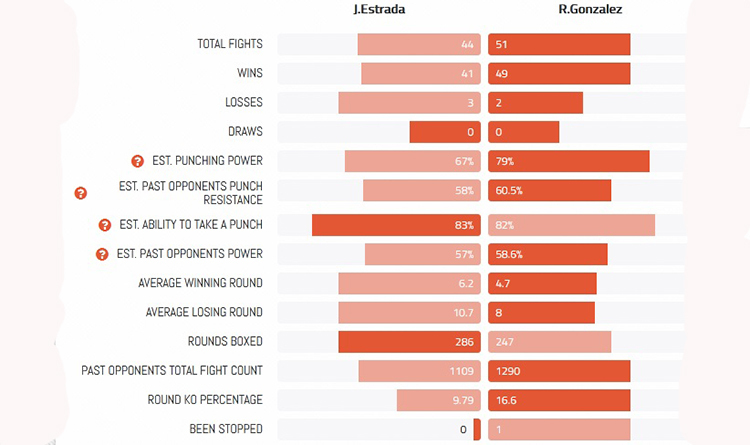 According to the results of the boxers' previous clashes, Estrada lands 25% more punches per round (35 versus Roman's 28), but Gonzalez takes 70% fewer strikes (10 versus 17 per round). In addition, Juan delivers 35% more power blows (27 versus 20 per heat).
Estrada vs Gonzalez 2 preview
In their first clash in 2012, Juan started slowing down in the fifth round, while Roman ramped up the pace. Gonzalez landed 63% more punches and outnumbered Estrada's power shots 1.4 to 1. Chocolatito looked much better at the far distance and heavily dominated in 5 heats.
Nevertheless, Estrada has refined his offensive skills since 2012. El Gallo delivers 35% of punches thrown, and Gonzalez's accuracy is much lower – 27%. Chocolatito has an edge in power, but he delivers fewer significant strikes. Gonzalez's main forte lies in a solid defence and toughness.
Given Juan's advantage in striking, he has a better chance to win the contest. His knockout rate is high for the super flyweight division – 64%. However, Roman is famous for a strong chin. He has been stopped only once – by Srisaket in 2017. Consequently, Estrada will likely beat Gonzalez via decision.
The most probable fight results
Juan Francisco Estrada to win by points (13/10);
Total rounds over 10.5 (33/100).
Disclaimer: Fight analysis is not a betting tip or a gambling advice of any sort. Our experts determine the most likely outcome of a sporting event based on statistics and personal views. Therefore, the actual result of a competition may differ from the predicted.