Dubois vs. Joyce: who wins the European crown at heavyweight?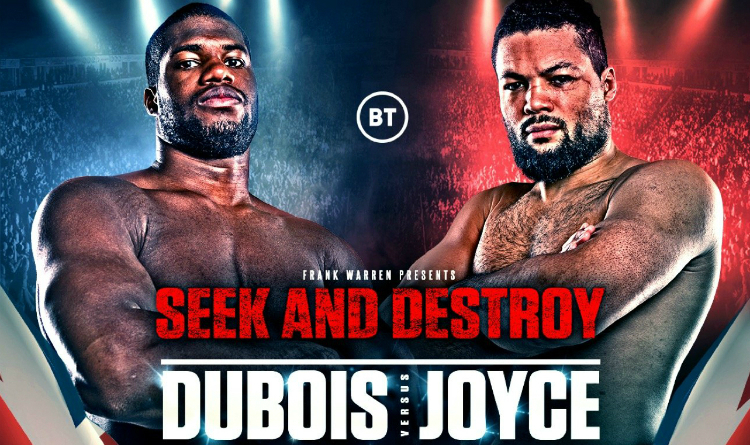 boxing247.com
Daniel Dubois is set to defend the British, Commonwealth, and WBC Silver heavyweight titles in a bout against Joe Joyce on November 28 at Church House Westminster. The winner of the contest will also earn the vacant European belt.
Daniel Dubois stats
Dubois is an undefeated boxer with a record of 15-0. He began competing as a pro in 2017. A year later, Daniel won the vacant English, WBO and British titles. He added the Commonwealth, WBO International, and WBC Silver belts in 2019. Dynamite has defended the WBO gold twice. He knocked out title contenders Kyotaro Fujimoto and Ricardo Snijders in the second round. During his amateur career, Dubois won the national junior championship 5 times.
Joe Joyce stats
Joyce has never been defeated as well. His professional record stands at 11-0. Juggernaut made his debut as a pro in 2017 and won the Commonwealth title next year. In 2019, Joe beat Bermane Stiverne in a showdown for the vacant WBA (Gold) belt. Then he defeated Bryant Jennings by unanimous decision and retained the WBA belt. As an amateur, Joyce won a silver medal at the 2016 Olympics and gold at the 2014 Commonwealth and 2015 European Games.
Matchup stats
Dubois has more knockout and punching power. Furthermore, his strike resistance is 5% higher.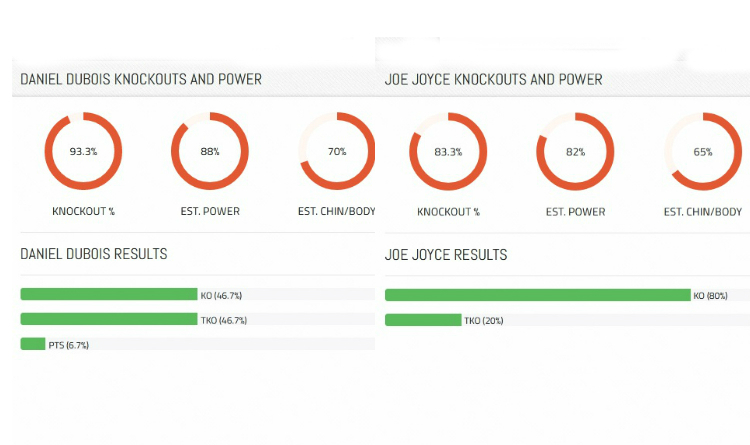 Considering the results of the sportsmen's 2 last bouts, Daniel is a much more accurate boxer. He landed 55% of punches thrown, while only 34% of Joe's blows hit the target. Dubois scored more significant shots – 28 per round on average (versus Joyce's 21). In addition, Dynamite's defense is much better as he absorbs 8 strikes per round. Juggernaut takes 10 blows.
Dubois vs. Joyce preview
Daniel is a more experienced boxer because he fought almost twice as many times – 213 versus Joe's 112. Also, he outperforms Joyce on all key stats: power, accuracy, and defensive skills. Therefore, Dubois has a great chance to beat his opponent. Dynamite is famous for punching power, and his finish rate is 93%. Thus, he is likely to win by KO.
Dubois tends to ramp up the pace and increase the number of punches thrown during bouts. His average winning round is 2.8. Moreover, he defeated 3 last rivals before the third heat. Joyce's accuracy is relatively low and his defense is far from flawless. Given these factors, Daniel is poised to win in the first half of the fight.
The most probable fight results
Daniel Dubois to win by KO (1/2);
Total rounds under 6.5 (87/100).
Disclaimer: Fight analysis is not a betting tip or a gambling advice of any sort. Our experts determine the most likely outcome of a sporting event based on statistics and personal views. Therefore, the actual result of a competition may differ from the predicted.