Alvarez vs Yildirim: will The Turkish Wolf triumph over Canelo?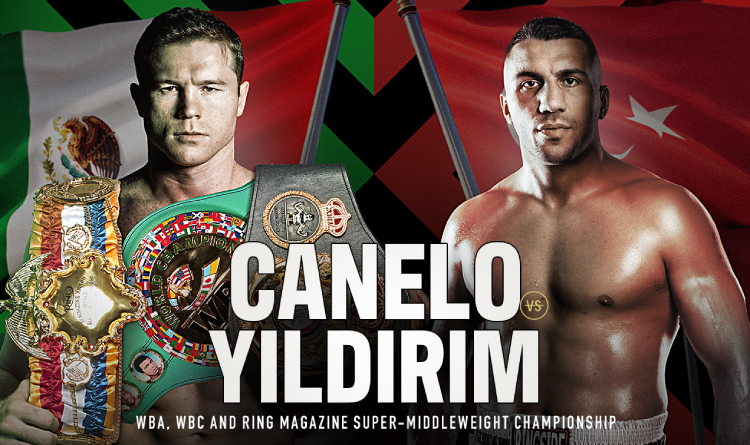 Alvarez to face Yildirim
Saul Alvarez is to defend the WBA (Super), WBC and The Ring super-middleweight belts in a clash against Avni Yildirim. Will The Turkish Wolf triumph over Canelo?
Saul Alvarez stats
Alvarez has been competing in boxing as a pro since 2005. He amassed a superb record of 54-1-2. Canelo won the first gold in 2007 by beating Ricardo Cano in a contest for the Jalisco title. In 2008-2013, he added the WBA Fedecentro, NABF, WBO Latino, WBC Youth, WBC Silver, WBC and The Ring belts. However, he dropped a major decision to Floyd Mayweather Jr. and lost the WBA, WBC and The Ring titles in 2013. Then he earned multiple belts at middleweight, but decided to move up to super-middleweight. In his last fight against Callum Smith, Saul captured the WBA (Super), The Ring and WBC belts in the 168-pound division. BoxRec currently ranks Alvarez first at super middleweight.
Avni Yildirim stats
Yildirim started his professional boxing career in 2014. His record stands at 21-2. The Turkish Wolf won the WBC International Silver belt at light heavyweight in 2015 and defended it 4 times. Then he moved down to super-middleweight and earned the WBC International Silver and IBO titles. In his previous bout, Yildirim faced Anthony Dirrell for the WBC gold. He lost by technical decision, cut off a 5-fight winning streak and took 10th place at super-middleweight.
Alvarez vs Yildirim stats
Saul is 6% more powerful and has a 12% better ability to take strikes.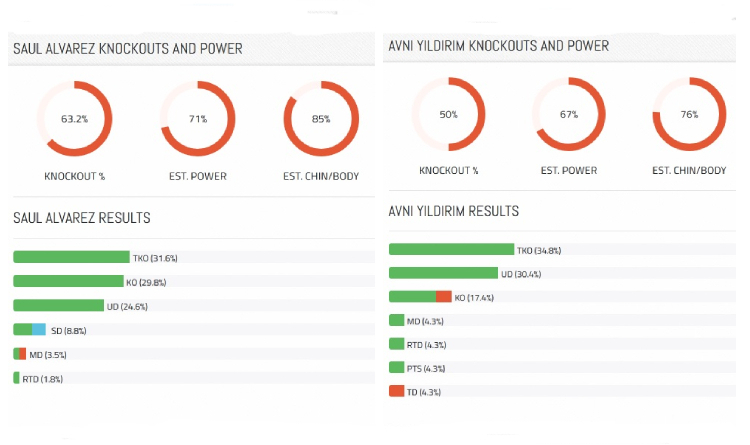 According to the results of the boxers' last contests, Yildirim lands 33% more shots per round (24 versus Canelo's 18), but Alvarez absorbs 4 times fewer blows (8 versus Avni's 32 per heat).
Alvarez vs Yildirim preview
Avni boxes less effectively at a medium distance; thus, he is apt to brawl at a close range. Consequently, the Turkish lands shots very frequently but takes more punches as well. Saul, on the contrary, is a versatile fighter, who can strike well both at medium and close distance. Canelo's impressive head movement and footwork let him eschew risky exchanges and control the ring.
Alvarez has a huge edge in accuracy. He delivers 44% of blows, while only 35% of Yildirim's shots hit the target. Given this factor and Canelo's advantage in power, he has a great chance to defeat Avni. Saul has gained 63% of victories by KO/TKO, while Yildirim has been stopped only once. But, considering Avni's tendency to fight at close range and poor defence, he will likely absorb a good deal of punches and drop to the ground before the final bell.
Canelo's average winning round is seventh, and he usually ramps up the pace in the sixth heat, reaching its peak in the tenth round. Yildirim, on the other hand, starts slowing down in the middle of contests. Therefore, Alvarez is expected to beat Avni in rounds 5-8.
The most probable fight results
Saul Alvarez to win by KO/TKO/DQ (11/100);
Canelo to score victory in rounds 5-8 (9/5).
Disclaimer: Fight analysis is not a betting tip or a gambling advice of any sort. Our experts determine the most likely outcome of a sporting event based on statistics and personal views. Therefore, the actual result of a competition may differ from the predicted.