Alvarez vs Smith: will Canelo win the WBA Super, WBC and The Ring crowns?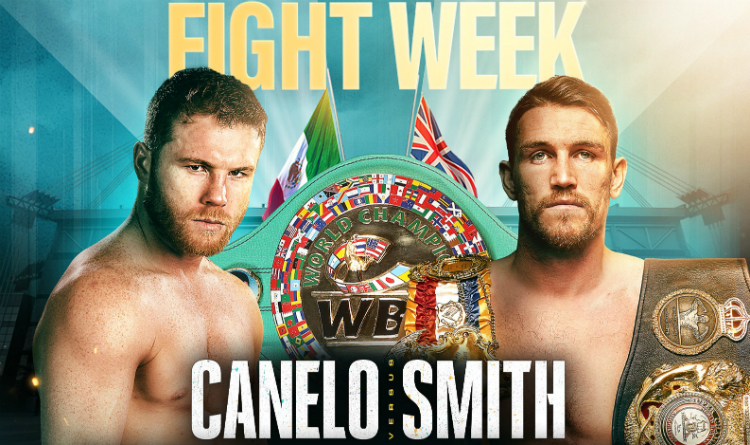 Alvarez to take on Smith
Saul Alvarez and Callum Smith are set to fight for the WBA, WBC and The Ring super-middleweight titles on December 19 in San Antonio. Will Canelo beat the British boxing star?
Saul Alvarez stats
Alvarez began competing in boxing as a pro in 2005 and compiled an outstanding record of 53-1-2. Canelo won the first belt (the Jalisco welterweight) when he was 17 years old. In 2008-2013, Saul earned the WBC silver, WBC, WBA and The Ring titles at light middleweight. He suffered the only career loss in a bout against Floyd Mayweather Jr. for the WBA super middleweight gold in September 2013. Nevertheless, Saul got back The Ring and WBC belts 2 years later. In 2018, Canelo defeated Gennady Golovkin and added the WBA crown. After winning the IBF belt in a contest against Daniel Jacobs in 2019, Alvarez moved up to light heavyweight, knocked out Sergey Kovalev and received the WBO gold. TBRB ranks Saul fifth at super middleweight.
Callum Smith stats
Smith started his professional career in 2013. His current record stands at 27-0. In 2013, Mundo won the English and WBC International titles at super-middleweight. He defended the WBC gold twice and earned the WBC, British and European belts in 2015-2016. Callum knocked out George Groves in a showdown for the WBA and The Ring crowns in 2018. Last year, he beat 2 title contenders – Hassan N'Dam N'Jikam and John Ryder. Smith takes first place in the list of the best active super-middleweights by TBRB.
Matchup stats
Smith has more striking power and has faced boxers with a higher ability to take shots. However, Alvarez overcomes his opponent in terms of punch resistance and his rivals' power.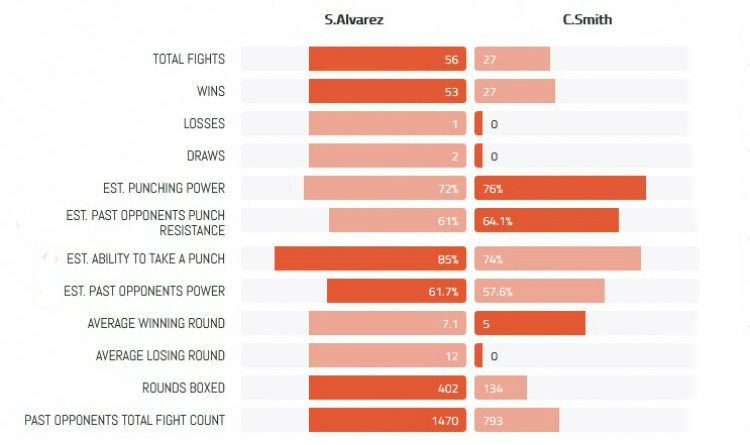 According to the results of the athletes' previous bouts, Saul landed 12% fewer significant blows per minute (4.5 versus Callum's 5.1). Besides, Canelo absorbed 3% more punches per 60 seconds (6.3 versus Smith's 6.1). However, Callum was much less accurate: he delivered only 16% of strikes, while Alvarez landed 42% of punches.
Alvarez vs Smith preview
The athletes' fighting styles are very different. Saul is a true tactical boxer taking a methodical approach. He rarely ramps up the pace, fights economically and focuses on hooks. Callum, on the other hand, often attacks recklessly and rarely takes a step backwards. The British throws jabs and crosses much more frequently.
Alvarez has an edge in defensive and counterpunching skills. The Mexican is a more experienced boxer, as he has fought almost twice as many times. Smith's main disadvantage lies in a low accuracy. Therefore, his lead in punching power might be neutralized by Saul's incredible defence and footwork. Given these factors, Alvarez has a better chance to win the contest.
Canelo's knockout rate is 64% and his average winning round is seventh. Nevertheless, Callum has never been defeated. He absorbs a few punches and is famous for a great ability to take shots. Thus, the clash will likely reach the time limit, and Alvarez will beat his opponent by decision.
The most probable fight results
Saul Alvarez to win by decision (81/50);
Total rounds over 9.5 (19/25).
Disclaimer: Fight analysis is not a betting tip or a gambling advice of any sort. Our experts determine the most likely outcome of a sporting event based on statistics and personal views. Therefore, the actual result of a competition may differ from the predicted.