Akhmadaliev vs Iwasa: will MJ retain the WBA and IBF titles?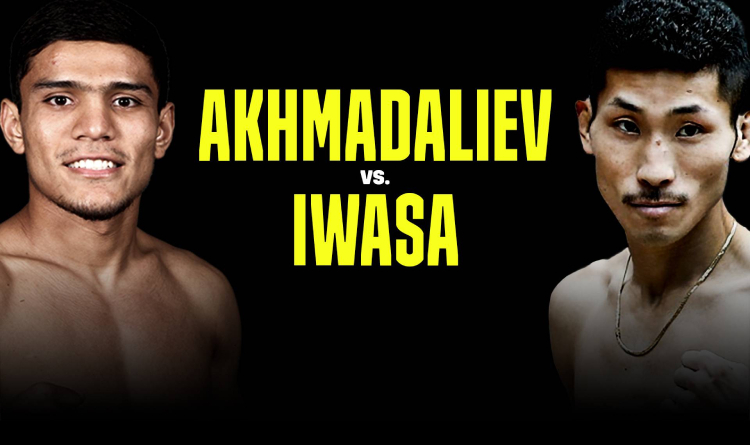 Akhmadaliev to fight against Iwasa
Ryosuke Iwasa is scheduled to challenge Murodjon Akhmadaliev for the WBA and IBF super-bantamweight titles on April 3. Will MJ retain the belts in a clash against the Japanese fighter?
Murodjon Akhmadaliev stats
Akhmadaliev turned pro in 2018 and amassed a record of 8-0. MJ captured the WBA Inter-Continental gold in 2018 and defended it against Isaac Zarate. Last year, he beat Daniel Roman in a bout for the WBA and IBF titles. As an amateur, Murodjon won a bronze medal at the 2016 Summer Olympics. BoxRec currently ranks Akhmadaliev ninth at super-bantamweight.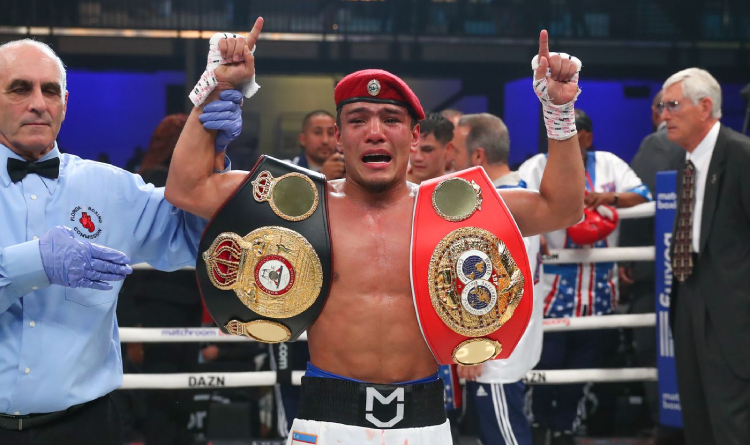 Ryosuke Iwasa stats
Iwasa started his professional boxing career in 2008. His record stands at 27-3. Ryosuke won the Japanese belt in 2011 and retained it in 2 contests. Iwasa earned the OPBF crown in 2013 and took on Lee Haskins for the IBF interim title but dropped a TKO. In 2017, the Japanese became an IBF champion; however, he failed to defend the belt in a match against T.J. Doheny. Iwasa defeated Marlon Tapales in a clash for the IBF interim title in 2019 and got a shot against Akhmadaliev. Ryosuke takes third place in the super-bantamweight rankings compiled by BoxRec.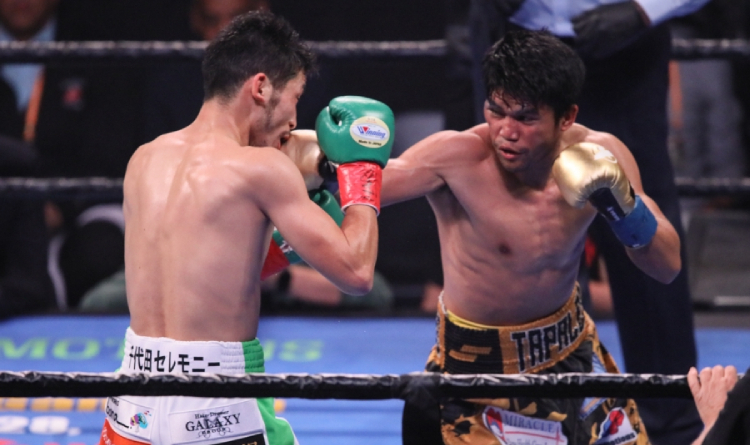 Akhmadaliev vs Iwasa stats
Murodjon is 9% more powerful, but Ryosuke has a 14% better ability to take strikes. Besides, the Japanese faced stronger opponents with higher punch resistance.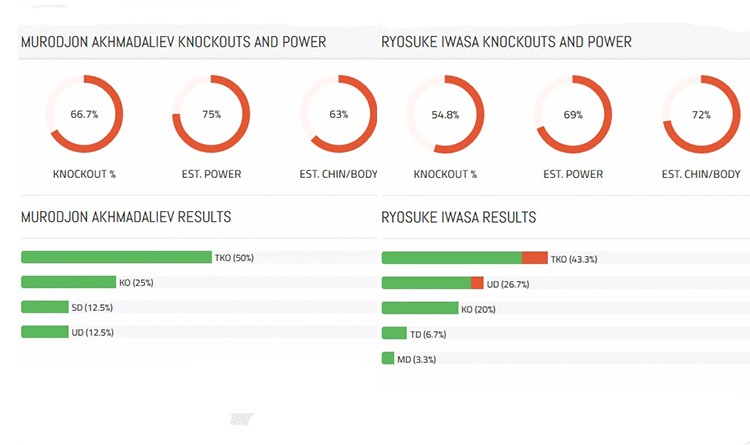 According to the results of the boxers' previous showdowns, Iwasa lands 15% more shots per round (15 versus Akhmadaliev's 13) and delivers power strikes 10% more frequently (11 versus 10 per heat). However, MJ's defence is slightly better, because he absorbs 8% fewer blows (12 versus 13 per round).
Akhmadaliev vs Iwasa preview
The athletes are outside boxers. Both of them set things up with jabs to keep rivals at the end of their shots. Ryosuke has a 3-inch reach advantage; therefore, he might outperform Murodjon at the medium range. Nevertheless, MJ will unlikely have troubles with closing the distance courtesy of impressive footwork.
Akhmadaliev has a clear edge in terms of power and accuracy. He delivers 31% of strikes, while only 24% of Iwasa's shots hit the target. The Japanese has a high punch resistance rate, but he absorbs many blows due to poor head movement. Given these factors, MJ has a great chance to score victory.
Murodjon's finish rate is very high for the super-bantamweight division (75%). Besides, Ryosuke has been stopped twice. Thus, Akhmadaliev will likely win by KO/TKO. MJ's winning round is fifth, but Iwasa is very tough, and his average losing heat is ninth. Consequently, the contest is expected to last at least 8 rounds.
The most probable fight results
Murodjon Akhmadaliev to win by KO (11/25);
Total rounds over 7.5 (17/20).
Disclaimer: Fight analysis is not a betting tip or a gambling advice of any sort. Our experts determine the most likely outcome of a sporting event based on statistics and personal views. Therefore, the actual result of a competition may differ from the predicted.