Woodley vs Luque: will former UFC champion cut off 3-fight losing streak?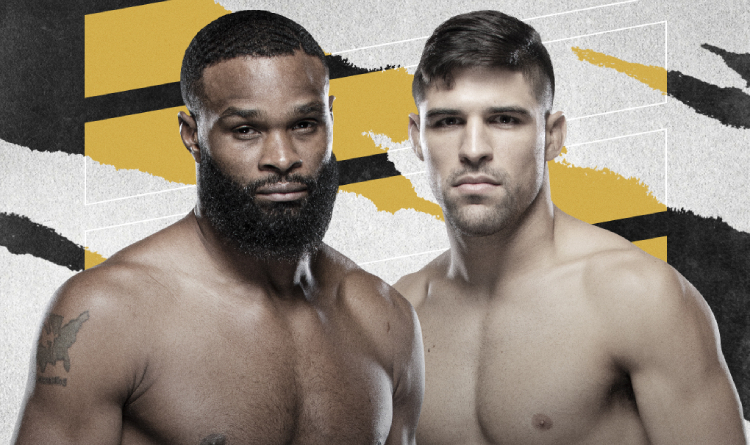 Woodley to take on Luque
Welterweights Tyron Woodley and Vicente Luque are to battle in the UFC 260 co-main event on March 27. Will the former champion cut off a 3-fight losing streak?
Tyron Woodley stats
Woodley began his MMA career in 2009 and amassed a record of 19-6-1. The Chosen One became a Strikeforce champion in 2012 and transitioned to the UFC. He won the promotion's belt in 2016 and defended it 4 times. However, Tyron failed to retain the gold in a clash against Kamaru Usman in 2019. Afterwards, he lost 2 more bouts: to Gilbert Burns and Colby Covington. Nevertheless, Woodley is still ranked seventh at welterweight.
Vicente Luque stats
Luque has been competing in MMA since 2009. His record stands at 19-7-1. The Silent Assassin dropped a unanimous decision to Michael Graves in The Ultimate Fighter finale in 2015. However, the UFC struck a deal with the athlete. Vicente has never got a title shot in the promotion. But he earned 3 bonuses for the best performance and 3 "Fight of the Night" prizes. In 2020, Luque beat Niko Price and Randy Brown and took 10th place at welterweight.
Woodley vs Luque stats
Tyron lands 59% fewer shots per minute, but Vicente takes almost twice as many strikes.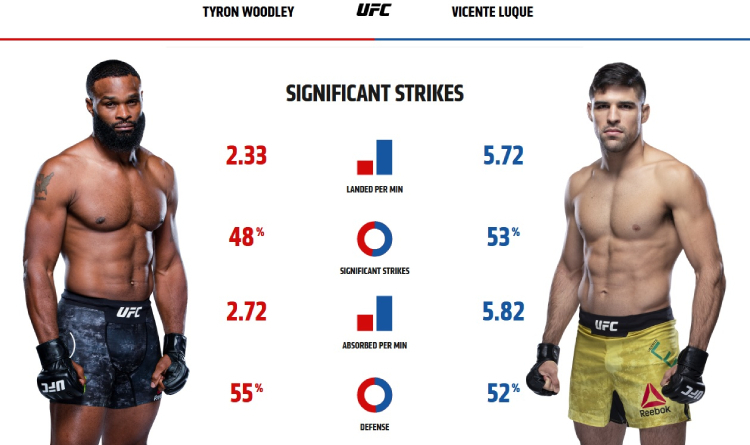 Woodley performs takedowns 59% more frequently. Luque, on the other hand, outnumbers Woodley's submission attempts 2 to 1.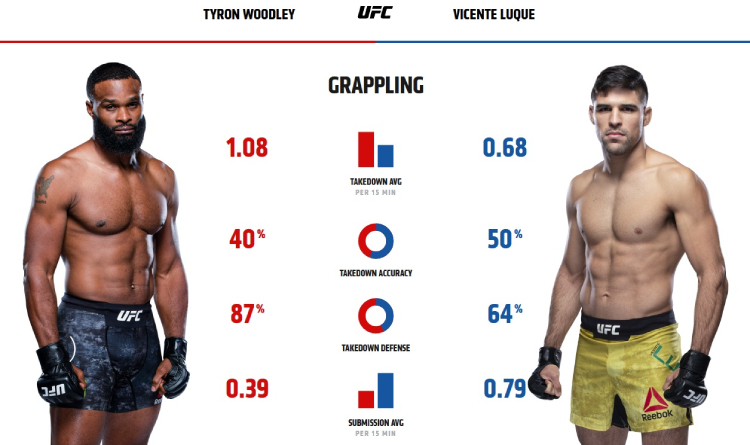 Woodley vs Luque preview
Vicente went in for Muay Thai, while Tyron coached in striking martial arts only during MMA training. Thus, The Silent Assassin will have an advantage on the feet. Luque has power in his hands and heavy low-kicks in his arsenal courtesy of Muay Thai background. The Chosen One has crisp boxing technique, but he employs a narrower range of strikes focusing on punches. It makes his attacks more predictable and less dangerous.
Woodley participated in NCAA Division I Wrestling tournaments and got a black belt in BJJ. Luque has a brown belt in BJJ and a purple one in Luta Livre. Consequently, both athletes are experienced but not outstanding grapplers. Tyron was crushed on the ground by high-class wrestlers Usman, Burns and Covington. Vicente rarely brings the fight to the canvas; besides, his rival has a solid defence. Given these factors, the bout will likely be a kickboxing match.
Tyron took hard beatings in his 3 last clashes and lost all 15 rounds. Vicente, on the contrary, is riding on a 2-fight winning streak. Furthermore, The Silent Assassin has a massive edge in terms of striking offensive skills. Thus, Luque has a great chance to win the showdown. Vicente's finish rate is 90%. Nevertheless, Woodley is as tough as they come, because he withstood Usman's and Burns' onslaughts and dropped decisions. Hence, he is expected to lose by points.
The most probable fight results
Vicente Luque to win by decision (7/5);
Total rounds over 2.5 (16/25).
Disclaimer: Fight analysis is not a betting tip or a gambling advice of any sort. Our experts determine the most likely outcome of a sporting event based on statistics and personal views. Therefore, the actual result of a competition may differ from the predicted.